This recipe makes the best mango lassi and is loaded with the fragrance and deliciousness of Alphonso mangoes. It is a true celebration of summer and mango season! ❤ Mango Lassi, which is a favorite at Indian restaurants, is so easy and quick to make at home. I'm sure that you will enjoy this recipe as much as I do!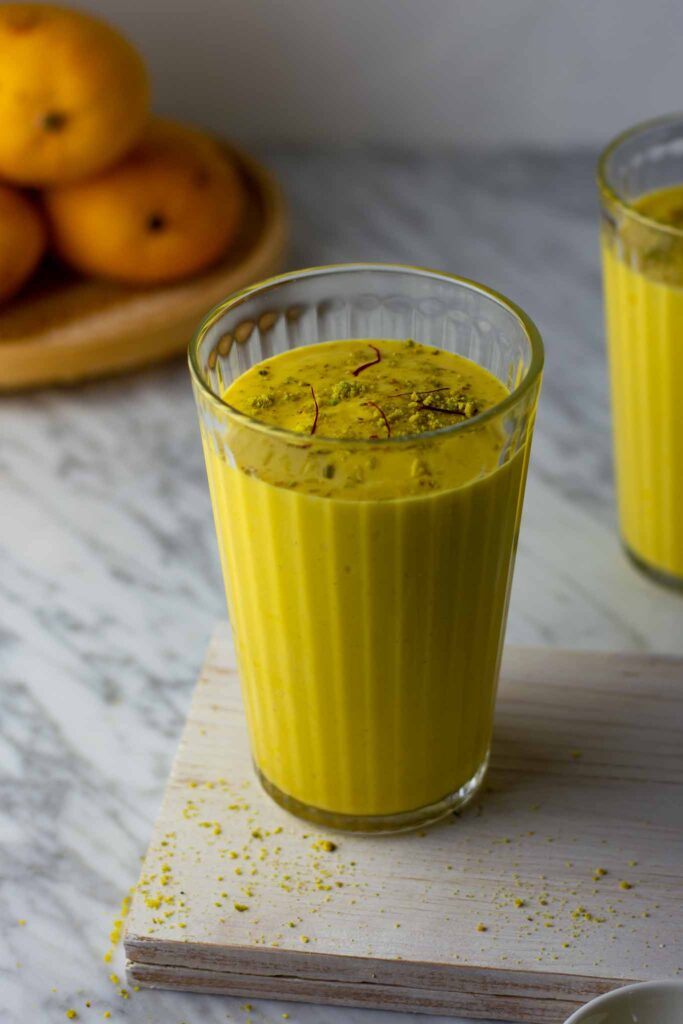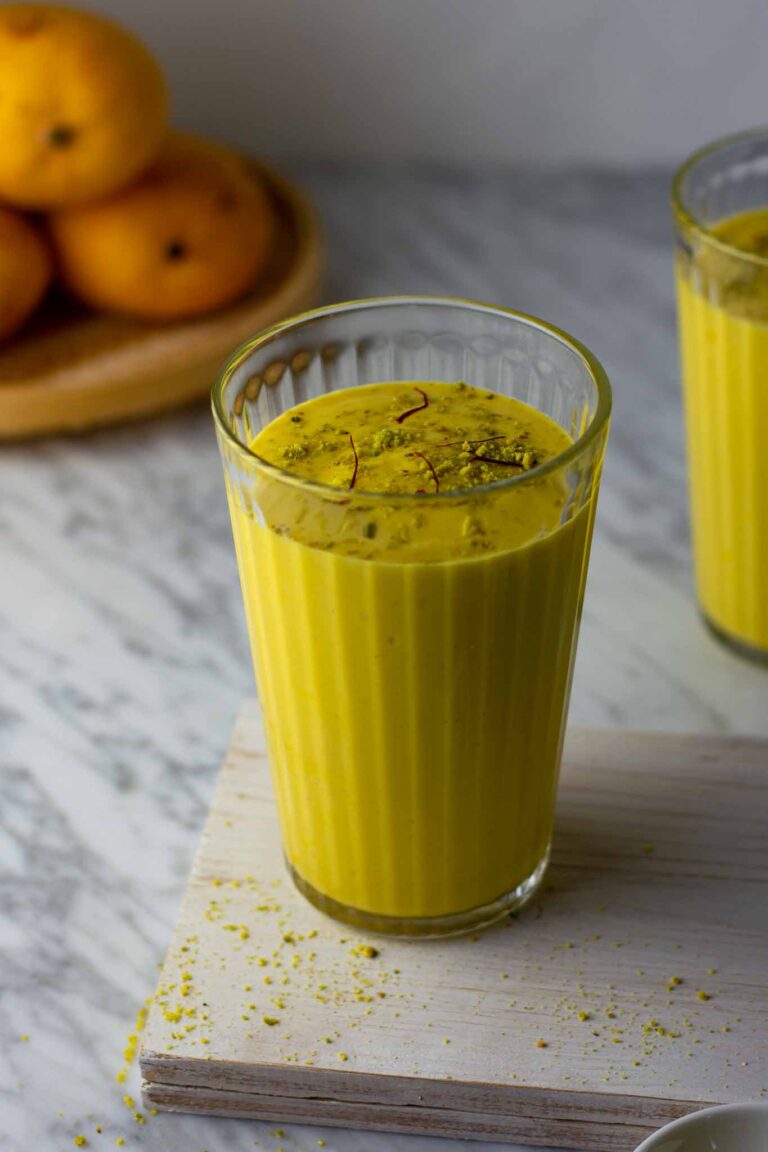 Lassi
If you've never tried it before, Lassi is a yogurt based smoothie that can be sweet or salty and can be flavored with different spices, fruit etc. Mangoes are my favorite fruit and isn't a surprise that mango Lassi is my absolute favorite form of Lassi. Combining the ripe freshness of mangoes with yogurt creates a magical drink that is so refreshing and delicious.
What makes this mango lassi so special?
There are so many varieties of mangoes available throughout the world. India itself grows more than a thousands of varieties of mangoes. My absolute favorite variety of mangoes is the Alphonso mango. When perfectly ripe it is saffron fleshed, sweet, juicy and non-fibrous. The flavor is so intense and the aroma is amazing.
Alphonso mangoes are the variety I use the most in my mango based recipes and what makes this mango lassi so amazing. However, it is extremely difficult to source these mangoes in a lot of parts of the world. Thankfully, it is pretty easy to buy Alphonso mango pulp. I highly recommend going through the extra trouble if you have to, and looking for Alphonso mango pulp. It makes a huge difference!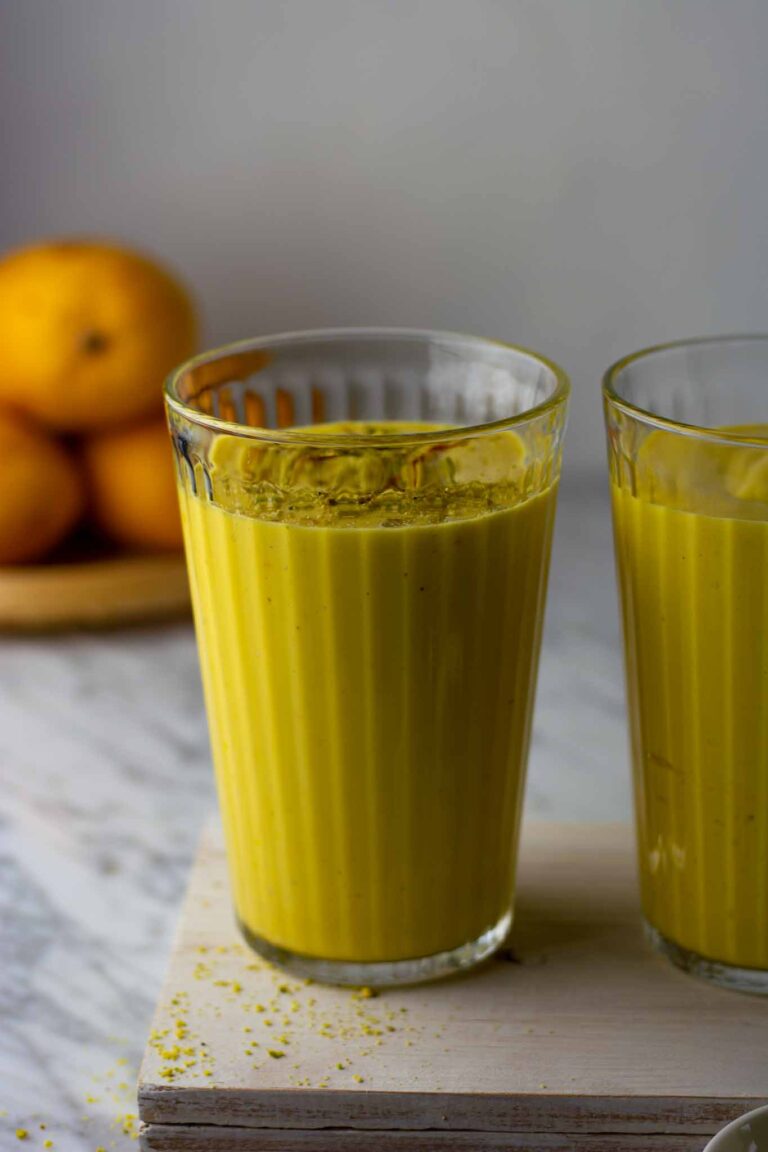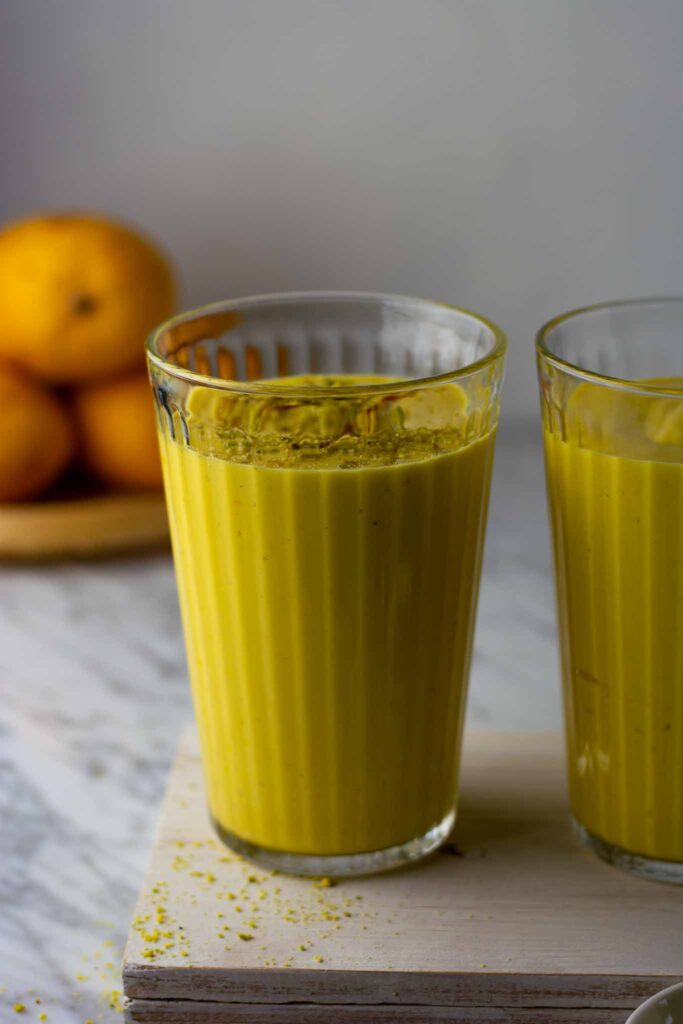 Substitutions to make this mango lassi
For a plant based lassi, replace the yogurt with plant based yogurt (some nice options would be cashew, coconut or oat yogurt). You might not need to much liquid, depending on how thick your yogurt is. If you do need to think it out, you can use your favorite plant based milk.
Storage instructions
Mango lassi can be made up to 3 days ahead of time and stored in the refrigerator. Give it a good mix before serving as water can separate from the yogurt.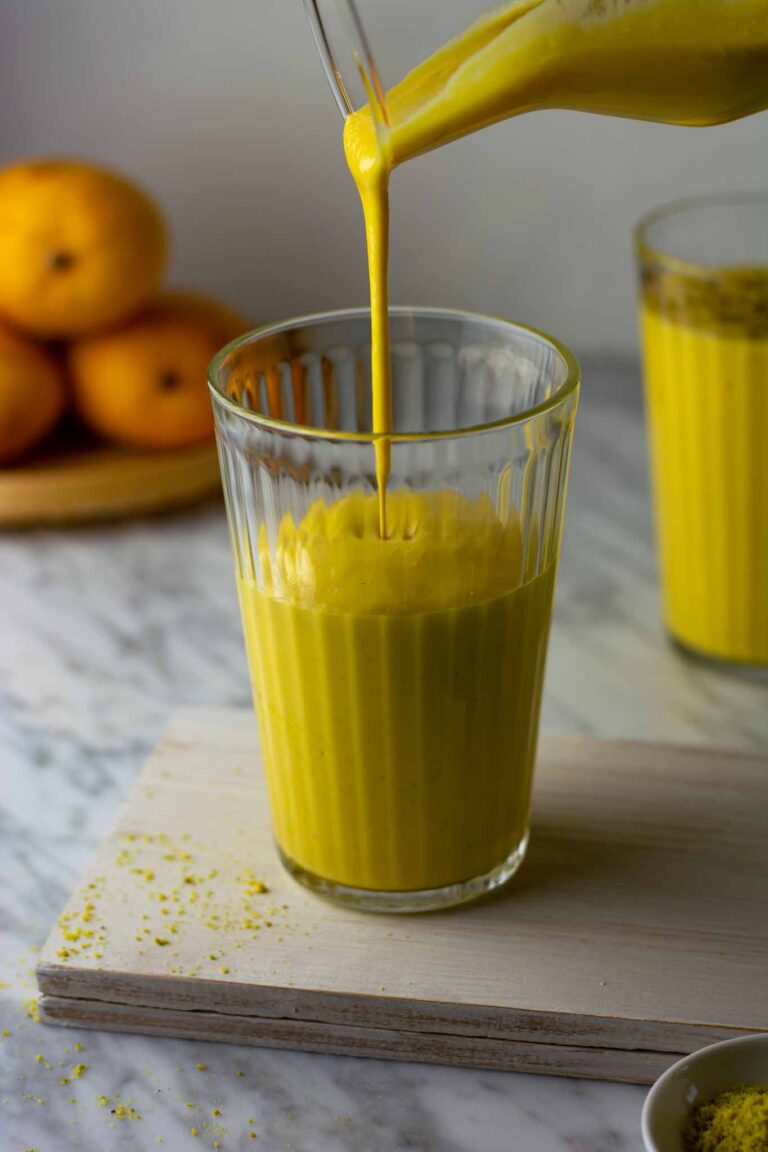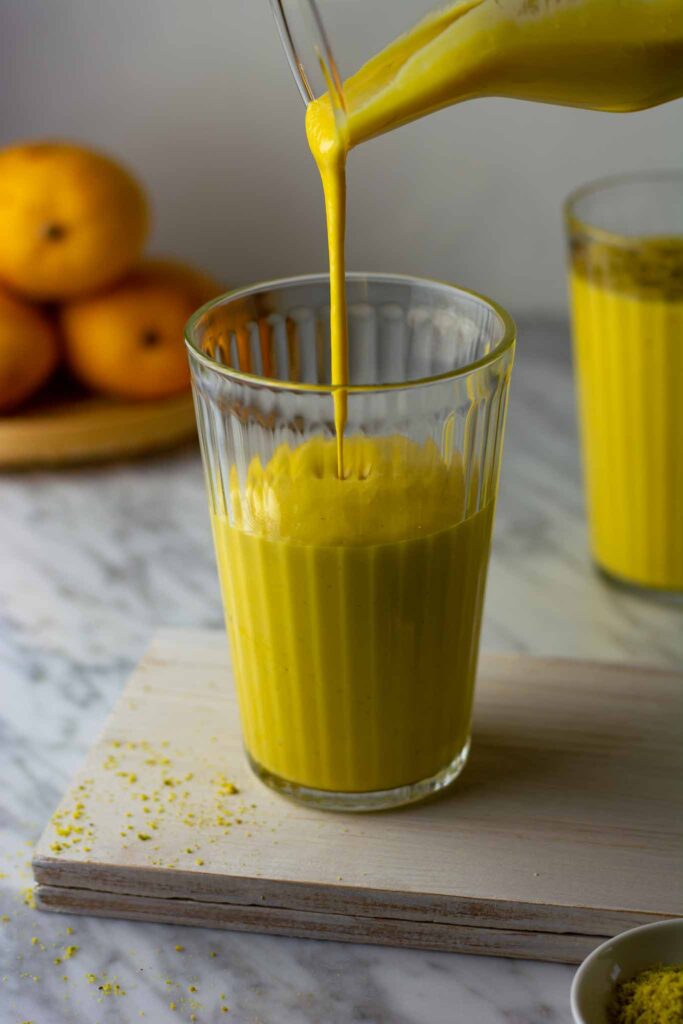 Frequently asked questions
Can greek yogurt be used to make Mango Lassi?
Yes! I like to use Greek yogurt to make mango lassi because of it's thick and creamy texture. Whole milk yogurts result in a creamier and richer lassi.
How can I make mango lassi vegan?
Replace the yogurt with plant based yogurt and use your favorite plant based milk instead of dairy milk.
Is mango lassi good for health?
Depending on how much sugar you add, mango lassi can be a very healthy treat. Use low fat Greek yogurt and don't add any sugar if you want to make a healthy version of mango lassi.
More recipes with mango!
Recipe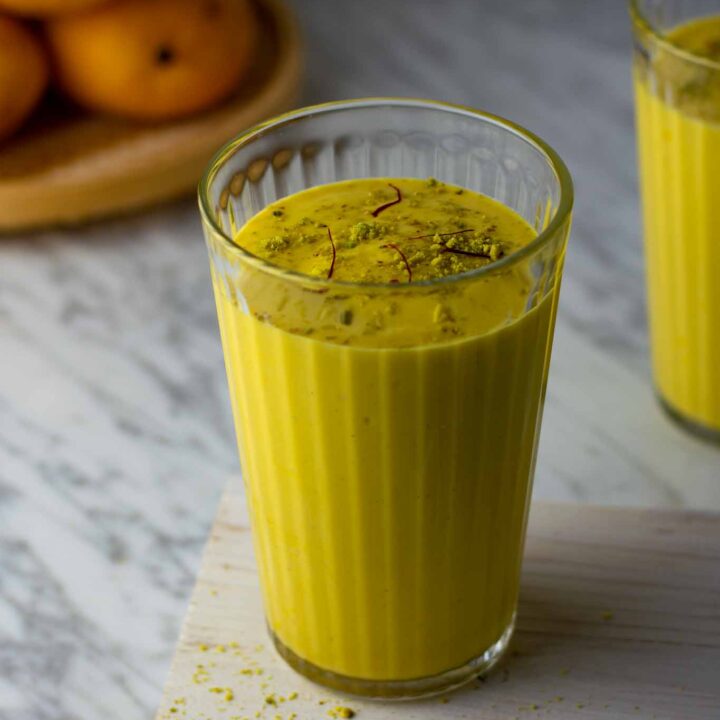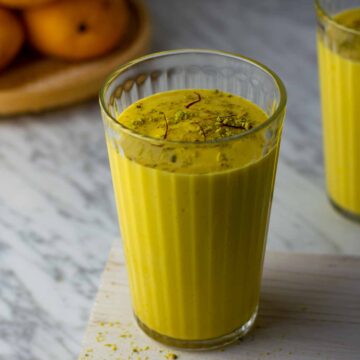 Mango Lassi (Indian Mango Yogurt Smoothie)
Mango Lassi, which is a favorite at Indian restaurants, is so easy and quick to make at home. This recipe makes the creamiest mango lassi!
Ingredients
1

cup

alphonso mango pulp

(or 1.5 cups ripe mango chunks)

1

cup

greek yogurt

½

cup

whole milk

chilled

10

strands

saffron

3

tablespoons

whole milk

heated until warm

1

tablespoon

sugar

(add more for a sweeter lassi)

¼

teaspoon

ground cardamom

1

teaspoon

chopped pistachios

for garnish
Instructions
Soak the saffron strands in the warm milk for 5 minutes.

Add all the ingredients (except chopped pistachios) into the blender and blend for about 30 seconds or until you have a smooth and thick lassi.

Pour over ice and garnish with chopped pistachios before serving.
Notes
I used Alphonso mango pulp which is not sweetened in this recipe. If your alphonso mango pulp is already sweetened, you might not need any additional sugar/sweetener in this recipe.
Alphonso mangoes give this lassi the absolute best flavor. However, if you can't find both fresh/canned Alphonso mango, you can try using any other types of mangoes.
I hope you like this recipe as much as I do. Please leave a comment below to let me know what you think and subscribe to my social media channels if you would like to see more easy and delicious recipes.