This Masala Salmon with Mango Avocado Salsa & Crunchy Coconut Rice is a true celebration of summer and is a restaurant-quality meal that you can make and enjoy in the comfort of your own home in under 30 minutes! It's packed with fresh & irresistible flavors along with a spicy and savory kick from all the warming Indian spices that will leave you craving for more!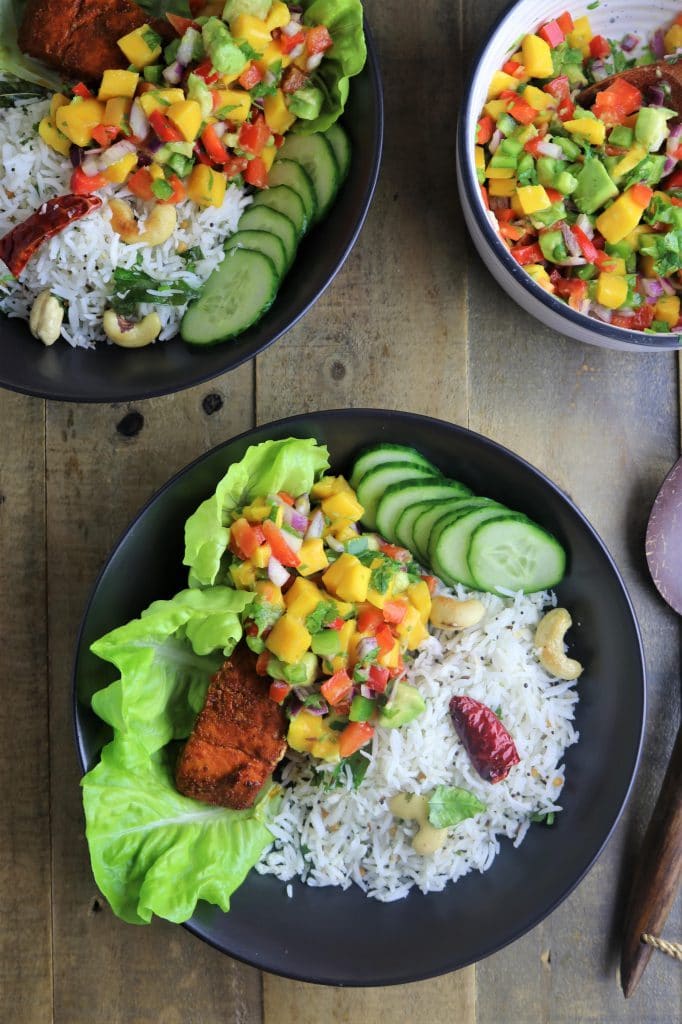 Smokey masala salmon with mango avocado salsa
The weather is starting to warm up in Seattle and along with summer comes the season for my favorite fruit. You guessed it, mangoes 🙂
Both my husband and me LOVEEEE mangoes and we patiently wait every year for warmer weather so we can stuff our faces with mangoes. Growing up in India, we would find so many varieties of mangoes. Every type of mango had varying amounts of sweetness & tartness. Some were more juicy and fleshy while others were very fibrous and made for good juices or pulps after straining.
Over here, I can commonly find 2 varieties of Mexican mangoes. I think either of them work well in this recipe. Use any non fibrous sweet mangoes that you can get your hands on. Since I use lime juice in my salsa, you don't really need the mangoes to be tart. If your mangoes are already too sour, you can reduce the amount of lime juice or even omit it entirely.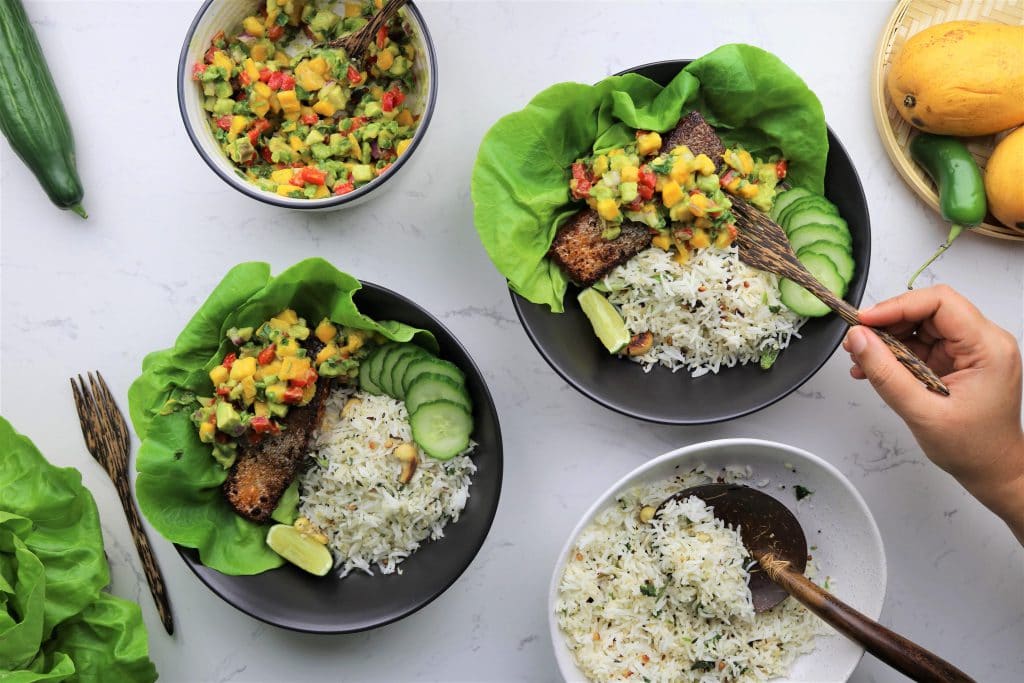 How to perfectly cook salmon
In the video, I show you how to get perfectly crispy salmon (if you are using salmon with its skin on). Cook the salmon on medium low heat so the spices don't burn and the skin gets super crispy. The spice combination I used in this recipe tastes so good with the flaky salmon flesh. The slightly spicy and smokey flavor makes for an excellent combination with the sweet mango salsa.
Since I used salmon with skin on, I made sure not to get the dry rub on the skin since it can burn easily. If you are using skinless salmon, you can apply the dry rub on all sides of the salmon. You also don't need to use a weight on top of the salmon as shown in the video. I love using either a ceramic coated non-stick pan or a well seasoned cast iron pan for cooking the fish. Cook it on one side, until you can see on the sides that the salmon is cooked halfway through (turned translucent) before flipping it and finishing off the other side.
The recommended temperature for perfectly cooked salmon is 145F/63C. I find that salmon gets too dry if overcooked, so keep an eye on the temperature. I love using my instant read thermometer in recipes like this to get perfectly cooked protein. You can take it off the heat at around 135-140F since it will continue cooking in its own heat for a bit.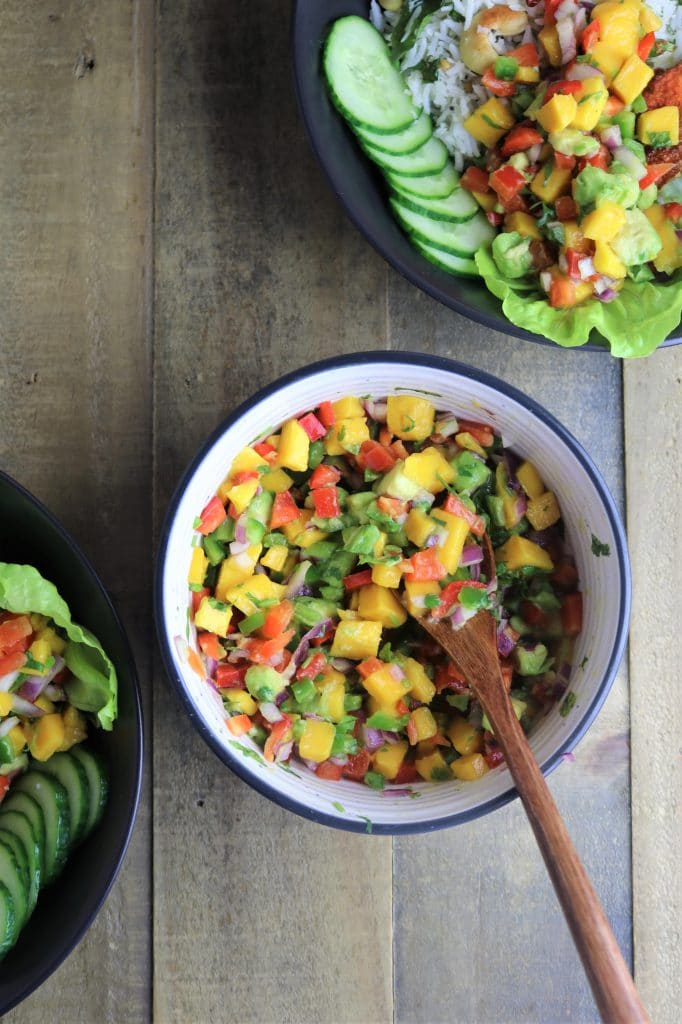 The easiest and tastiest mango avocado salsa
I absolutely love this salsa recipe! The sweetness of the mangoes mixed with the creaminess of the avocados and the tartness of the lime are a true match made in food heaven.
I also love how colorful it looks and how fresh it tastes. If you don't like heat, you can leave out the jalapenos or substitute it with green bell peppers. I took out the seeds from my jalapenos since I don't like it too spicy, but if you do, then leave them in!
This salsa tastes best when made fresh and consumed within an hour or 2. The avocados will start to brown after a while. If you do want to make it ahead of time, I recommend covering it tightly with plastic wrap such that the wrap is directly touching the surface of the salsa. It should stay good for about 8-10 hours in the refrigerator.
By the way, if you too love mangoes as much as I do, check out my 2 ingredient mango lassi recipe. It is so simple to make and tastes absolutely divine.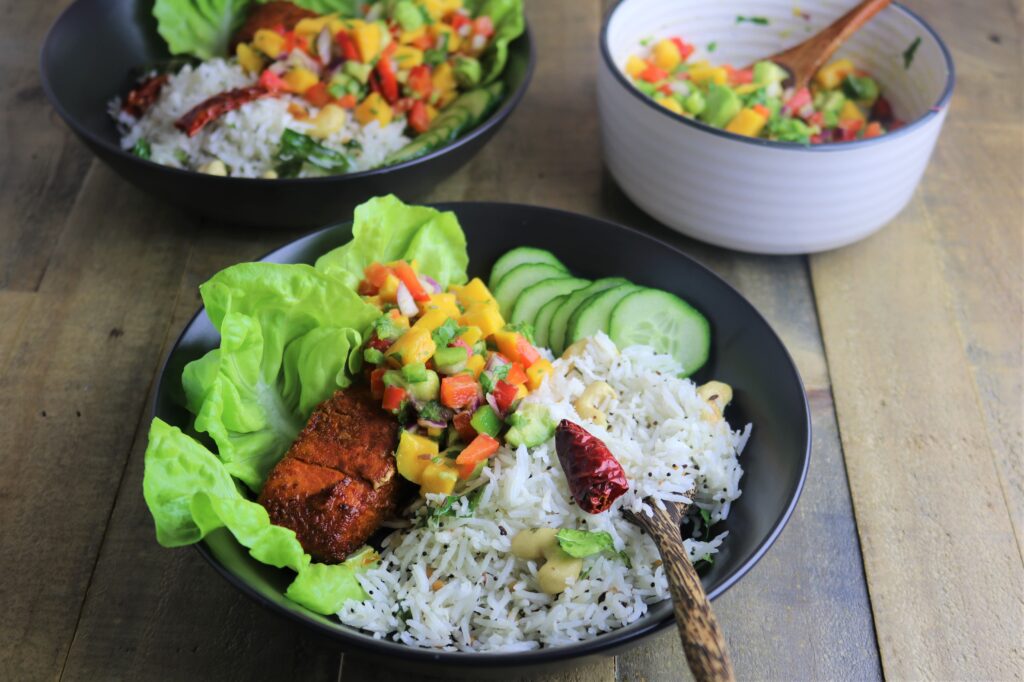 The best crunchy coconut rice
My coconut rice recipe is the perfect combination with the salmon and the mangoes! I have made a south-Indian style coconut rice with crunchy bits of browned dal and cashews which offer a perfect textural harmony with the flaky salmon and soft mangoes & avocados.
I find it easy and convenient to use leftover rice in this recipe. If you are cooking fresh rice for this recipe, I recommend cooking the rice in a 50% coconut milk and 50% water mixture for an added coconut flavor. You will love the amplified sweet and creamy coconut flavor in the rice!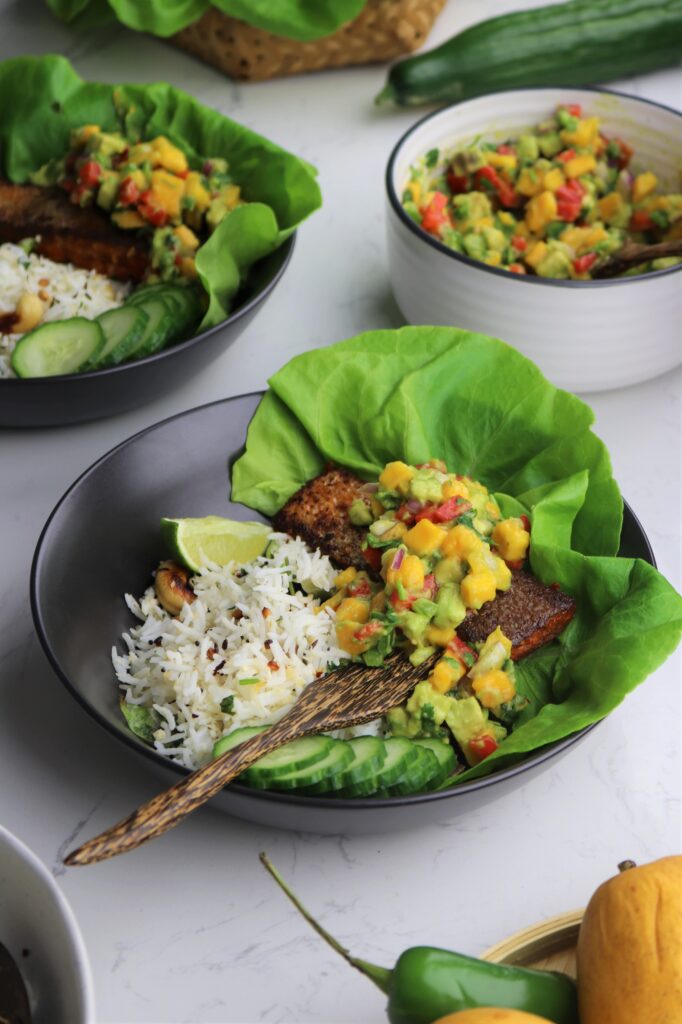 Alternate protein options for this recipe
A variety of different protein options would work perfectly in this recipe! You could replace the salmon with chicken, prawns or even paneer and follow the rest of the instructions as it is.
If you are following a plant based diet, tofu or tempeh would also be perfect substitutions in the recipe. Marinate the tofu/tempeh in the dry rub for a few hours before pan frying them for the best flavor.
I hope you like this recipe as. much as I do. Please leave a comment below to let me know what you think and subscribe to my social media if you would like to see more easy and delicious recipes.
Love this recipe?
Rate the recipe by clicking on the stars in the recipe card below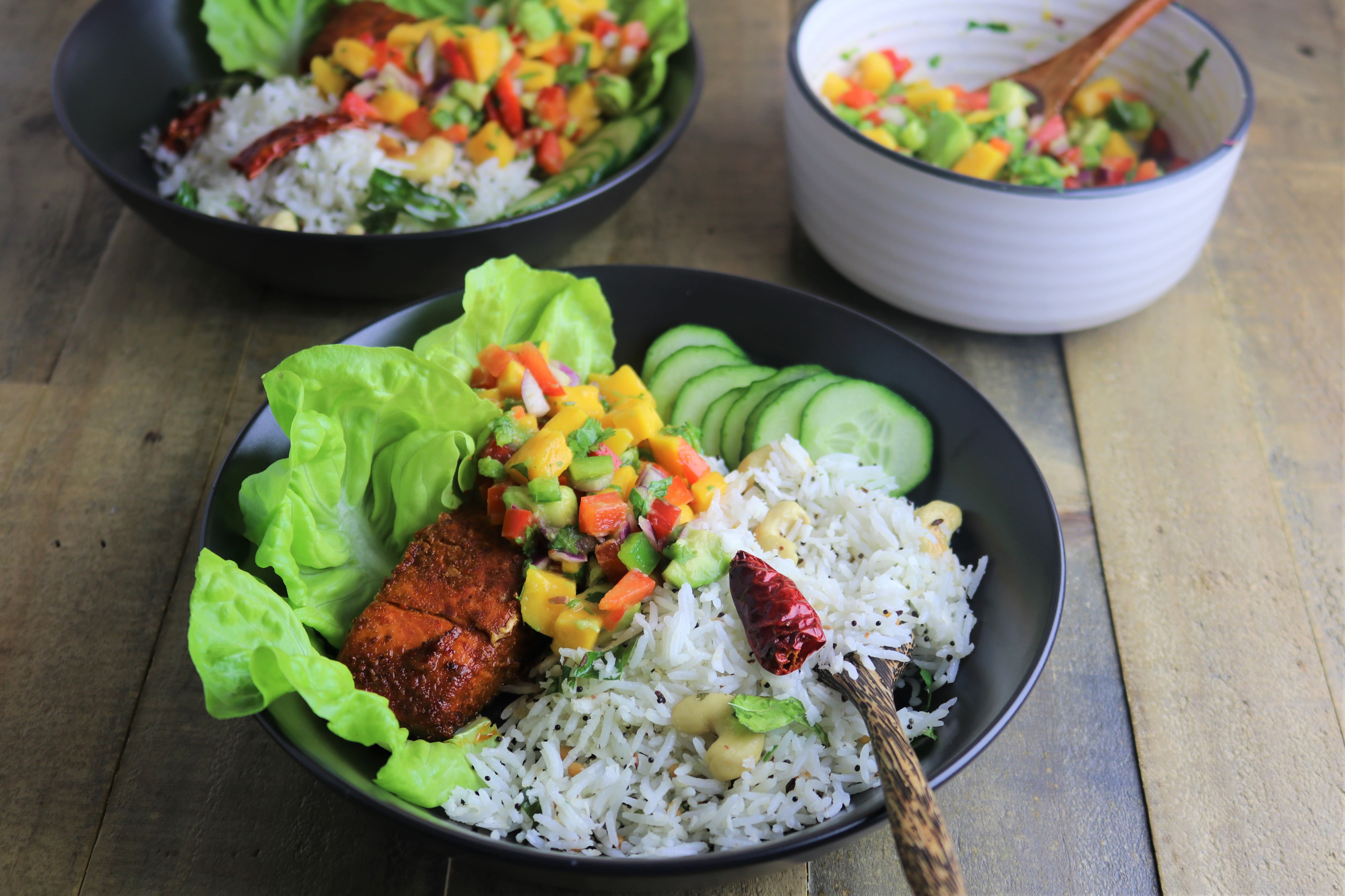 Smokey salmon with coconut rice and mango avocado salsa
Spicy and smokey salmon is topped with a bright and creamy mango avocado salsa and served alongside a bed of crunchy coconut rice! This dish will leave you craving for more!
Equipment
Ingredients
For the mango avocado salsa:
1

cup

mango

2/3

cup

avocado

1/4

cup

red onion

1/3

cup

red bell pepper

2

teaspoons

lime juice

2

tablespoons

chopped cilantro leaves

1/4

cup

jalapenos
For the coconut rice
2

cups

cooked basmati rice

1/4

cup

grated coconut

(I use frozen grated coconut but shredded unsweetened desiccated coconut will work well too)

1

teaspoon

avocado oil

1/4

teaspoon

mustard seeds

1/4

teaspoon

cumin seeds

8

curry leaves

1

teaspoon

urad dal

1/2

teaspoon

red pepper flakes

(or 2 dried red chillies)

10

cashews

1

teaspoon

ginger root

finely chopped

kosher salt

to taste

1

teaspoon

lime juice

1

tablespoon

chopped cilantro leaves
For serving
10

butter lettuce leaves

1/2

english cucumber

sliced
Instructions
To make the crispy masala salmon:
Mix together all the spices for the spice mix.

Generously coat the salmon flesh with this spice mix, being careful not to get the spices on the skin (otherwise they will burn when you try to get the skin crispy). Flip the filets so that the skin side is facing up and marinate in the refrigerator from anywhere between 2 hours to overnight. If your salmon is skinless just coat the entire filet.

After the salmon has marinated well, pat dry the skin with a paper towel.

Heat a teaspoon of oil in a frying pan and when it is warm (not too hot), place the salmon skin side down on the frying pan. Cover the filets with a piece of parchment paper and place a heavy object (like a smaller frying pan) on top of the parchment. This step ensures that the skin makes contact with the heat of the pan and gets nice and crispy. Cook the salmon on medium low heat for 5-7 minutes.

After 5-7 minutes, remove the weight from the top and carefully peel the parchment paper. Flip the salmon filets and cook them for 1-2 minutes or until they are fully cooked through (internal temperature of 145F/63C). Take the pan off the heat.
To make the coconut rice:
Heat a teaspoon of oil in a frying pan. When it is hot add in the mustard seeds and let them splutter. Next add in the cumin seeds, urad dal, cashews & curry leaves and let them turn a light golden brown color.

Next add in the finely chopped ginger and cook for a minute before adding in the red pepper flakes. Saute for about 30 seconds before adding in the shredded coconut. Cook this mixture until the coconut is lightly browned (about 2 minutes).

Add in the cooked rice (leftover rice works great) and season with salt to taste. Toss well to combine everything. Finally squeeze in the juice of half a lime and add in chopped cilantro before turning off the heat.
To make the mango salsa:
Chop all the ingredients into roughly the same sized cubes (around 1/2 inch). Combine chopped mango, avocado, red bell pepper, jalapenos, red onions and cilantro in a bowl with lime juice and salt. Mix everything well.
To serve:
Line bowls with lettuce (or any greens of your choice). Serve a generous portion of the coconut rice, a filet of masala salmon with a big scoop of mango salsa over the top. Add some sliced cucumbers for crunch and a wedge of lime for extra zing. Enjoy!
Notes
A variety of different protein options would work well in this recipe! You could replace the salmon with chicken, prawns or even paneer and follow the rest of the instructions as it is.
If you are following a plant based diet, tofu or tempeh would also be perfect substitutions in the recipe. Marinate the tofu/tempeh in the dry rub for a few hours before pan frying them for the best flavor.
Subscribe to my YouTube channel
Subscribe to get notified about my latest recipe videos!
A Little Note & Thanks
If you purchase something using the links on this site, Lime Thyme receives a very small commission. Don't worry, you won't pay a penny more. I only recommend products I believe in and personally use, so I hope you enjoy them too. Thanks for stopping by!