This immunity boosting smoothie is a perfect drink to enjoy for it's benefits during the fall and winter months. It's high in vitamin C and other antioxidants, vitamins and minerals to help keep your immune system at it's best. You can drink it as it is or reduce the liquid and make it into a smoothie bowl topped with fruit and granola!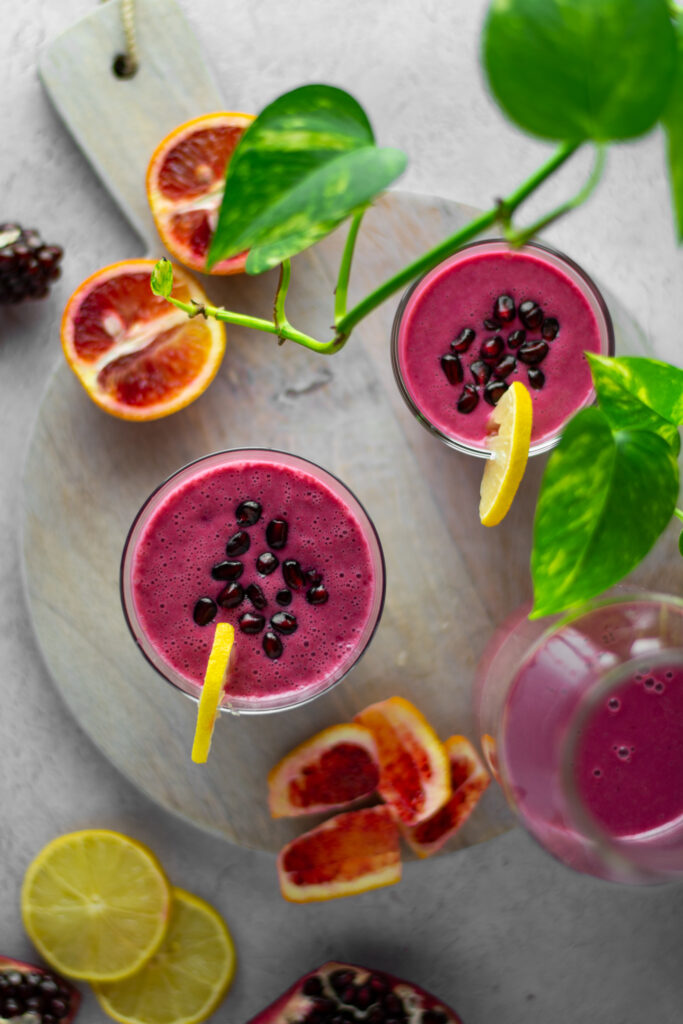 Benefits of immunity boosting smoothie!
As you can tell from the vibrant color of this smoothie, it is packed full with nutrients, vitamins, antioxidants and fiber! With cold and flu season upon us, it is best to consume foods high in vitamin C, antioxidants and anti inflammatory properties to keep us healthy and fit. This smoothie does exactly that! It will keep your immune system strong and healthy during these winter months and keep you full until your next meal!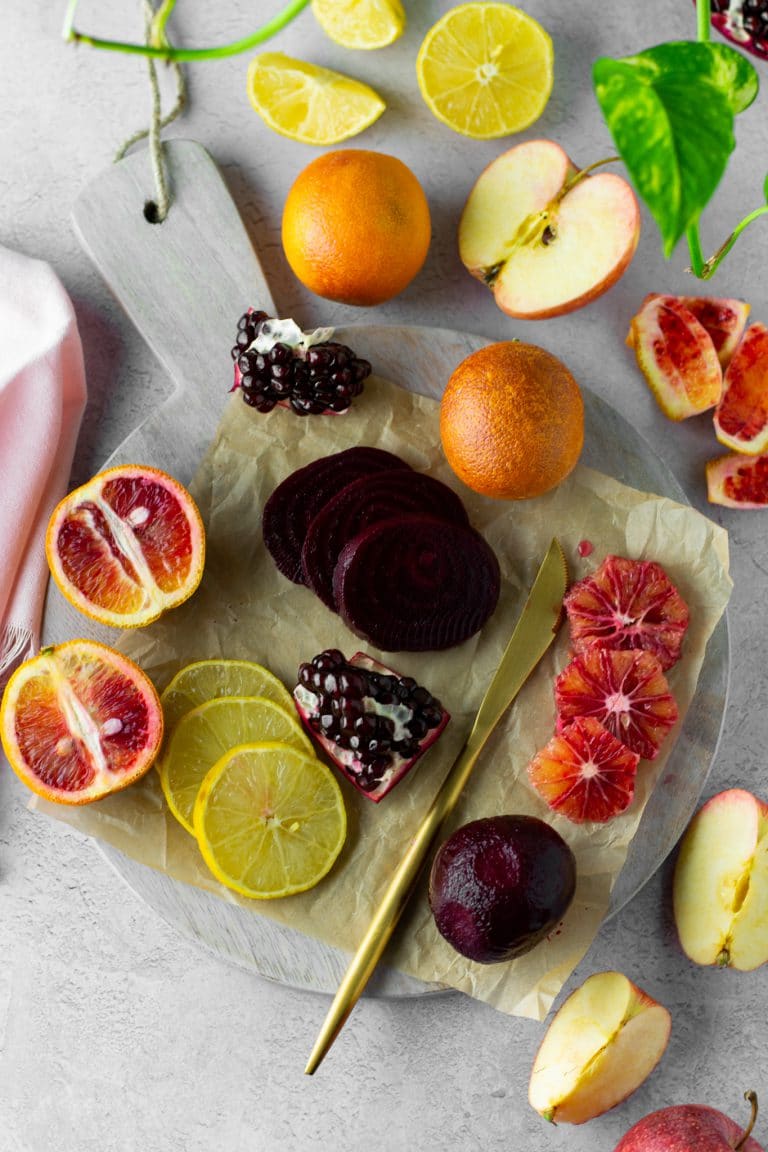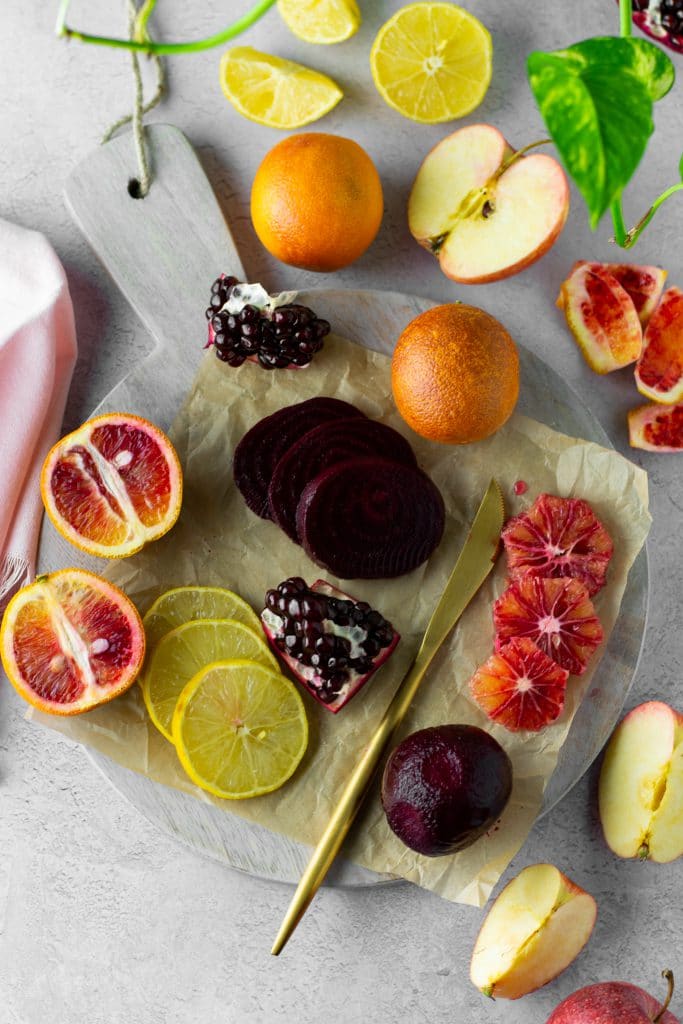 Fruits and veggies in this immunity boosting smoothie!
Beets are one of most nourishing and detoxifying foods you can eat. They are high in immune-boosting vitamin C, key minerals like potassium and manganese, as well as the B vitamin folate and plenty of fiber. Consuming beets can help lower blood pressure, reduce the risk of disease, detoxify the blood and liver, strengthen the immune system and support brain and bone health. You can use either raw or steamed beets in this smoothie.
Citrus are an excellent source of vitamin C and a good intake of vitamin C is associated with a reduced risk of cancer and a healthy immune system. I used blood oranges (since they are in season and I love the vibrant color) and lemons in this smoothie. The fiber in oranges can help to keep blood pressure in check, lower cholesterol and promote healthy digestion and their carotenoid content, much like carrots and tomatoes, makes them a good food to eat for healthy eyes.
Apples have been linked to numerous health benefits, including improved gut health and reduced risk of stroke, high blood pressure, diabetes, heart disease, obesity, and some cancers. Apples also have a lot of fiber, promoting great gut health along with other vitamins, antioxidants and minerals.
Pomegranates get their vibrant red hue from polyphenols. These chemicals are powerful antioxidants. The antioxidants in pomegranate juice can help remove free radicals, protect cells from damage, and reduce inflammation. Pomegranates are full of vitamin C and a single pomegranate can provide more than 40 percent of our daily requirement! They have also been known to have cancer preventing properties and can improve gut health and digestion.
Ginger has anti-inflammatory, antibacterial, antiviral, and other healthful properties. It can reduce gas and improve digestion greatly. Fresh ginger can help protect the respiratory system from cold and flu and can help reduce inflammation. It too is an excellent source of anti oxidants and helps improve immunity.
Black pepper has amazing antioxidant and anti inflammatory properties. It helps improve blood sugar metabolism and can help lower cholesterol levels. It also helps in absorption of other nutrients and is very good in promotion of overall health. When combined with the ginger and citrus, it will help keep you healthy and immune all winter long!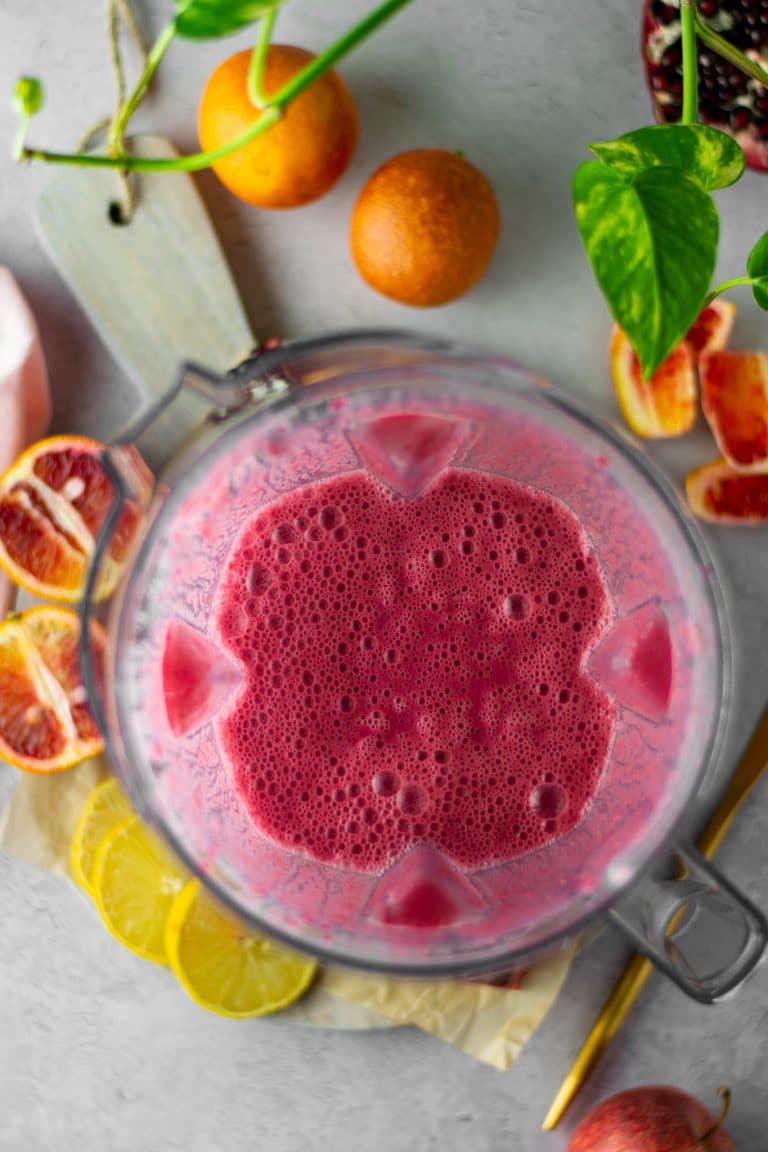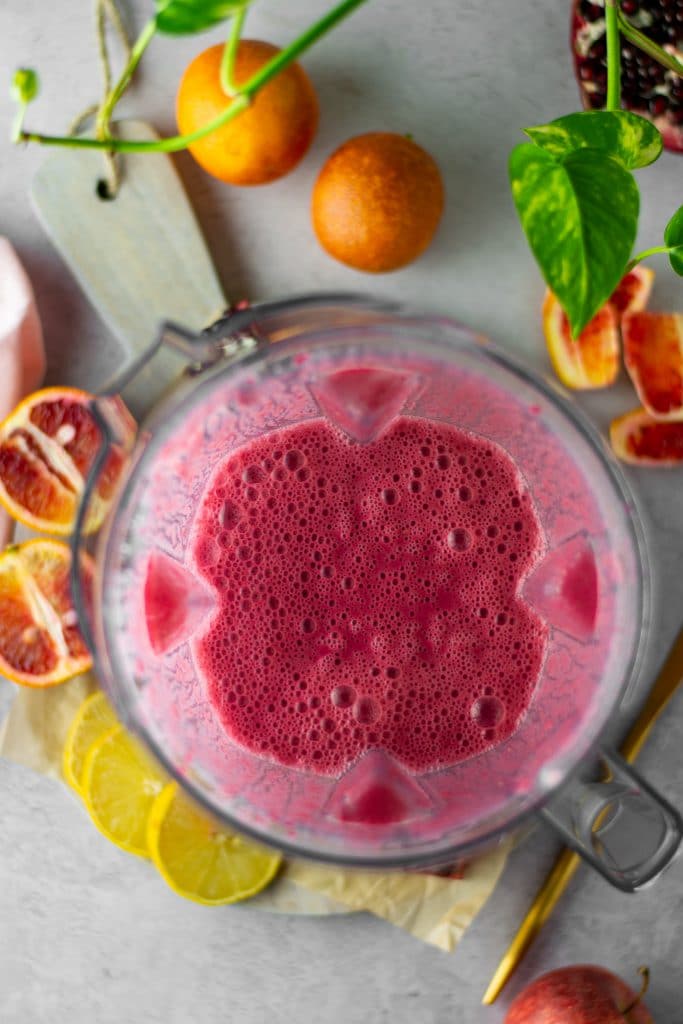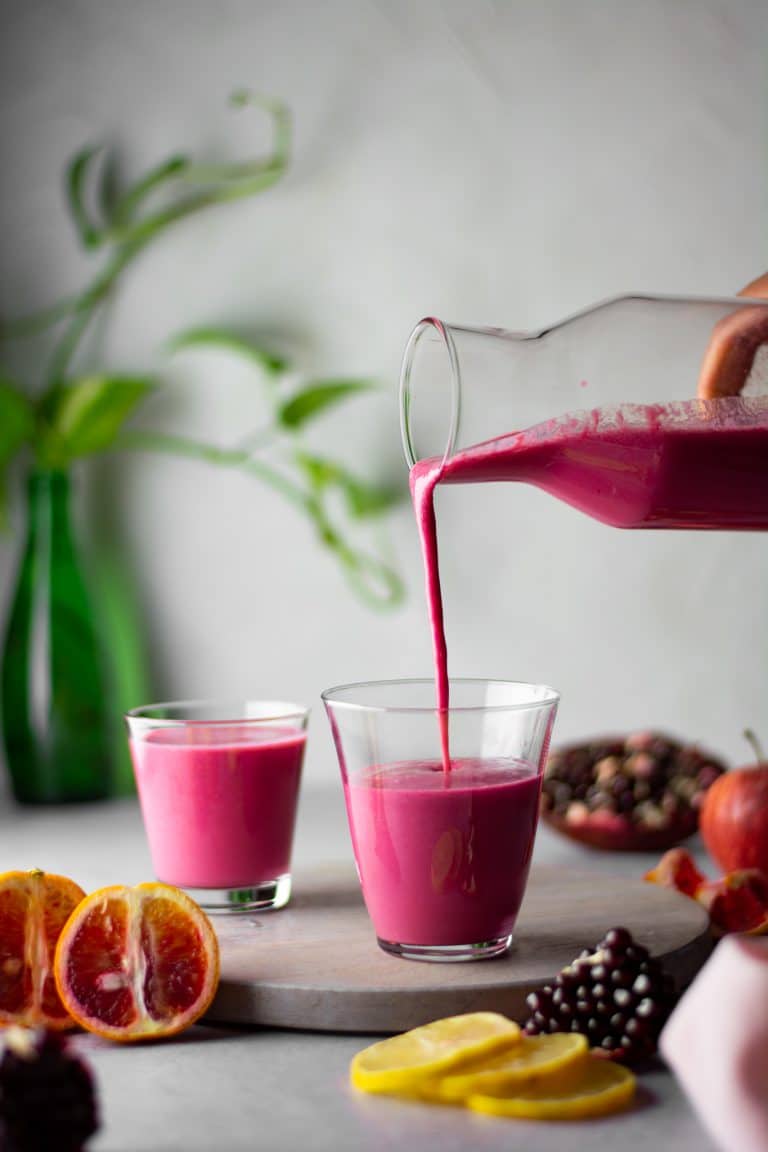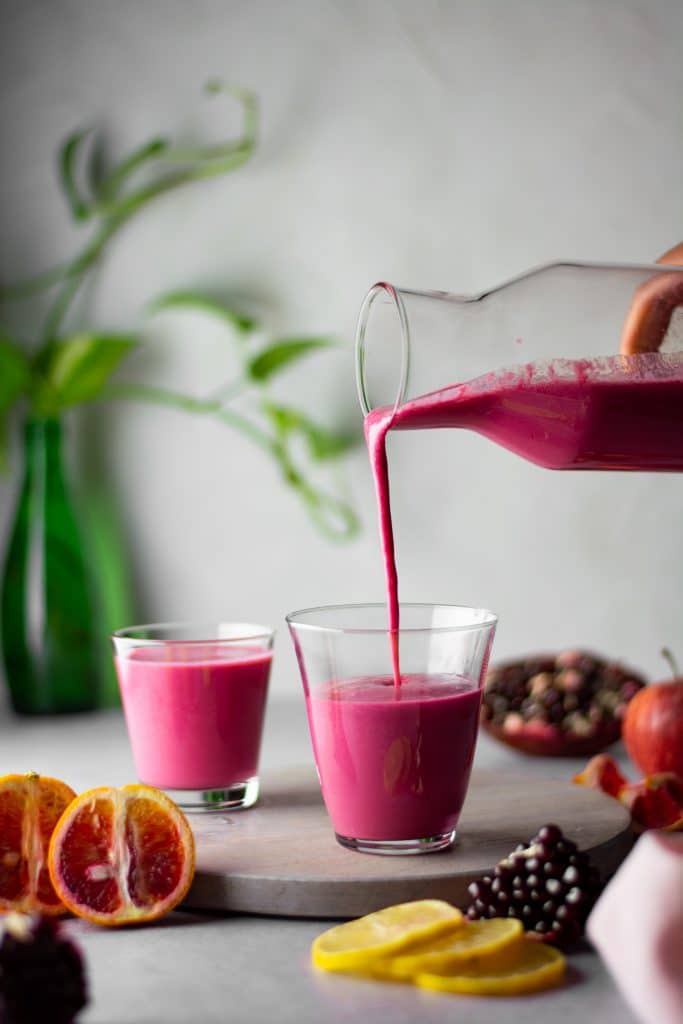 Other ingredients to use in this immunity boosting smoothie
My favorite liquids to use in this immunity boosting smoothie smoothie are:
Almond/plant based milks (for a creamy smoothie)
Greek yogurt/plant based yogurt for an added boost of protein and extra creaminess
Other liquids that will work well in this smoothie are:
Coconut water (especially during the summer, for extra electrolytes and hydration)
Fruit juices (for added flavor, vitamins and sweetness)
Watermelon/other melons (melons are almost all water and can easily replace the liquid in smoothies)
Water (if you're trying to cut calories)
Smoothies are a great way to include additional nutrients into our diet without much effort. Some of my favorite add ins to include in smoothies are: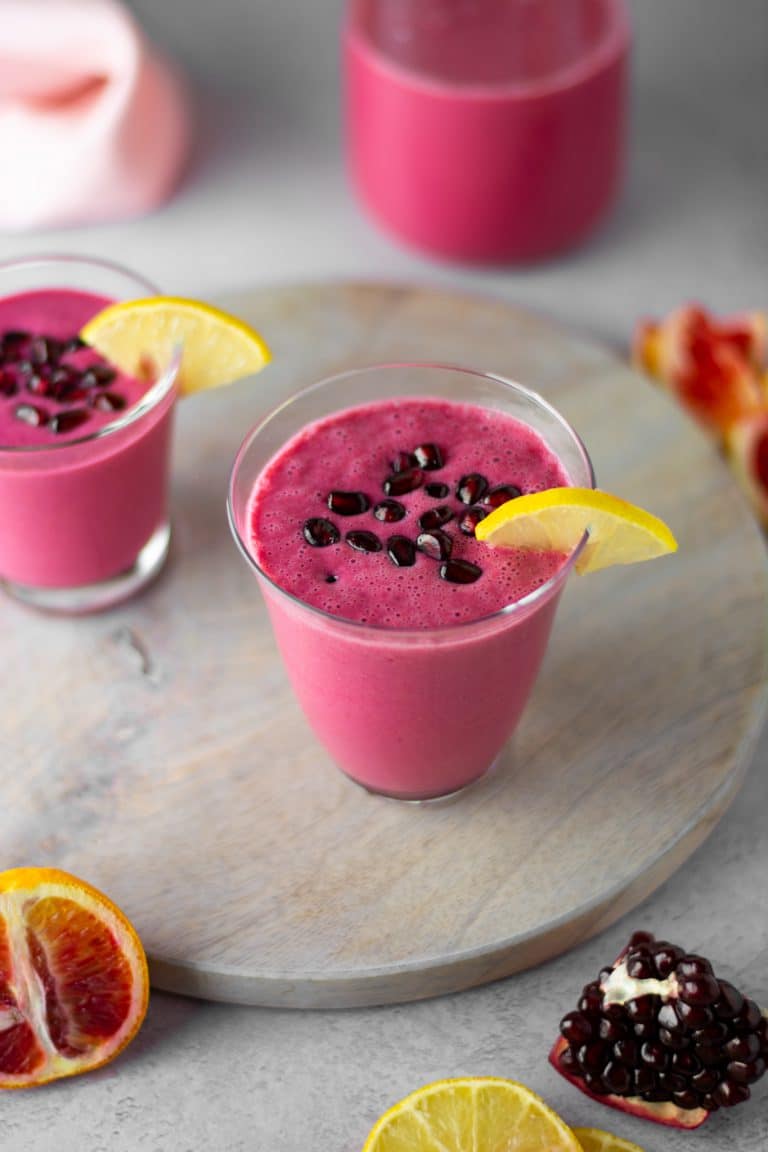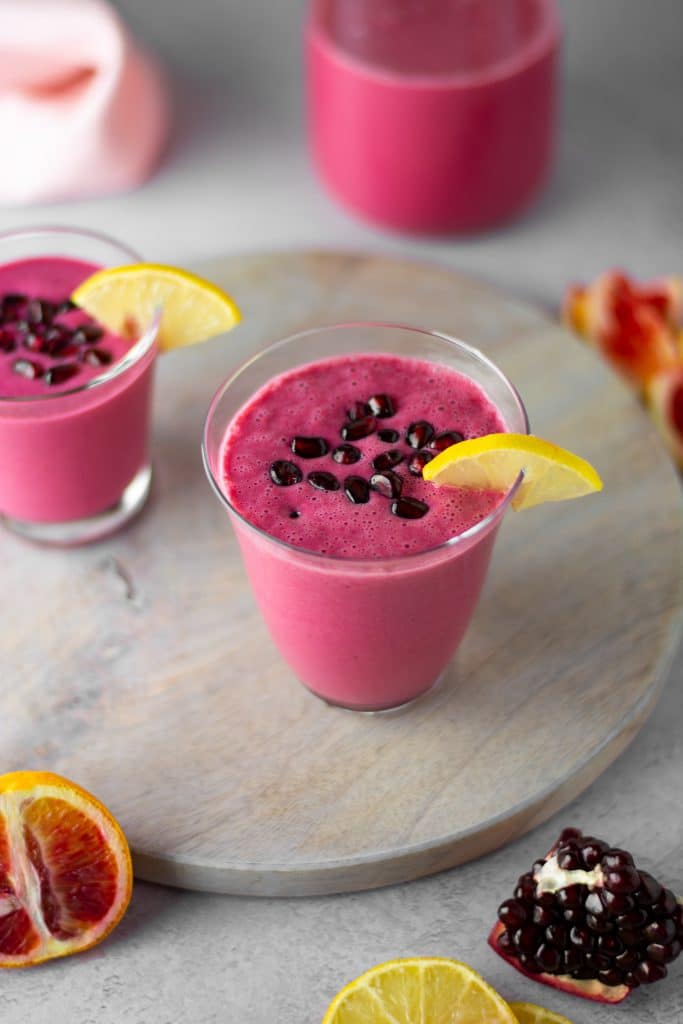 Toppings for making this into a smoothie bowl
If you'd like to make a thicker version of this immunity boosting smoothie so serve in a bowl, some nice options for toppings are:
My quick quinoa granola that is easy, healthy and nutritious.
Chopped fruit of your choice
Your favorite nuts
Shredded coconut
Shaved dark chocolate
Nut or seed butters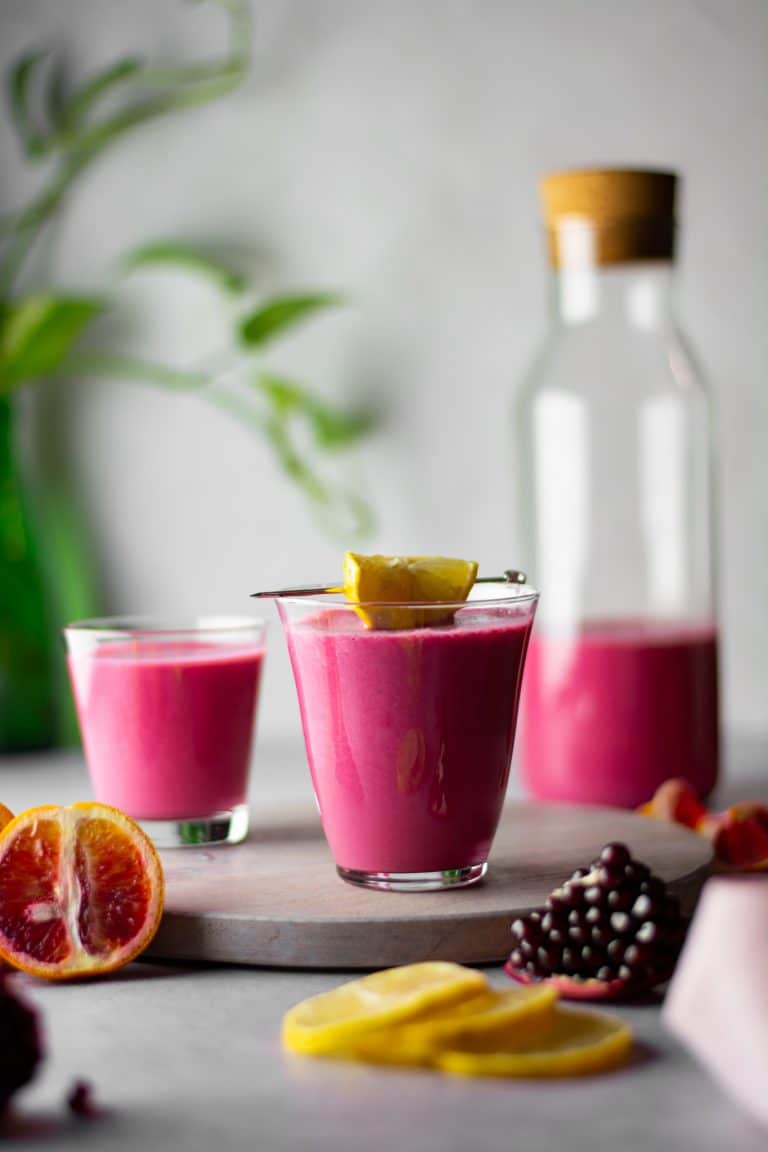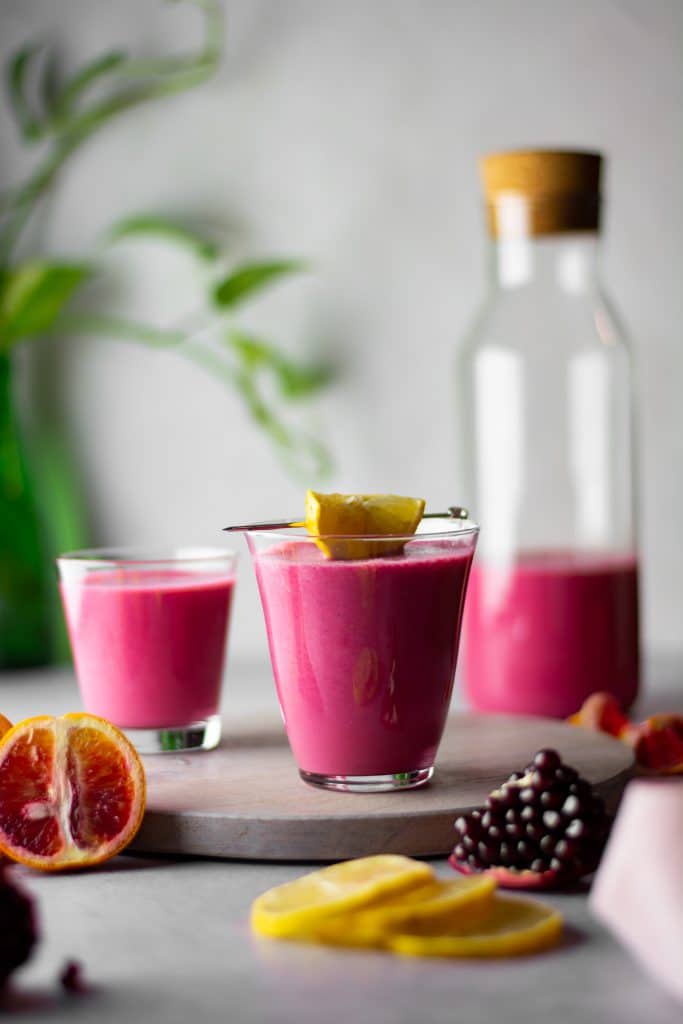 Equipment to use for making smoothies
I absolutely love using my Vitamix blender to make smoothies. I tried so many blenders before investing in a Vitamix and they would either not do a good job or end up breaking easily. I love how powerful it is and makes my smoothies so smooth and creamy.
I also love using the individual serving jars when I just want to make 1 serving of the smoothie. It is perfect to even carry on the go.
I also love using these glass straws to sip my smoothies. They are amazing, so easy to see through and clean thoroughly (when compared to stainless steel or bamboo options) and sustainable. I highly recommend them!
More healthy breakfast recipes to try!
Recipe
Love this recipe?
Rate the recipe by clicking on the stars in the recipe card below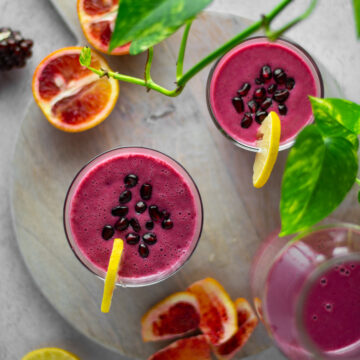 Winter citrus immunity boosting smoothie
This immunity boosting smoothie is a perfect drink to enjoy for it's benefits during the fall and winter months. It's high in vitamin C and other antioxidants, vitamins and minerals to help keep your immune system at it's best.
Equipment
Ingredients
1

cup

almond milk

½

cup

greek yogurt

2

small

blood oranges

peeled

1

apple

roughly chopped

2

small

beets

peeled, can be raw or steamed

½

cup

pomegranate seeds

2

tablespoons

lemon juice

2

teaspoons

ginger

½

teaspoon

freshly cracked black pepper
Instructions
Add all the ingredients into the blender in the order listed above and blend until you have a smooth smoothie. It took me about 45 seconds in my Vitamix blender. (See notes for substitutions)
Notes
Here are some substitutions that work great in this recipe:
Replace the Greek yogurt with any other plant based yogurt.
Replace the almond milk with any other fruit juice or coconut water.
Add in banana to make the smoothie creamier.
Add in optional add ins like protein powder , collagen powder or other superfoods
Use frozen fruit to chill your smoothie without using ice.
Estimated Nutrition
Nutrition Facts
Winter citrus immunity boosting smoothie
% Daily Value*
*Percent Daily Values are based on a 2000 calorie diet.
*Please note that the nutrition label provided is an estimate based on an online nutrition calculator. It will vary based on the specific ingredients you use.
Subscribe to my YouTube channel
Subscribe to get notified about my latest recipe videos!