This is an easy and nutritious home-made quinoa granola recipe that is a delicious breakfast with milk or yogurt. You can also eat it as a snack or as a topping for a smoothie bowl.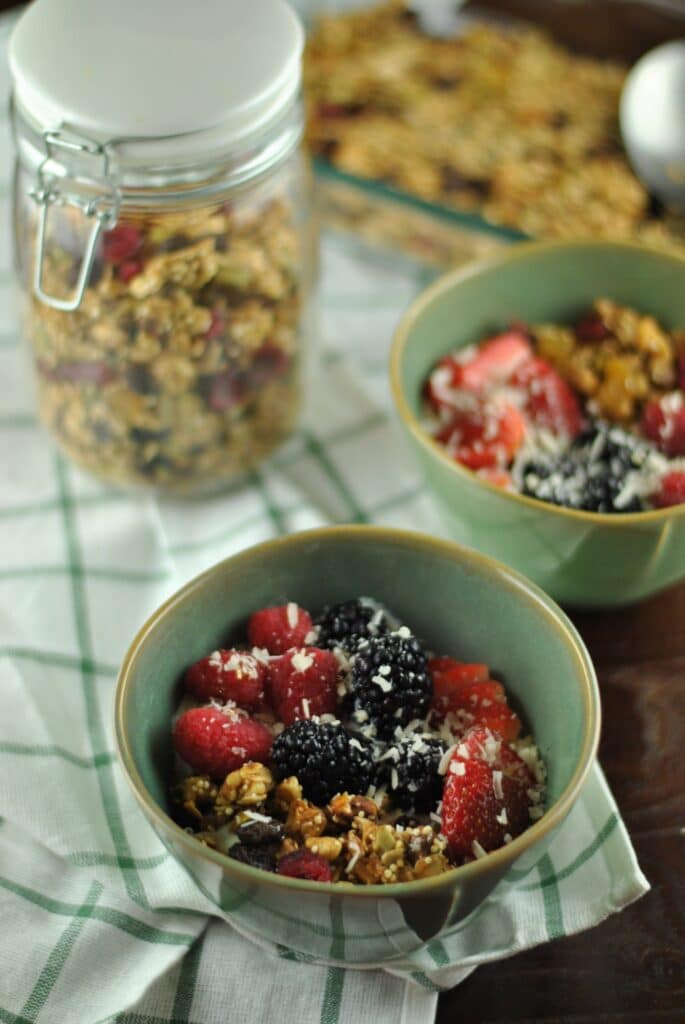 Today, I am sharing my favorite basic granola recipe. This recipe incorporates quinoa along with oats. When nice and toasted, the quinoa becomes crunchy and adds wonderful texture along with an added protein boost to this granola.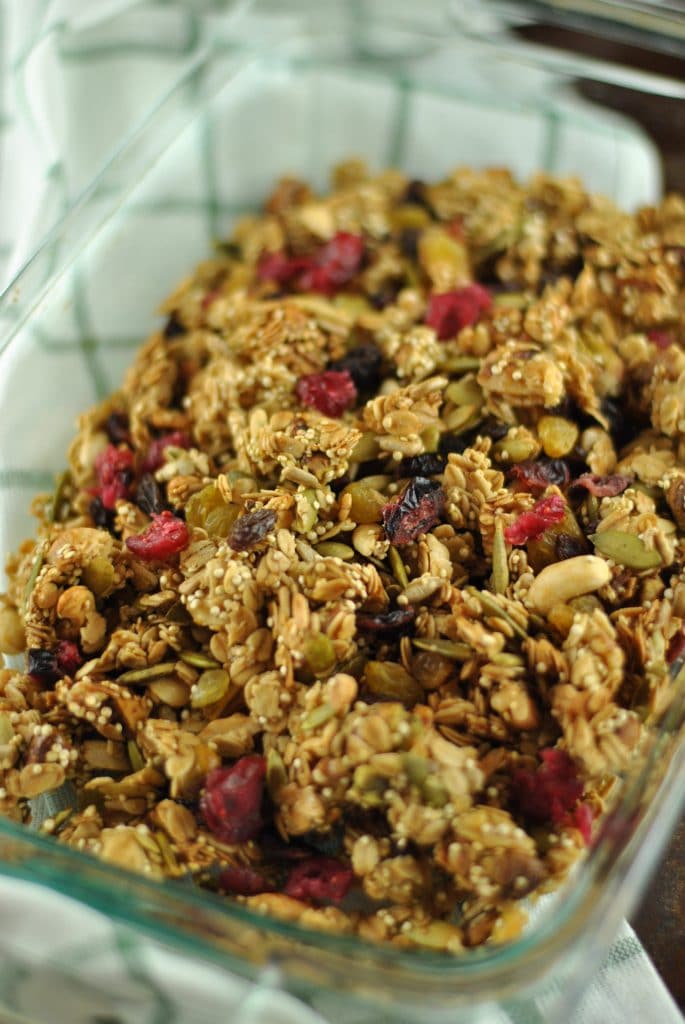 Why make your own quinoa granola?
The best part about making your own quinoa granola is that you have 100% control over what you put into it. This granola uses the best quality ingredients and no refined sugars or fats. The result is so flavorful, crunchy and satisfying without any guilt.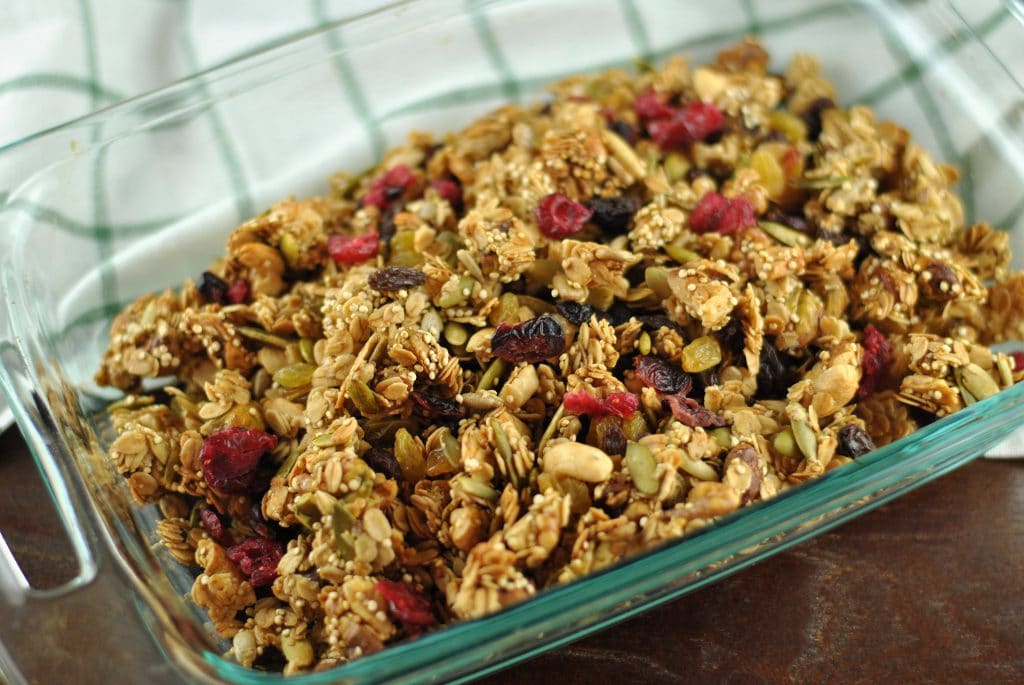 Next time you are buying granola at a store, I highly recommend you read the ingredients in it. Store bought granola is usually laden with a ton of refined sugar and fat and contrary to how it is marketed, it isn't healthy at all. If you do find a brand with good ingredients, it is usually overpriced for what you are getting.
You will be surprised at how easy it is to make your own quinoa granola. The prep time takes less than 15 minutes and you can customize your granola to your liking. Feel free to swap out the grains, nuts, seeds and fruit in this recipe with your favorites and it will still turn out awesome. This recipe keeps well for about 2 weeks in airtight jar.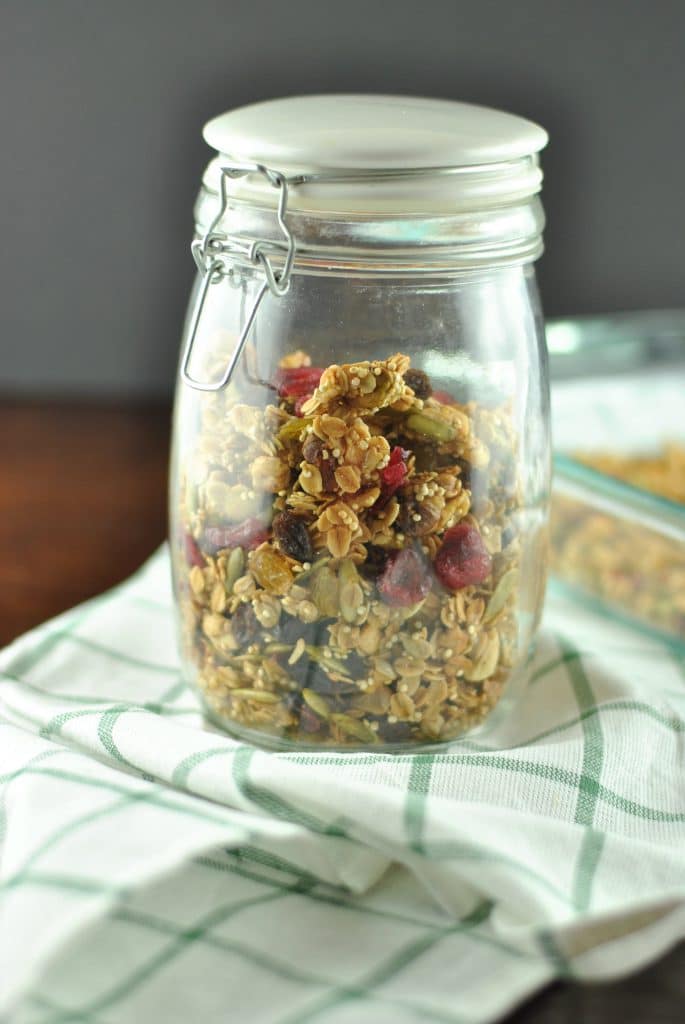 When my mom was visiting me, I had made a batch of this granola. She had never tried granola before and she ended up loving it so much that she ate it everyday for breakfast and also asked me to make her another batch to take back to India. If this granola can satisfy a discerning Indian palate, it can please anyone!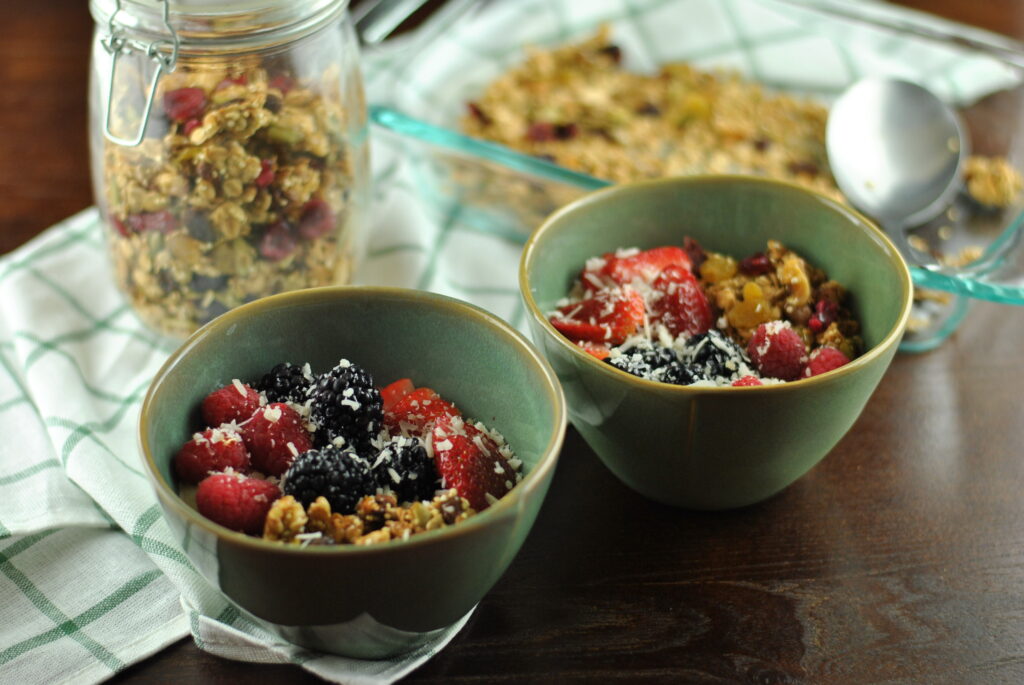 I hope you like this recipe as much as I do. Please leave a comment below to let me know what you think and subscribe to my social media platforms if you would like to see more easy and delicious recipes.
Love this recipe?
Rate the recipe by clicking on the stars in the recipe card below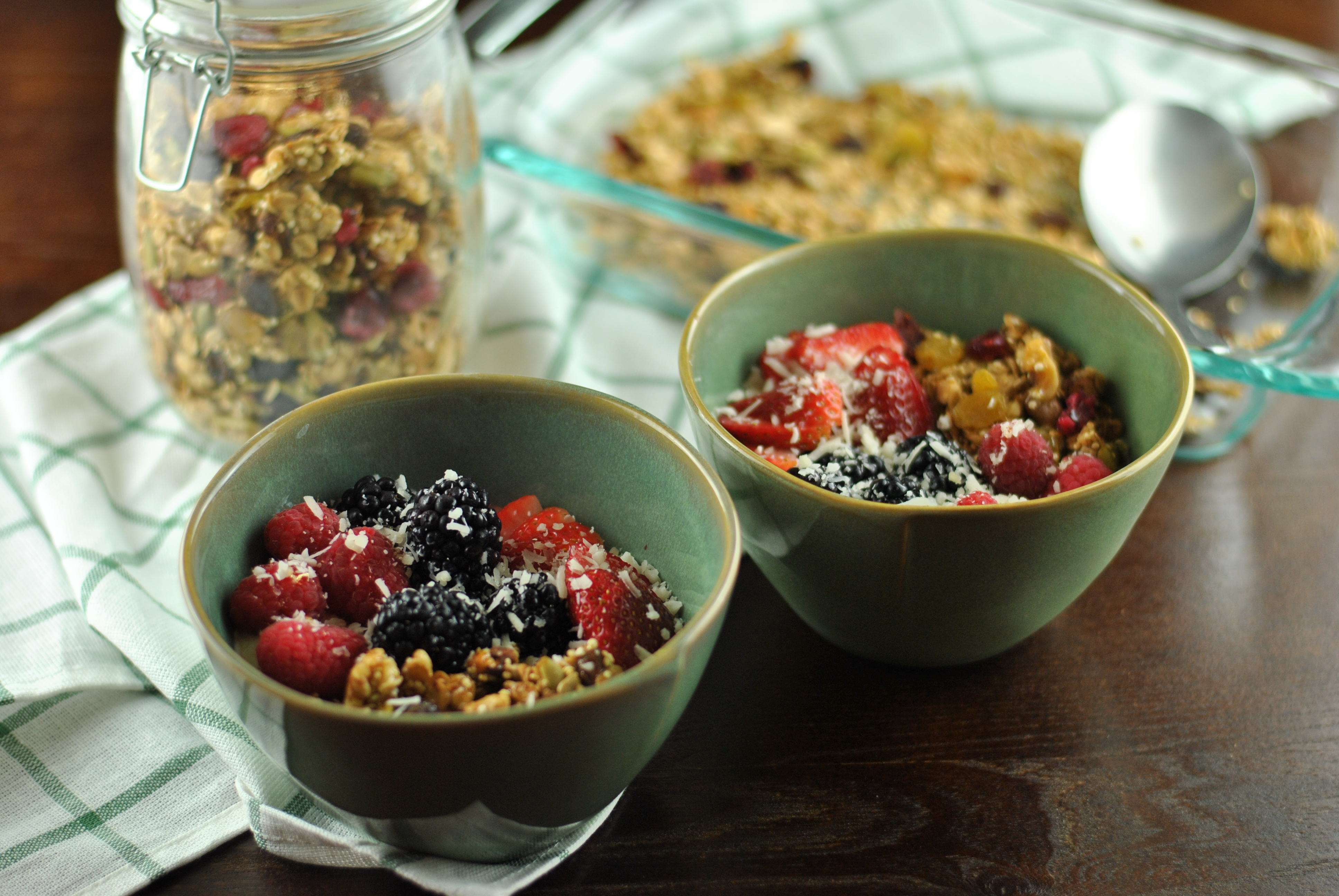 Quinoa, Oat, Nut, Seed and Fruit Granola
This is an easy and nutritious home-made quinoa granola recipe that is a delicious breakfast with milk or yogurt. You can also eat it as a snack or as a topping for a smoothie bowl.
Equipment
Ingredients
Dry ingredients:
Dried fruits:
1/4

cup

raisins

1/4

cup

dried cranberries
Instructions
Preheat oven to 300F or 150C for 15 minutes.

Add all the dry ingredients into a bowl and mix.

Add in all the wet ingredients into the same bowl and toss well to combine

Spread the granola mixture on to a parchment or silicone lined baking sheet. Bake for around 40 minutes, checking every 15 minutes for even baking.

Remove from oven and mix in the dried cranberries and raisins into the hardening granola clusters. Then let it cool completely.

Store in an air-tight container for up to two weeks.
Notes
You can use a mixture of any grain, nuts, seeds and fruits of your choice. Just make sure that the total volume of all the dry ingredients+fruits together is around 5 cups.
You can use any sweetener of your choice. I like the flavor of honey+maple syrup. Other options are rice syrup, agave syrup etc. Just use a total of 1/4 cup of sweetener. To make it vegan, skip the honey and use any other syrup combination.
If you don't have/like coconut oil, you can also use a flavorless oil (my favorite is cold-pressed avocado oil) or ghee instead.
Subscribe to my YouTube channel
Subscribe to get notified about my latest recipe videos!
A Little Note & Thanks
If you purchase something using the links on this site, Lime Thyme receives a very small commission. Don't worry, you won't pay a penny more. I only recommend products I believe in and personally use, so I hope you enjoy them too. Thanks for stopping by!