These dabeli/samosa pinwheels are the perfect bite sized appetizer. They are baked/air fried and turn out super flaky and crispy with an amazing melt in the mouth filling. The dabeli filling is tangy, sweet, spicy, crunchy and a total treat for your taste buds! What a perfect appetizer/party snack! You have to give this recipe a go!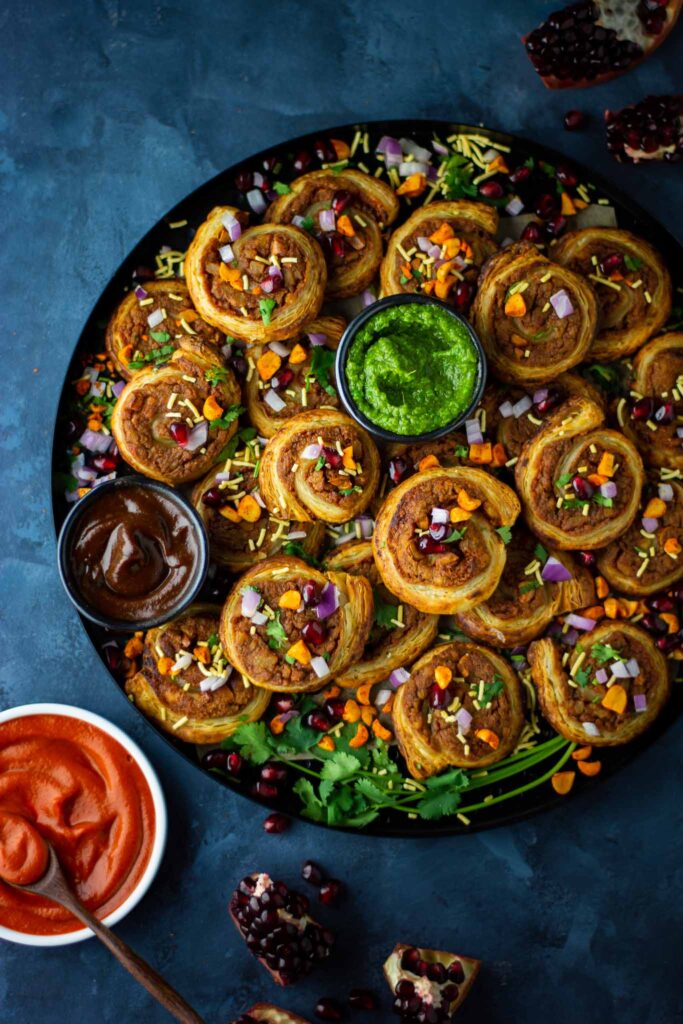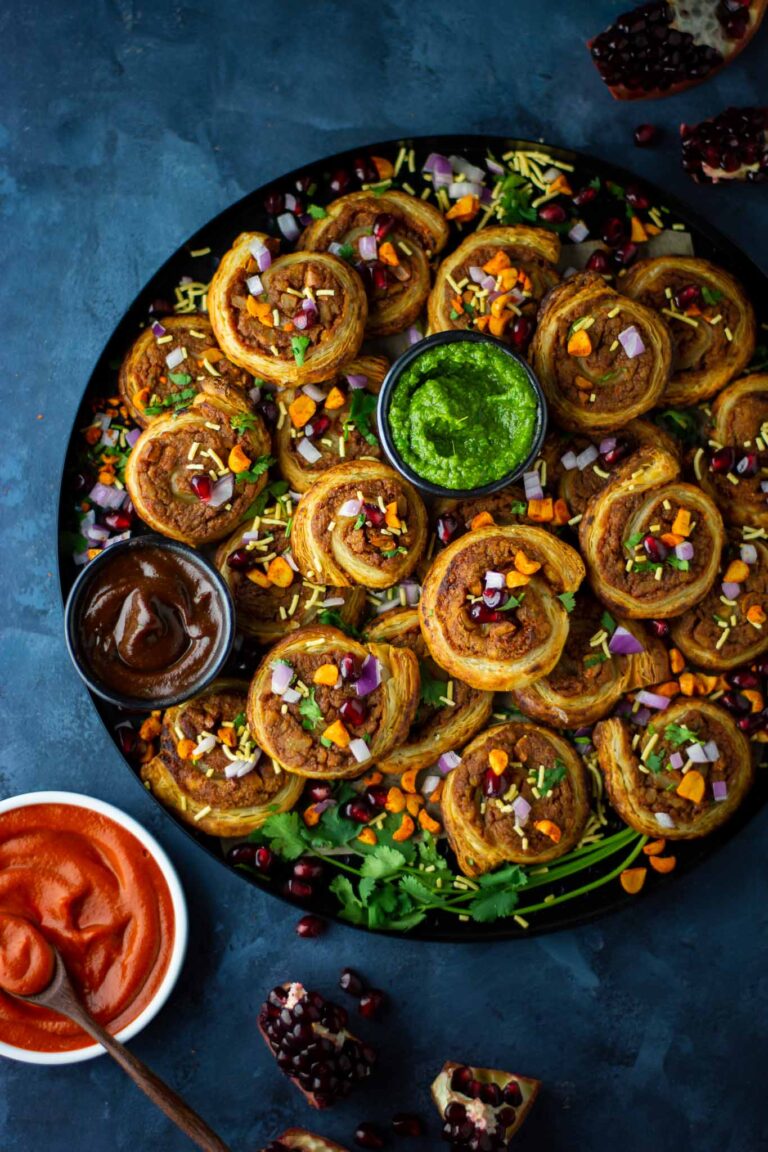 Dabeli pinwheels!
Dabeli is a popular snack food of India, originating in the Kutch region of Gujarat. It is made by mixing boiled potatoes with a special dabeli masala and then stuffing the mixture in pavs (soft dinner rolls). It is usually served with a tamarind date chutney and chili garlic chutney and is garnished with pomegranate seeds and roasted peanuts.
Growing up in Bombay, dabeli used to be one of my most favorite street snacks. It is usually sold by street vendors in bustling corners of the city. The combination of the sweet tamarind date chutney with the fiery chili garlic chutney and the juicy bursts of pomegranate seeds, is what gives this dish its iconic taste. It truly is a treat for all your senses.
I've recreated those classic dabeli flavors in this recipe, albeit in a different form. Instead of stuffing the filling in soft pavs, I decided to stuff it into readily available puff pastry and make cute bite sized pinwheels, thus creating the perfect appetizer/party food! These pinwheels are the perfect amalgamation of all the different flavors and textures we love in a dabeli, but in a little bite sized portion. You will love this recipe!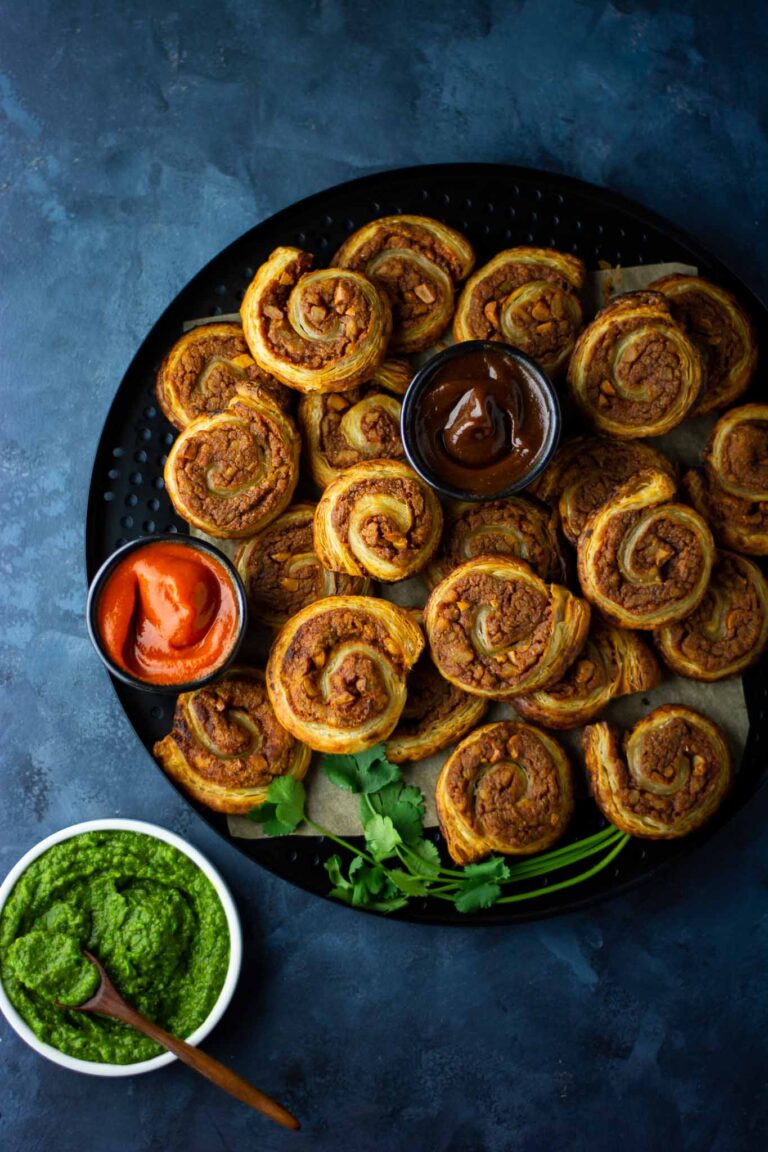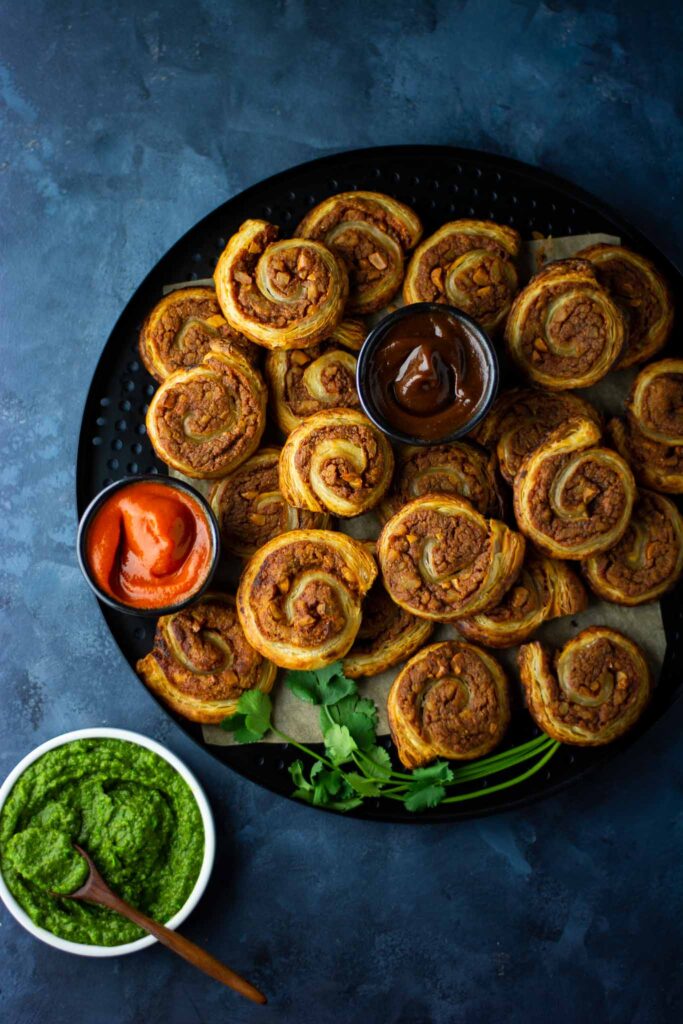 Samosa pinwheels
I also love making these pinwheels with my homemade samosa filling to make samosa pinwheels instead of dabeli pinwheels.
Here's how you make samosa pinwheels:
Only make the date and tamarind chutney from the recipe card below.
Make samosa filling and green chutney from this recipe.
Spread the tamarind chutney on the puff pastry and then spread the samosa filling all over it.
Roll, cut and bake the pinwheels using the instructions in the recipe card.
Serve the green chutney and remaining tamarind chutney on the side to dip the pinwheels into.
Air frying v/s baking
Both air frying and baking produce amazingly crispy and flaky pinwheels. Which option you use to make these amazing dabeli/samosa pinwheels will depend on a couple of criteria:
Air fryer: Air fried pinwheels turn out super crispy and the biggest advantage of this method is that it takes about half the time to cook compared to the oven method. However, most air fryers are small and this method will work well only if you are making a small batch of these pinwheels. This option is perfect when you are making a small batch for 1-2 people.
Oven: oven baked pinwheels also turn out amazing but take twice the amount of time compared to an air fryer. However, if you are making a large batch, then this is the way to go. You can make a very large batch at once using multiple baking trays (and doubling this recipe) and they will all be perfectly crispy and ready at the same time! This option is perfect when you have company over or are serving a crowd.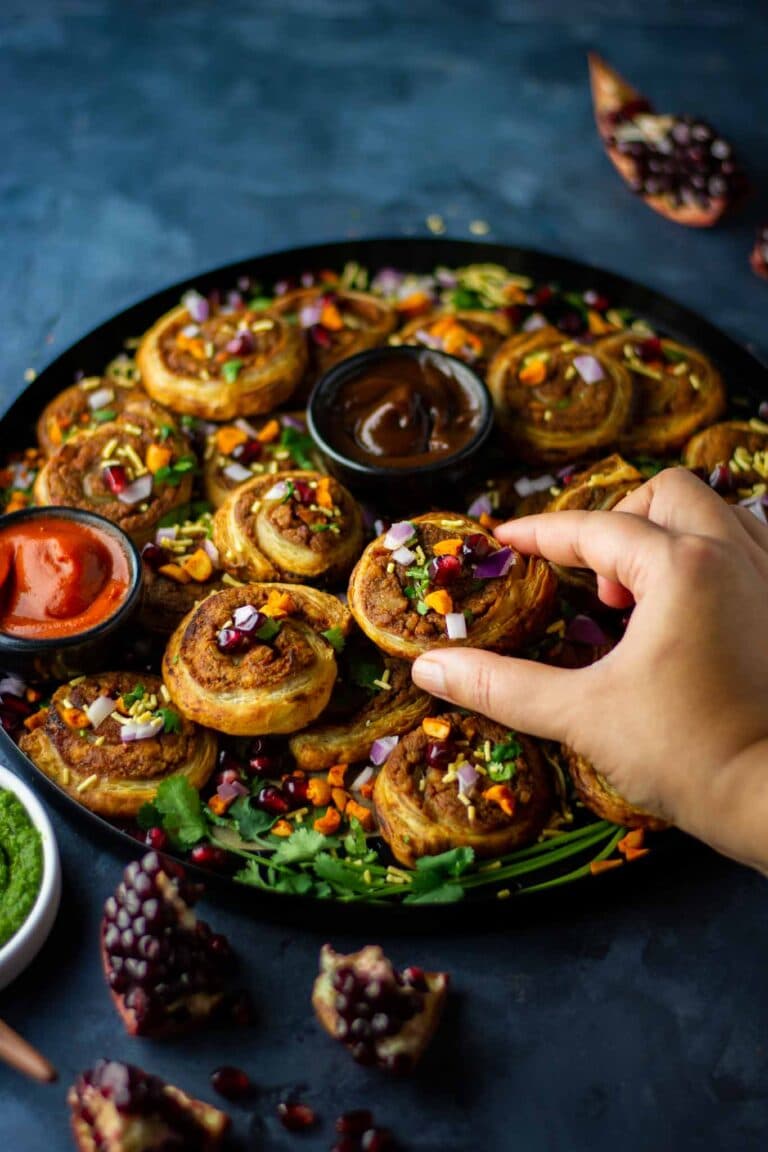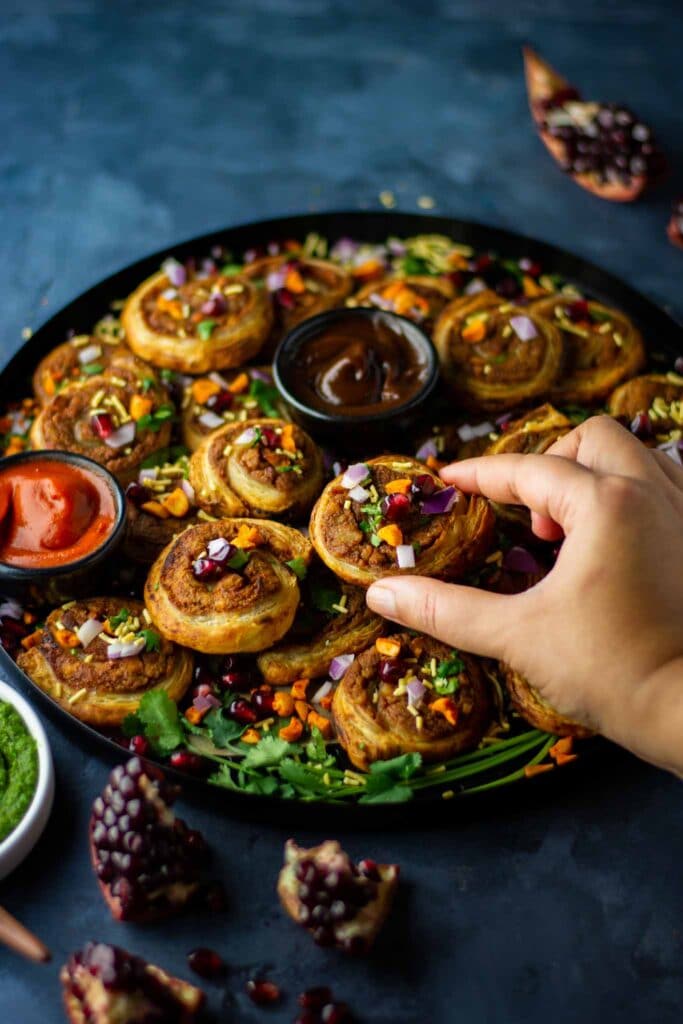 Storage instructions
The best part about these pinwheels is that you can make it ahead of time. This works out perfectly if you're having guests over. After filling and rolling the pastry, wrap it tightly in cling wrap and refrigerate the log for up to 5 days. Slice and bake/air fry when ready to serve.

You can also freeze these pinwheels for later. To do that, slice and freeze them in a single layer on a baking sheet until partially frozen and then transfer into a freezer safe container or bag. Store it in the freezer for up to 3 months. Cook them directly from frozen using the same instructions above, but add about 5-6 minutes to the baking/air frying time.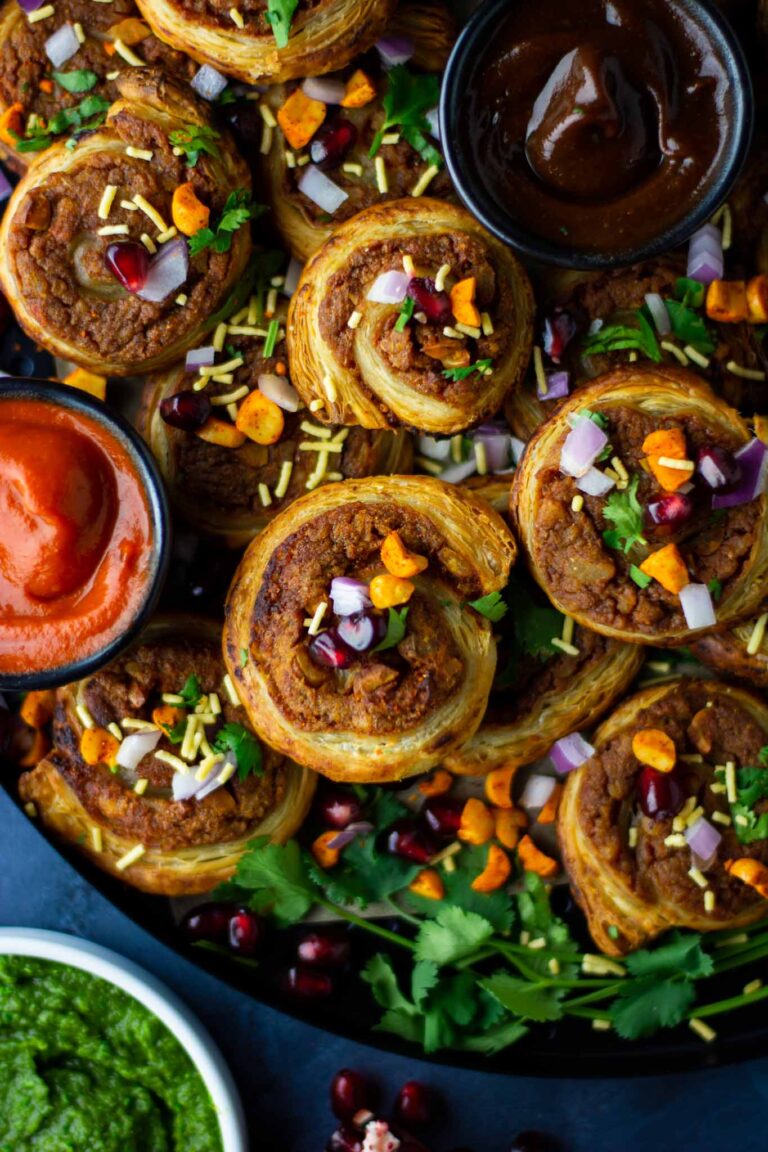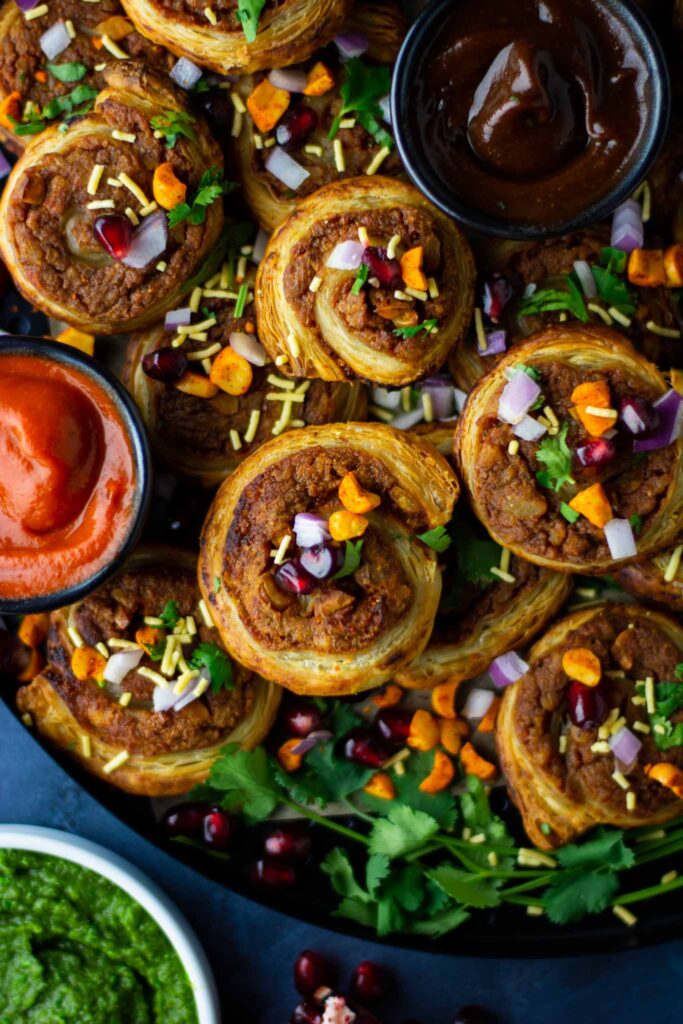 Frequently asked questions
More appetizers to try
Recipe
Please leave a comment below to let me know what you think and subscribe to my social media if you would like to see more easy and delicious recipes.