In this south Indian inspired tamarind tofu ghee roast recipe, nuggets of tofu are pan roasted in ghee until crispy & then tossed in a tangy tamarind sauce before being seasoned with aromatics like ginger, garlic, chillies & curry leaves. This recipe is so quick to make and tastes absolutely incredible with a bowl of steaming rice.
Watch the step by step tutorial on how to make this Tamarind tofu ghee roast here.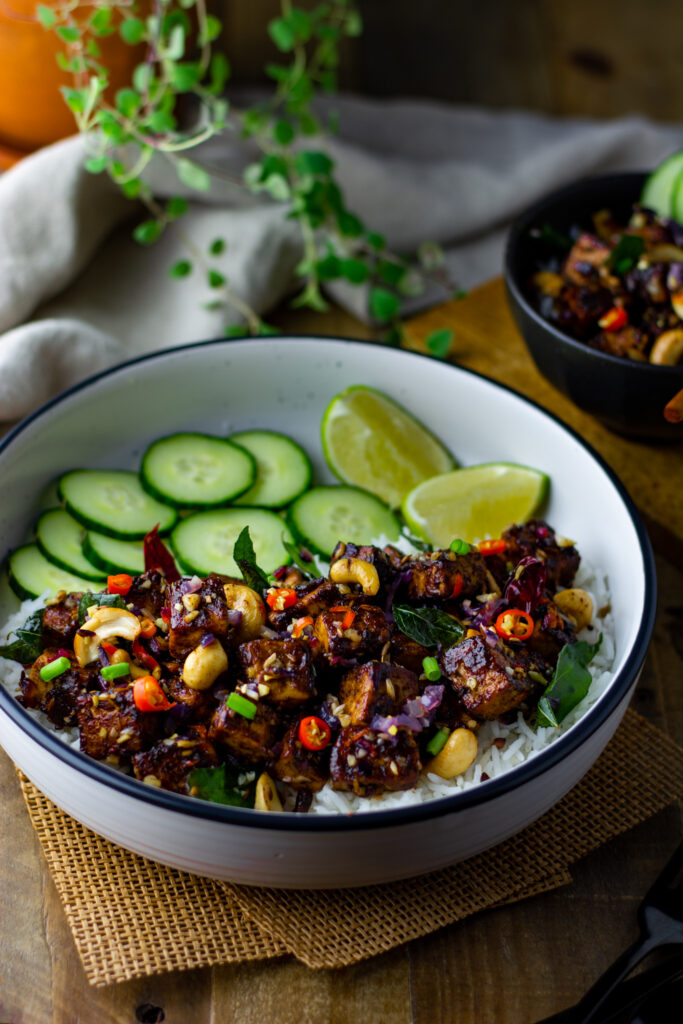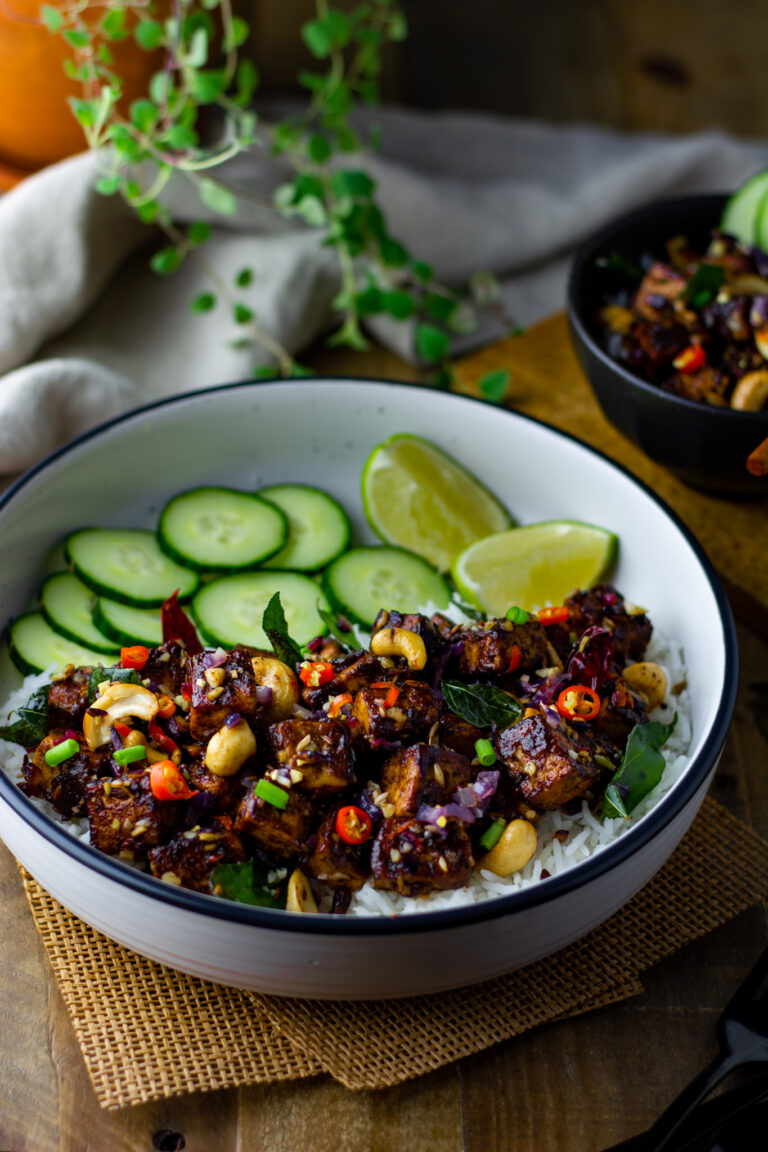 What makes this tamarind tofu ghee roast so special?
My family is from Mangalore, a coastal city in the south west of India and south Indian food has always been a big part of my upbringing.
Mangalore is famous for its 'ghee roast' where different choices of protein or veggies are slowly roasted in a lot of ghee and an iconic spicy red sauce. Having lived away from home for over a decade now, I'm always trying to recreate these special flavors in new and exciting ways. Here, I've tried to recreate that iconic ghee roasted flavor but with a different mix of spices and sauce.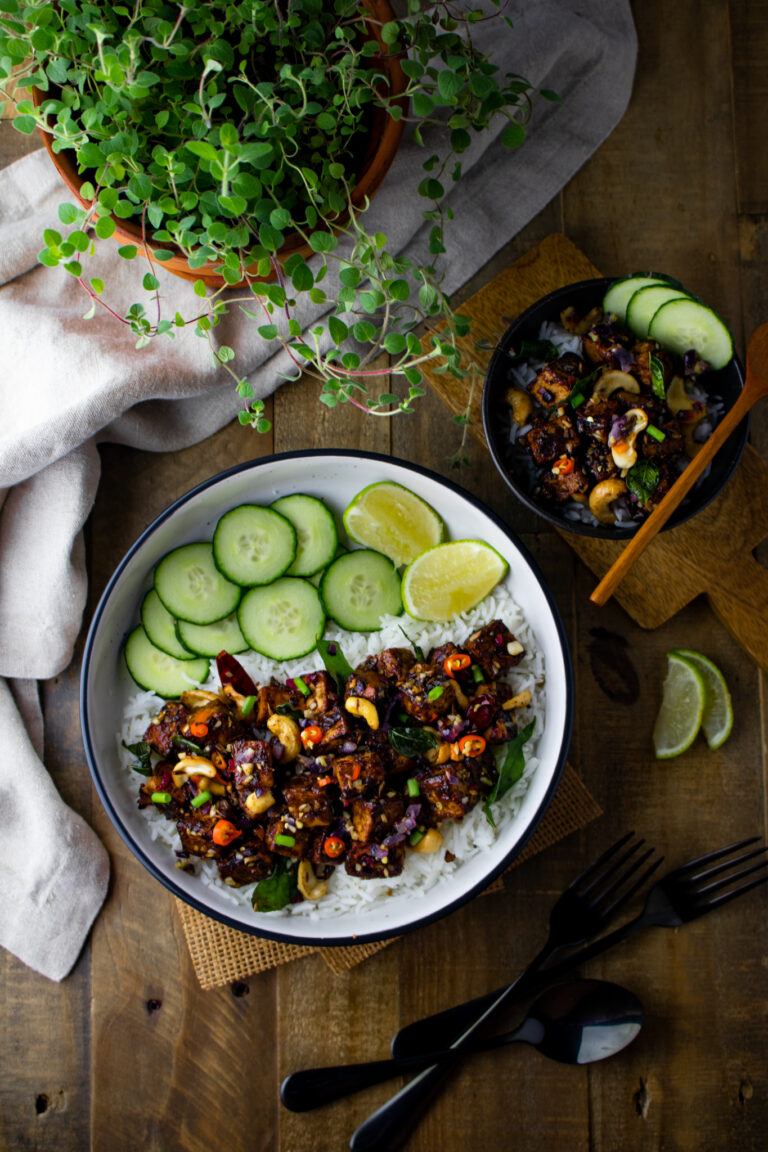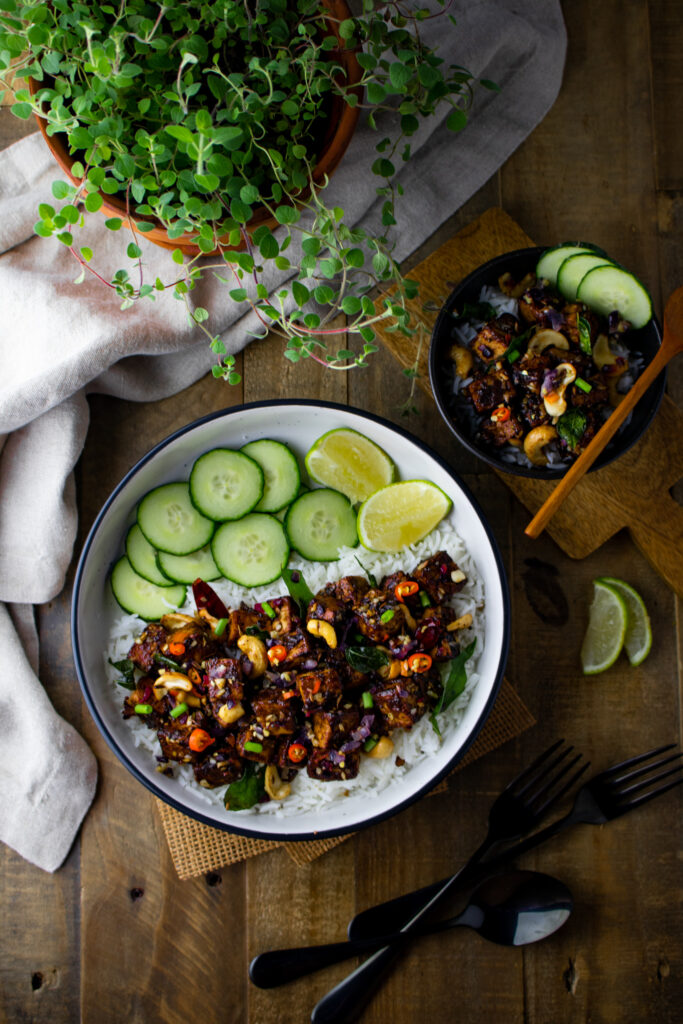 Flavors in this tamarind tofu ghee roast recipe!
This tamarind tofu ghee roast turns out amazingly lip smacking!
The organic tamarind paste adds both incredible color + a sweet and sour flavor to this dish and the ghee adds the most amazing aroma and helps the tofu caramelize and create a beautiful crust, adding textural contrast.
I also used fresh Pure Indian Food's fresh Tellicherry peppercorns in this recipe. It adds such a punch of flavor and peppery goodness that compliments the sweet & sour taste of the sauce splendidly.
The tadka (sauteed whole spices and aromatic veggies) adds amazing flavor from the ginger, garlic and chilies and texture from the whole spices. I especially love the crunchy curry leaves and cashews in this recipe along with the succulent cubes of tangy tofu!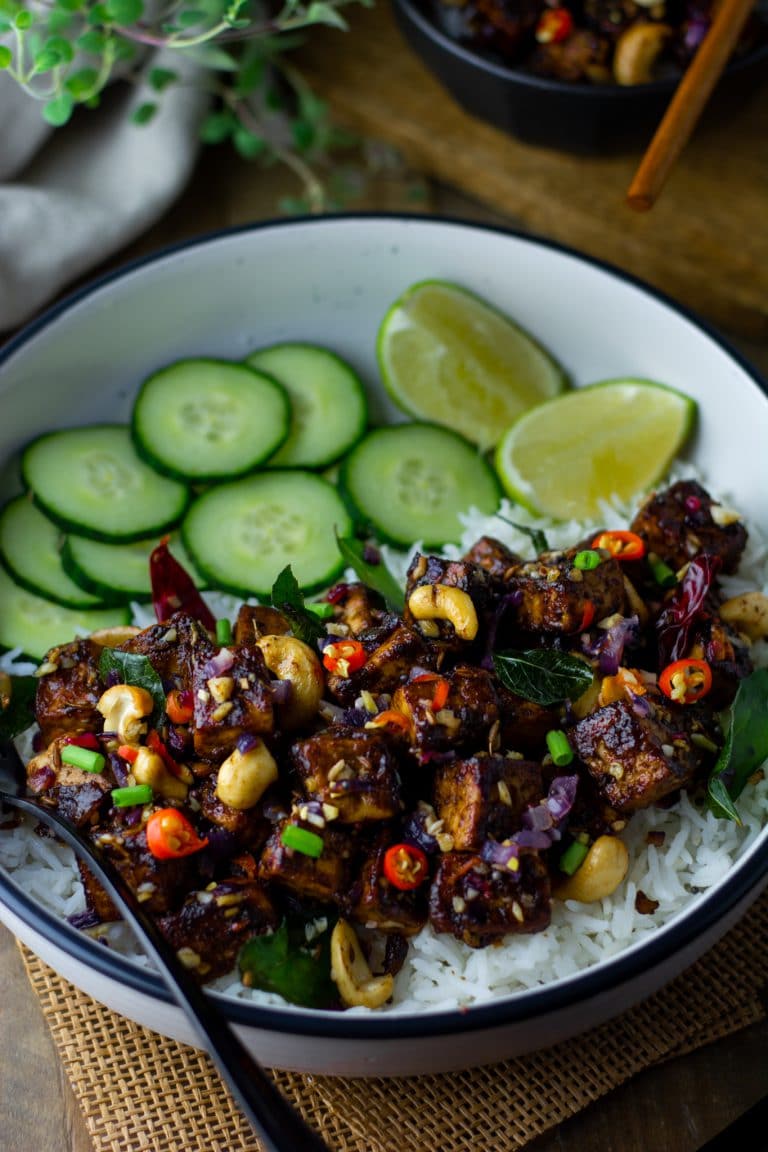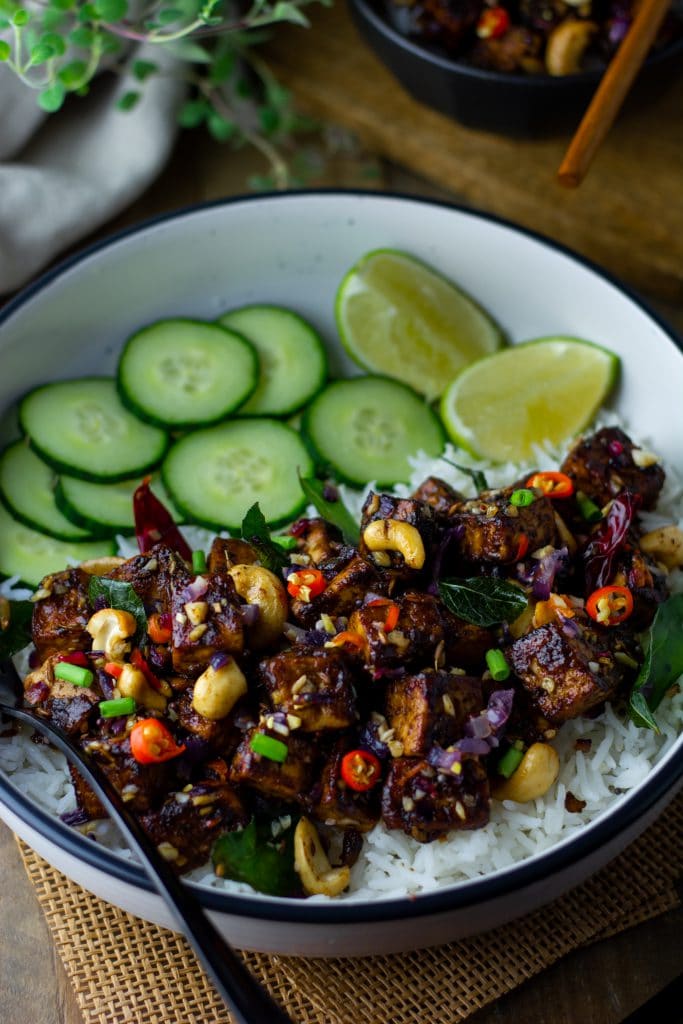 Protein choices for this recipe
Using tofu in this recipe is a great choice because when tofu is pressed well, it releases so much moisture and is left with so many nooks and crannies that absorb the tamarind sauce really well, giving it an amazing sweet and sour taste.
Some other amazing plant based alternatives would be tempeh or seitan. Both of these will soak this sauce really well and get nice and caramelized.
For non plant based alternatives, I think any lean meat like chicken, seafood (including shrimp and fish) and paneer/halloumi will all work really well in this recipe.
The recipe and procedure will remain the same, just replace tofu with your preferred choice of protein.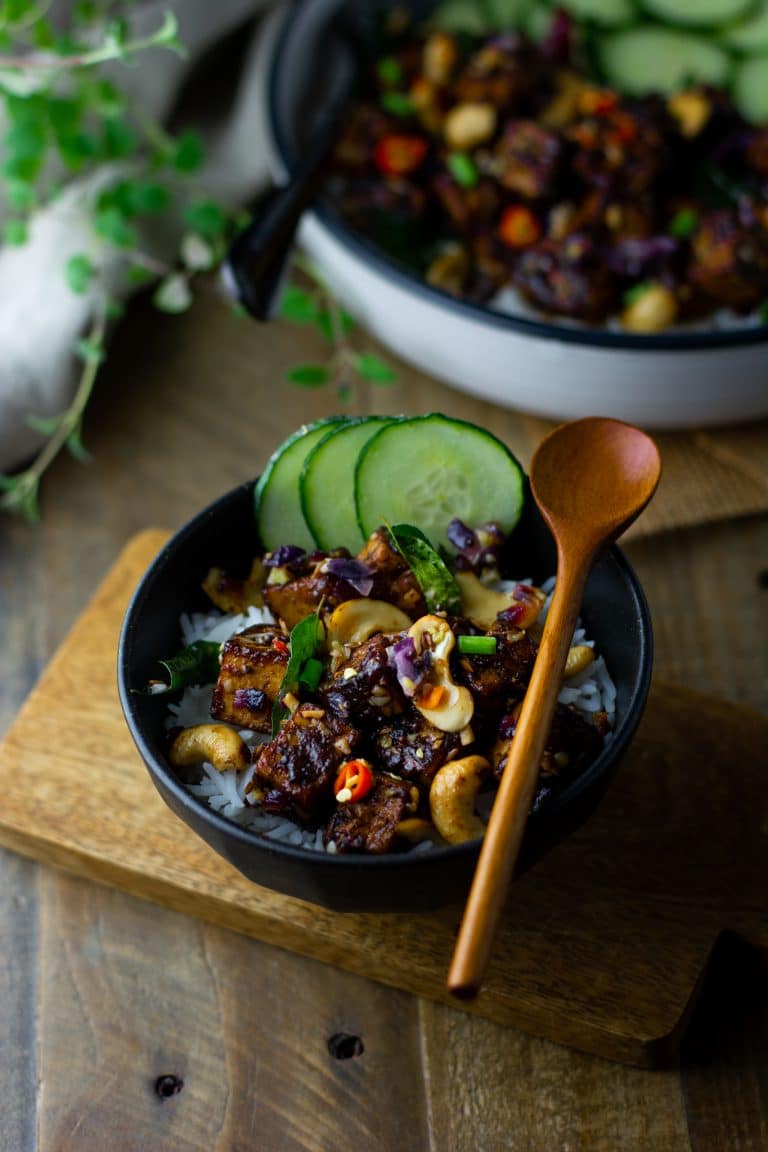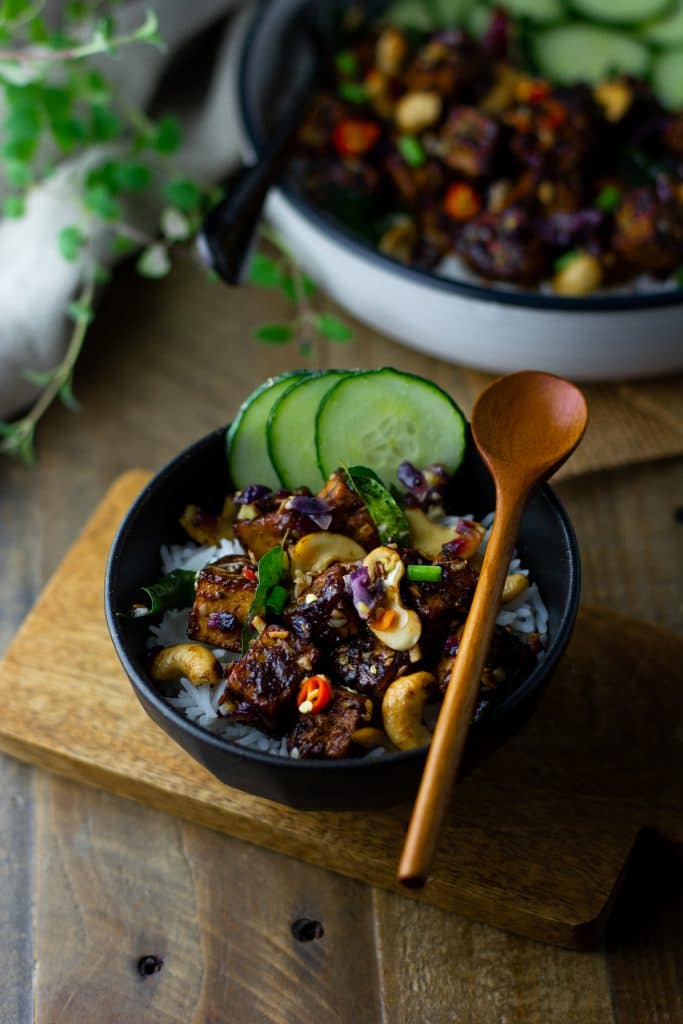 More recipes to try!
If you love this recipe, you might want to check out my Eggplant rollatini makhani, Layered vegetable ratatouille and Curry roasted cauliflower recipes.
All these recipes are vegetarian and turn out amazingly delicious. I hope you can give them a try!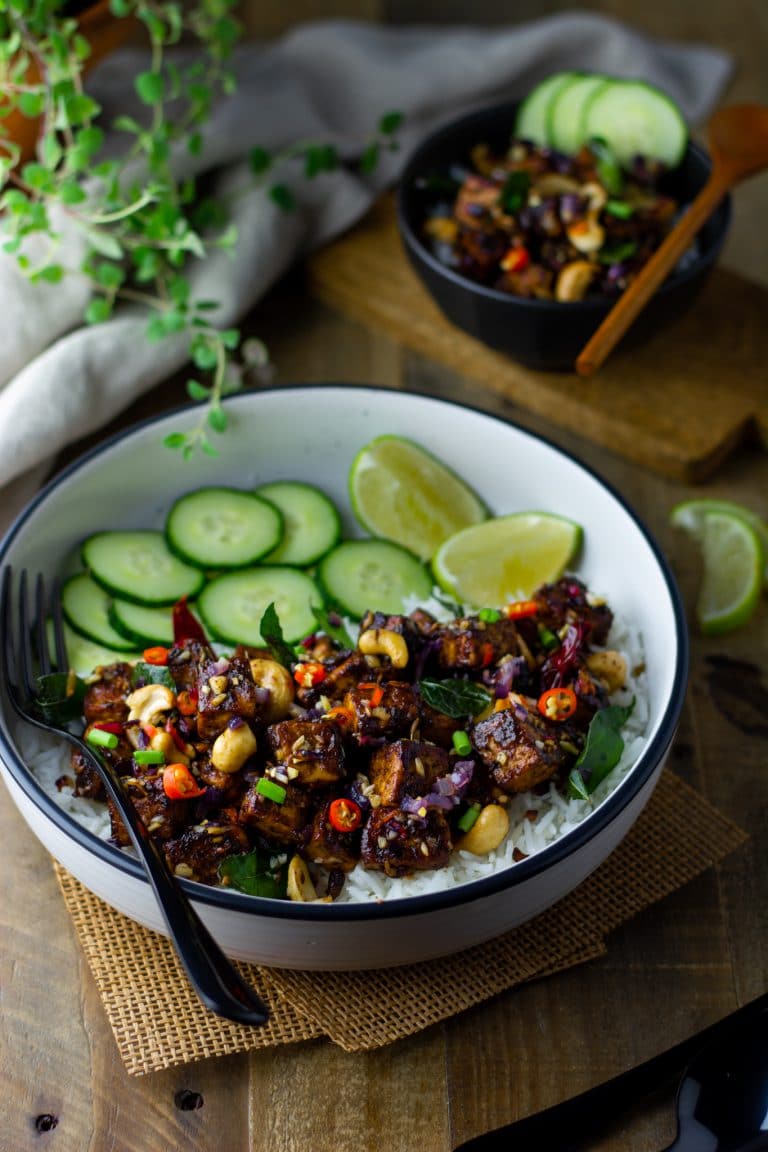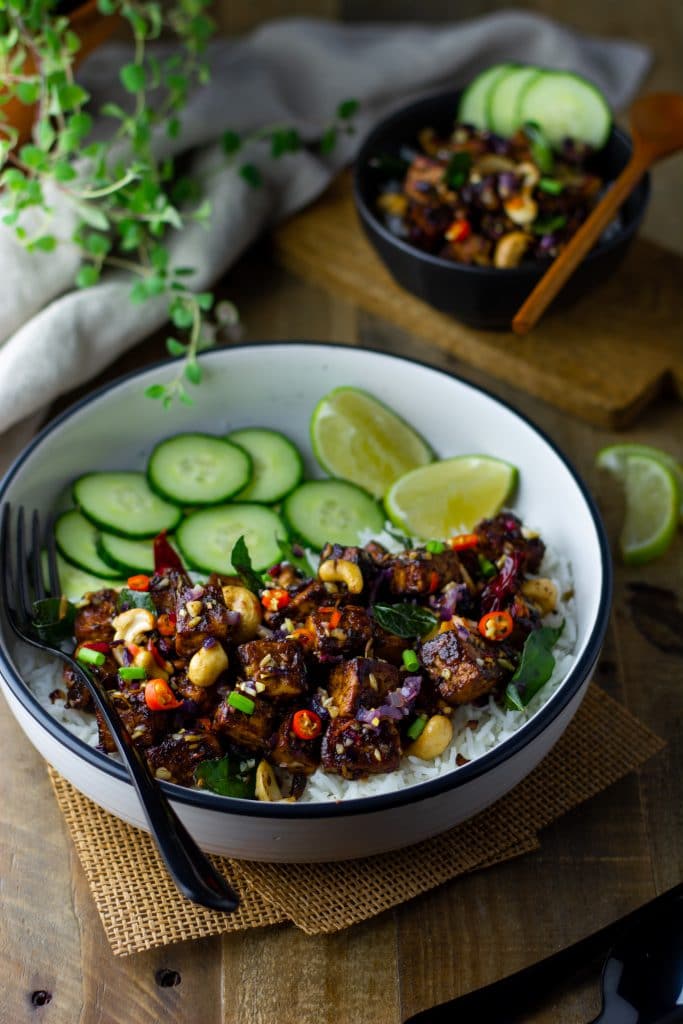 Please leave a comment below to let me know what you think and subscribe to my social media if you would like to see more easy and delicious recipes.
Watch the step by step tutorial on how to make this Tamarind tofu ghee roast here.
Recipe
Love this recipe?
Rate the recipe by clicking on the stars in the recipe card below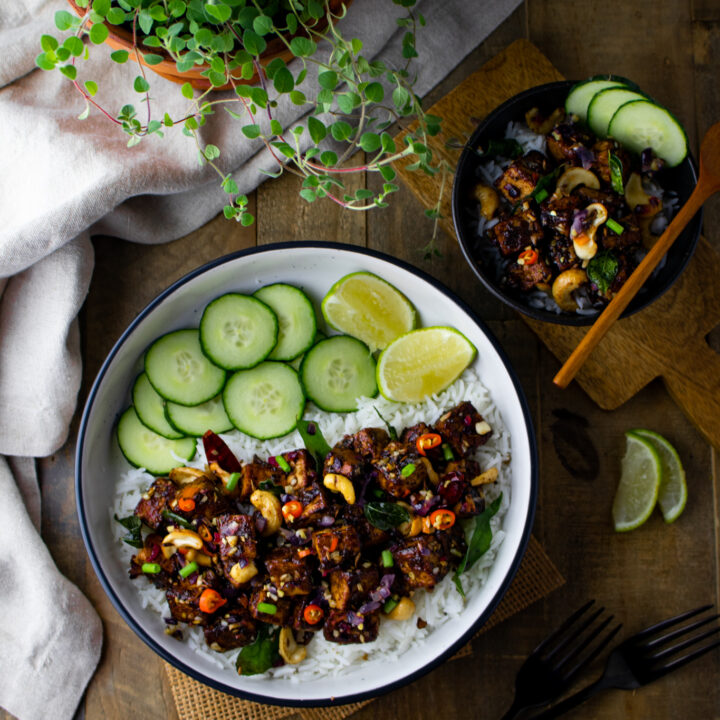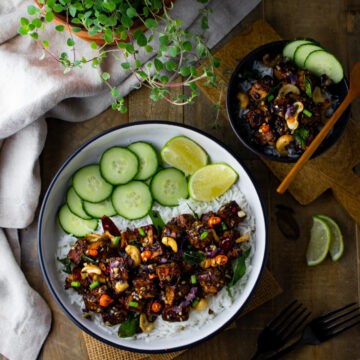 Tamarind tofu ghee roast
In this south Indian inspired tamarind tofu ghee roast recipe, nuggets of tofu are pan roasted in ghee until crispy & then tossed in a tangy tamarind sauce before being seasoned with aromatics like ginger, garlic, chillies & curry leaves.
Ingredients
1

pound

block of firm tofu

2

tablespoons

corn starch

(or potato/tapioca starch)

½

lime

for serving
For the tadka/seasoning
½

teaspoon

mustard seeds

½

teaspoon

cumin seeds

15

curry leaves

20

cashews

split in half

¼

cup

red onion/shallot

finely minced

5

cloves

garlic

finely minced

1"

knob

ginger

finely minced

2

spicy green chilies (Thai green peppers)

finely minced
Instructions
Remove the tofu block from the package, discarding any water and place it on a rimmed plate. Place a heavy pot or pan on the tofu for a minimum of 15-30 minutes to get rid of all the excess moisture in the tofu. (See notes)

After the tofu has drained well, discard the water and dry it well with a napkin. Cut the tofu block into ½" pieces and set them in a shallow bowl/plate.

Mix together all the ingredients for the sauce and pour half of the sauce over the tofu cubes. Toss them gently to combine and let the tofu marinate until you prep the seasoning.
To make the tadka/seasoning
Heat 2 teaspoons ghee in a frying pan on medium heat. When it gets hot, add it in the mustard seeds. When they start to pop, reduce the heat slightly and add in the cumin seeds, dried red chilies & curry leaves and stir fry for about a minute or until the curry leaves turn crispy.

If you are using raw cashews, add them in now and toast them with the rest of the spices for about a minute or until you see them turn light golden brown in color.

Now add in the onion, garlic, ginger and Thai chilies along with a pinch of salt and toss everything together. Cook this mixture for about 3-4 minutes or until the onions turn translucent and the garlic is cooked. Turn off the heat and transfer this mixture to a plate.
To make tamarind tofu ghee roast
By now the tofu would have marinated well. Sprinkle the corn starch all over the tofu pieces and toss them gently to combine.

Heat the same pan on medium heat and add in 1 teaspoon of ghee. When it gets hot, Add in the tofu cubes in a single layer and cook them on medium heat flipping the pieces every minute or so, or until the tofu is nicely browned all around. This should take about 8-10 minutes.

Now pour in the other half of the tamarind sauce all over the tofu. It will immediately start to bubble and get absorbed into the tofu. Mix well to combine. Within a minute or 2, you will find all the tofu nicely coated in the sauce.

Now add in the previously prepared seasoning mix and stir everything together. Stir fry this mixture for just 1 minute to bring the flavors together. Taste and adjust seasoning if needed and turn off the heat.

Squeeze some lime juice all over the top and serve it hot with steaming rice.
Notes
If you don't have enough time to let the tofu sit with a weight on top, you could hold it over the sink and gently squeeze it with both your hands to get rid of some of the moisture.
This recipe is super versatile and will work really well with other types of protein like tempeh, seitan, paneer, chicken, fish or prawns.
If you'd like to make this dish vegan, you can replace the ghee with any flavorless oil of your choice.
Subscribe to my YouTube channel
Subscribe to get notified about my latest recipe videos!