This apple chaat (Indian apple salad) is such a fun and refreshing way to enjoy apples. It is sweet, tangy, flavorful and crunchy. The juicy pops of pomegranate and refreshing mint flavor make it so delicious and addictive!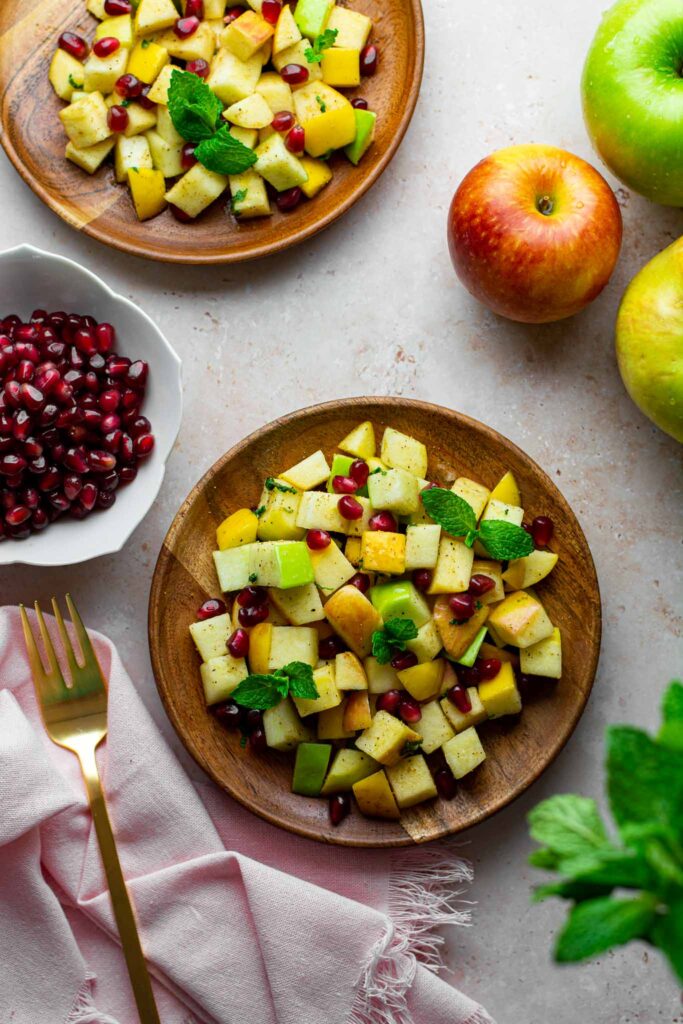 What Is Chaat?
In India, "chaat" describes an entire catogory of Indian snacks. It is usually vegetarian and has so many flavors and textures. It hits practically every element that makes something craveable - sweet, sour, tangy, spicy, and crunchy.
Essentially, chaat is a quick snack that can be enjoyed at anytime of the day. It pairs really well with masala chai and is perfect snacking food to share with family and friends.
Chaat masala is one of the most important spice mixes used to make chaat. It often consists of amchoor (dry mango powder), cumin, coriander, chili and black salt (also known as kala namak). It has a spicy, sour and savory flavor and makes everything it is added to, taste lip smacking delicious. It pairs especially well with fruits and drinks and adds that perfect salty sweet combination.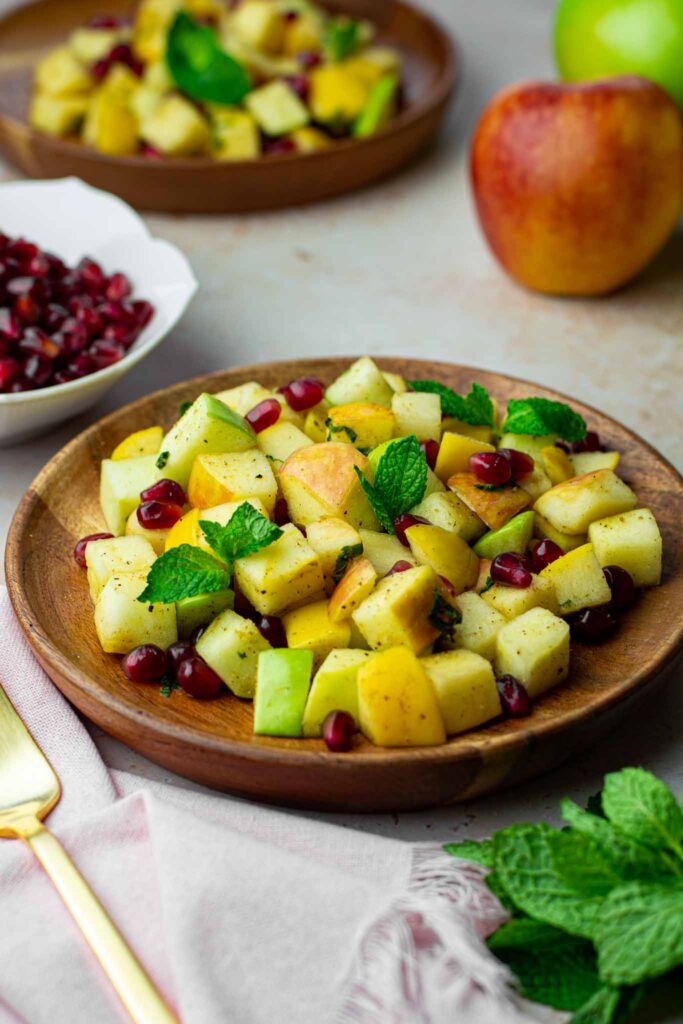 About This Recipe
This apple chaat is a healthy and tasty chaat variation, made using nutritious apples. It has so many amazing textures and flavors from the fresh crunchy apples, bright pops of pomegranate seeds and savory chaat masala. This recipe is very versatile and you can change or adjust the ingredients according to your preference/taste. It is such a fun way to enjoy apples everyday and not get bored of eating them!
Why I Love This Recipe
It is has so many delicious flavors. Perfect for that mid afternoon slump or as an evening snack, to quickly satisfy your hunger pangs.
It's a rich source of fiber, which helps you feel fuller longer (6g per serving).
It is a low calorie snack option (137 per serving).
It can be customized in so many different ways.
It makes eating apples so much more enjoyable.
Jump to:
Ingredients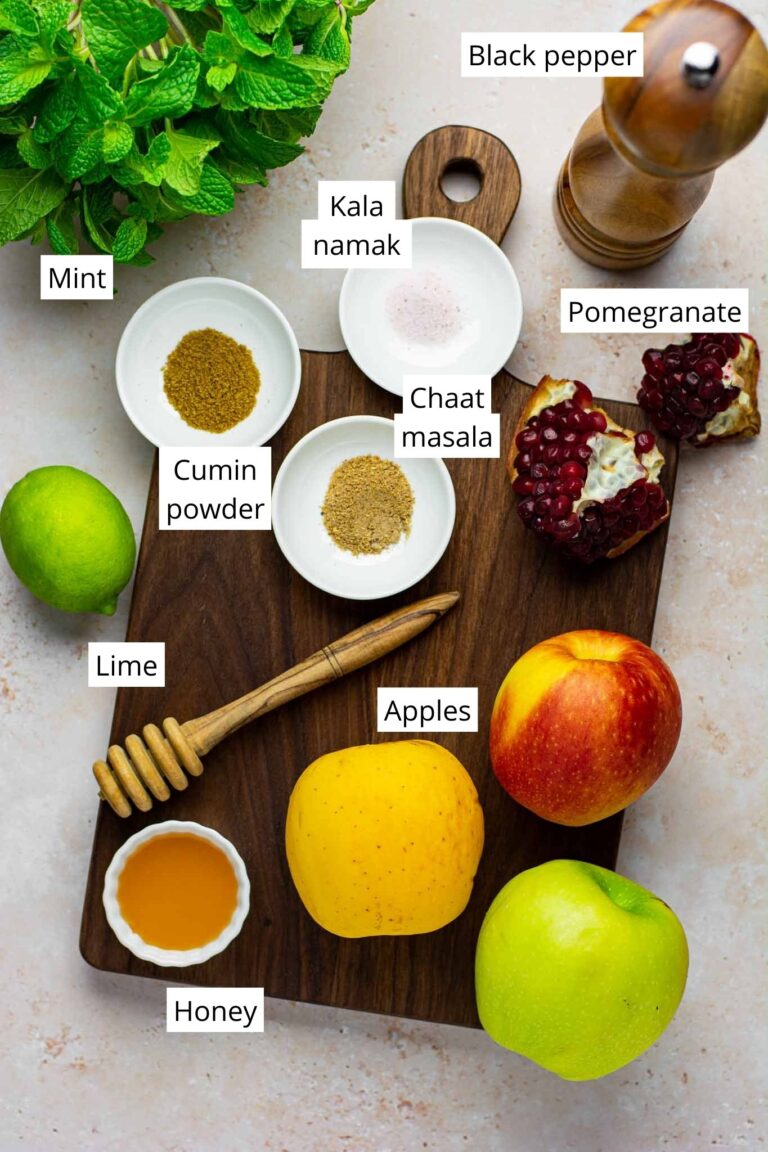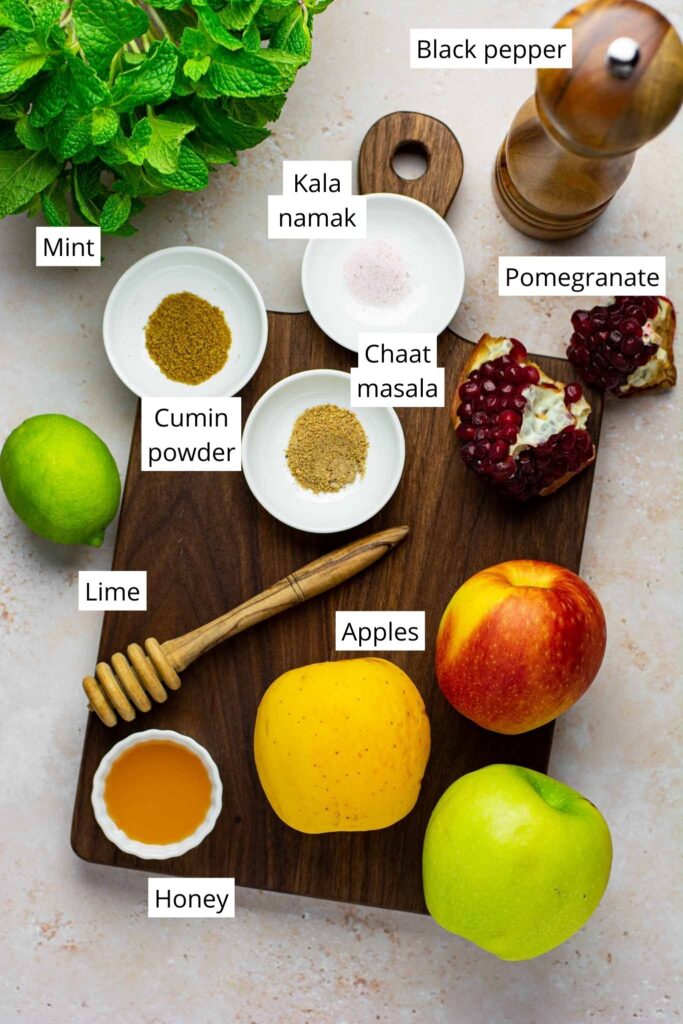 Apples are the star ingredient in this chaat. Use any crunchy and firm apples that you can find. I like using a mix of honey crisp, opal and granny smith varieties for a delicious mix of flavor and color.
Pomegranate seeds is my favorite ingredient to add to chaats! I love the sweet and tart pops of goodness along with all the other flavors and textures, so good!
Lime juice adds a lovely tang, making the apples taste super refreshing.
Honey adds a lovely sweetness and works really well with all the spices.
Chaat masala is the main flavoring ingredient here. It adds so much savory flavor and tang to this recipe.
Kala namak/Indian black salt is such a unique ingredient that adds an earthy savory flavor to this chaat. I highly recommend not skipping this ingredient.
Black pepper powder adds a subtle spiciness to the otherwise sweet apples, for that amazing spicy-sweet combination.
Cumin powder (roasted) adds an earthy flavor to this chaat. Apples and cumin powder is such a great combination!
Mint leaves adds freshness and brightness to this chaat and brings everything together.
How to make apple chaat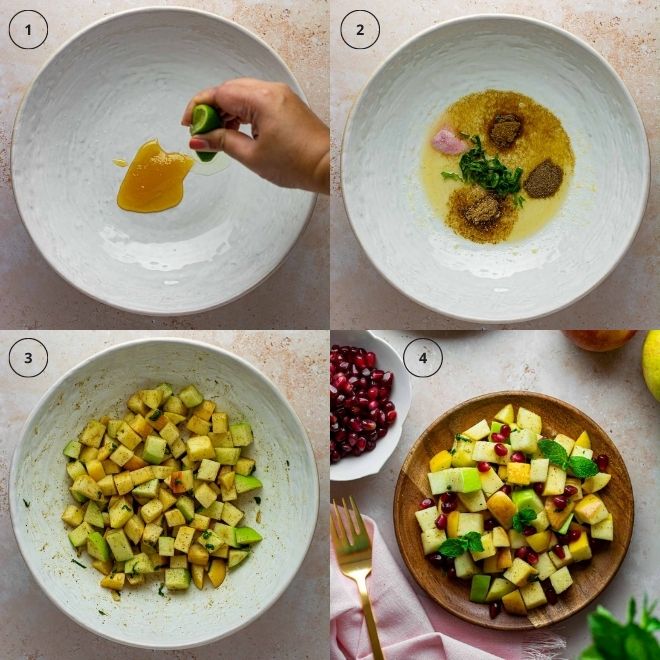 Make the dressing for the apple chaat by mixing together the lime juice and honey,
Add in the spices and mint leaves to the dressing and mix well.
Add in chopped apples and toss well to coat them in the dressing.
Garnish with pomegranate seeds and serve.
Tips and tricks
Use a mix of different varieties of apples. Different varieties have different textures, sweetness and juiciness that make this chaat so enjoyable.
Make it vegan by using a plant based sweetener like maple syrup or date syrup. If you're apples are sweet enough, you can skip the sweetener entirely.
Don't skip the pomegranate seeds as it adds a lovely pop of sweet and tart flavor that goes so well with the spices and apples.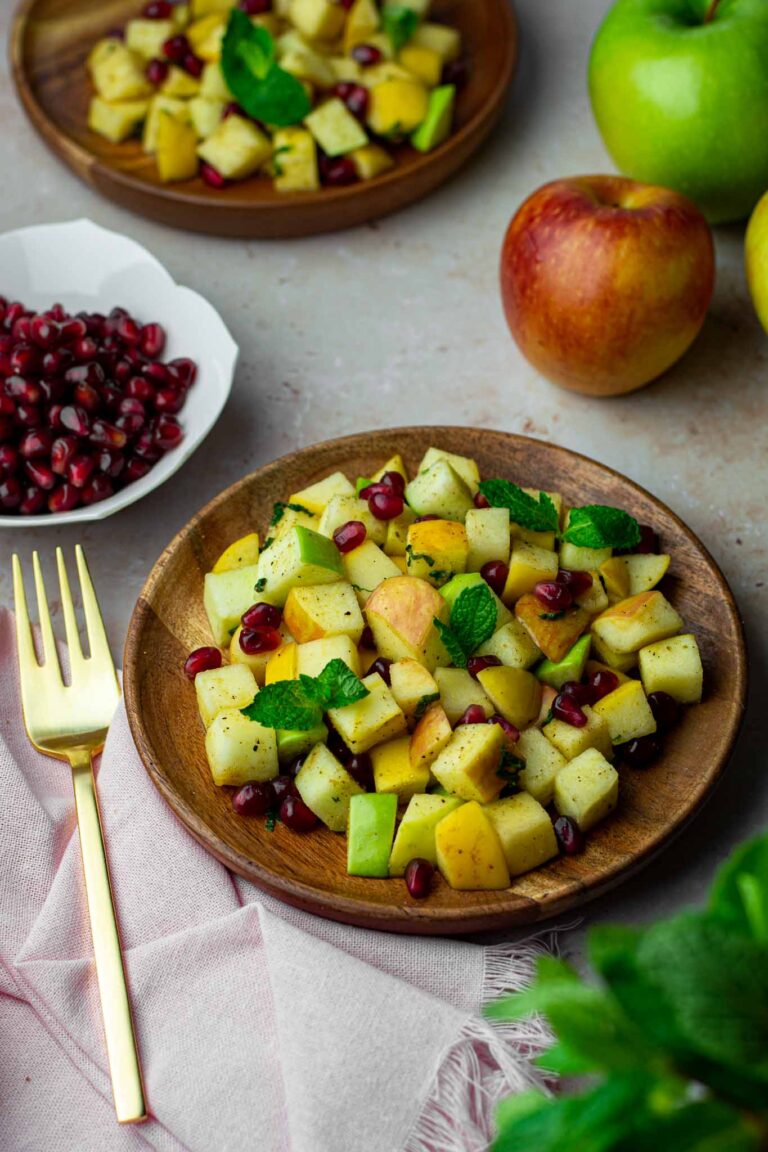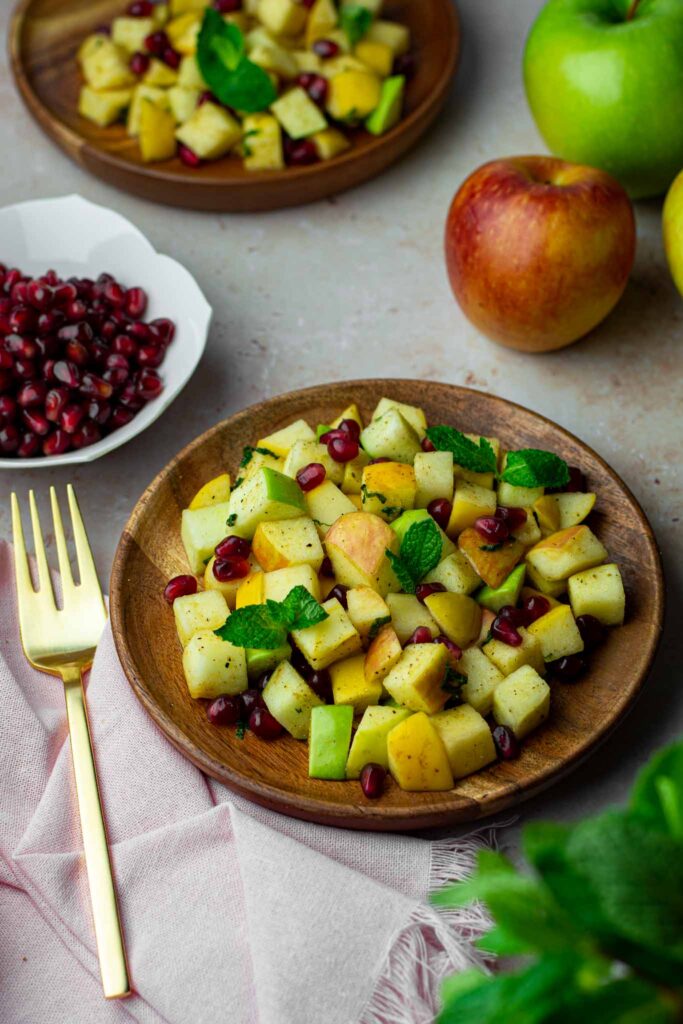 Frequently asked questions
Is apple chaat good for weight loss?
This healthy apple chaat is is filling, which makes you feel more satiated. This salad is great for people on a weight loss journey or diet and who are craving some chaats.
Can I skip the sweetener?
Yes! If your apples are very sweet, feel free to skip the sweetener (honey/maple syrup).
Other recipes you might like
Recipe
Love this recipe?
Rate the recipe by clicking on the stars in the recipe card below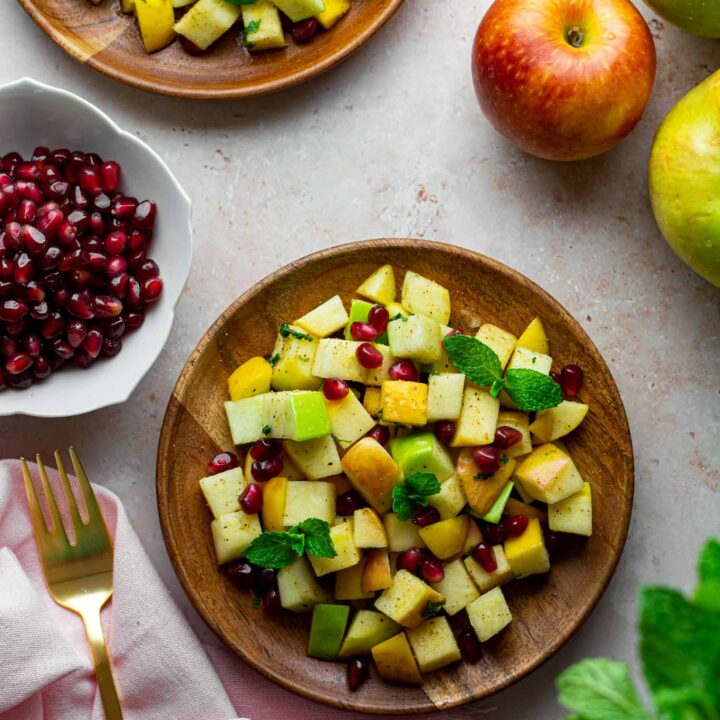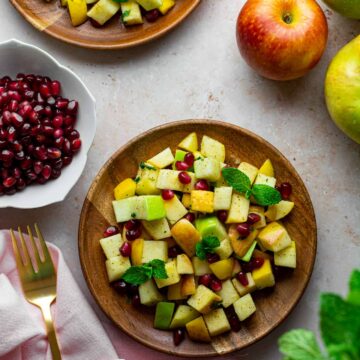 Apple chaat
This apple chaat is such a fun and refreshing way to enjoy apples. It is sweet, tangy, flavorful and crunchy. The juicy pops of pomegranate and refreshing mint flavor make it so delicious and addictive!
Ingredients
2

apples

roughly chopped

2

tablespoons

pomegranate seeds
Instructions
Mix together all the ingredients for the dressing in a medium sized bowl.

Add in the chopped apples and toss well to coat them well in the dressing.

Garnish with pomegranate seeds and serve.
Estimated Nutrition
Nutrition Facts
Apple chaat
% Daily Value*
*Percent Daily Values are based on a 2000 calorie diet.
*Please note that the nutrition label provided is an estimate based on an online nutrition calculator. It will vary based on the specific ingredients you use.
Subscribe to my YouTube channel
Subscribe to get notified about my latest recipe videos!