I love this recipe because it is super simple to make and yet packs a punch of flavor. Most of the ingredients are staples in my pantry/refrigerator and I have a Basil plant that I can easily snip leaves from, making this a winner in my book.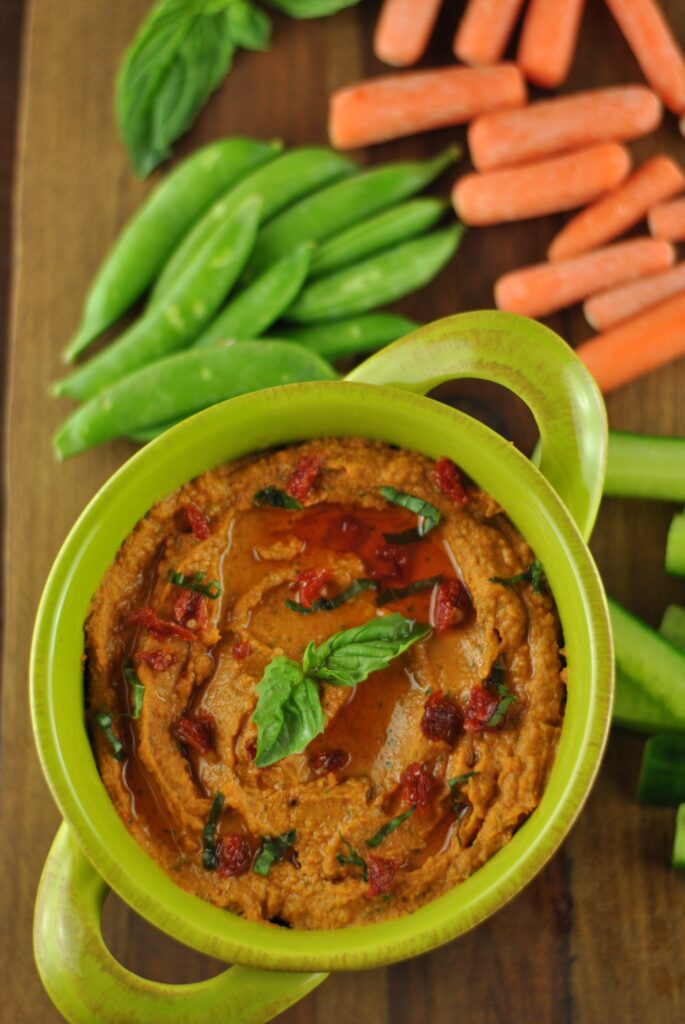 Having a good variety of already prepared foods to reach out to makes it super easy to stay on track while trying to eat a well balanced and healthy meal. I love dipping a bunch of fresh veggies (carrots, cucumbers, snap peas are my favorite) into this hummus as a quick snack when post-lunch hunger pangs strike. This helps satiate my hunger and helps me consume more veg. Win – win!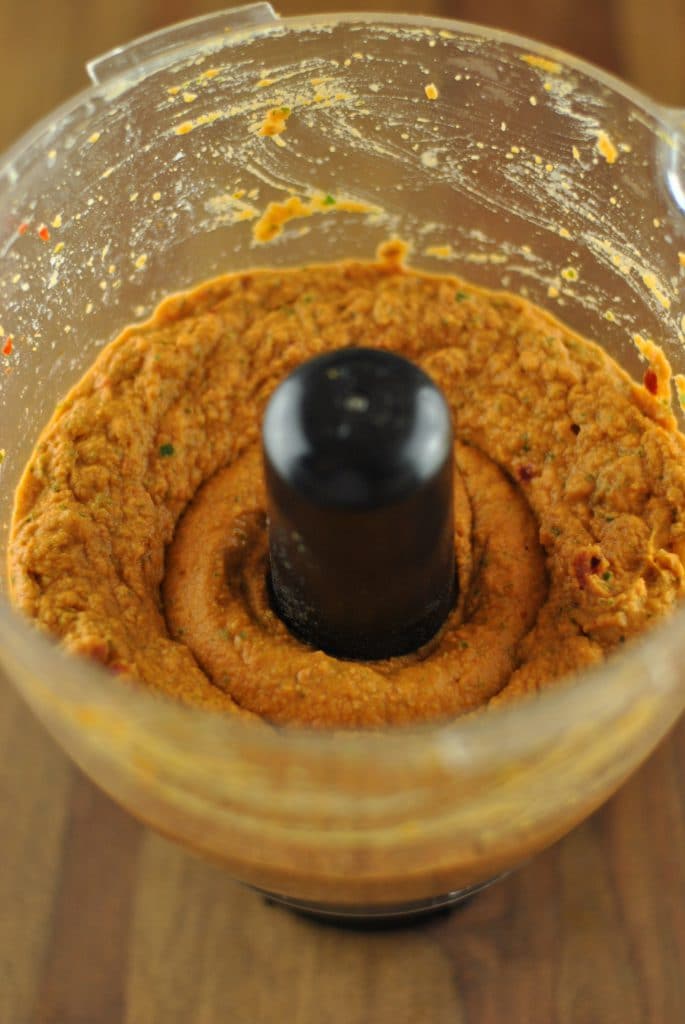 I have used canned chickpeas in the recipe since I always have it in my pantry and it makes it super easy to make this hummus without much planning. However, I have also tried this recipe with dried chickpeas that I have soaked and cooked myself and the result turns out great either way. If you don't have chickpeas, then canned white beans would also be a nice substitute in the recipe.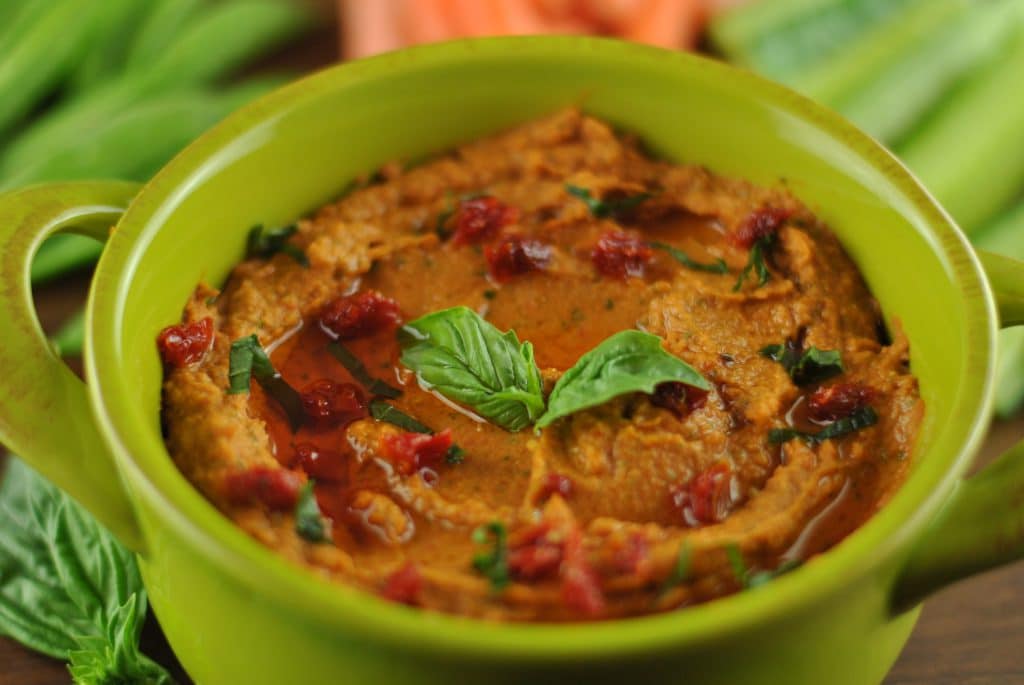 This hummus also makes a delicious and filling spread for wraps and sandwiches. Try out my Turkey, Hummus and Veggie Wraps recipe with the leftovers and you will have a delicious lunch that you will be looking forward to the next day.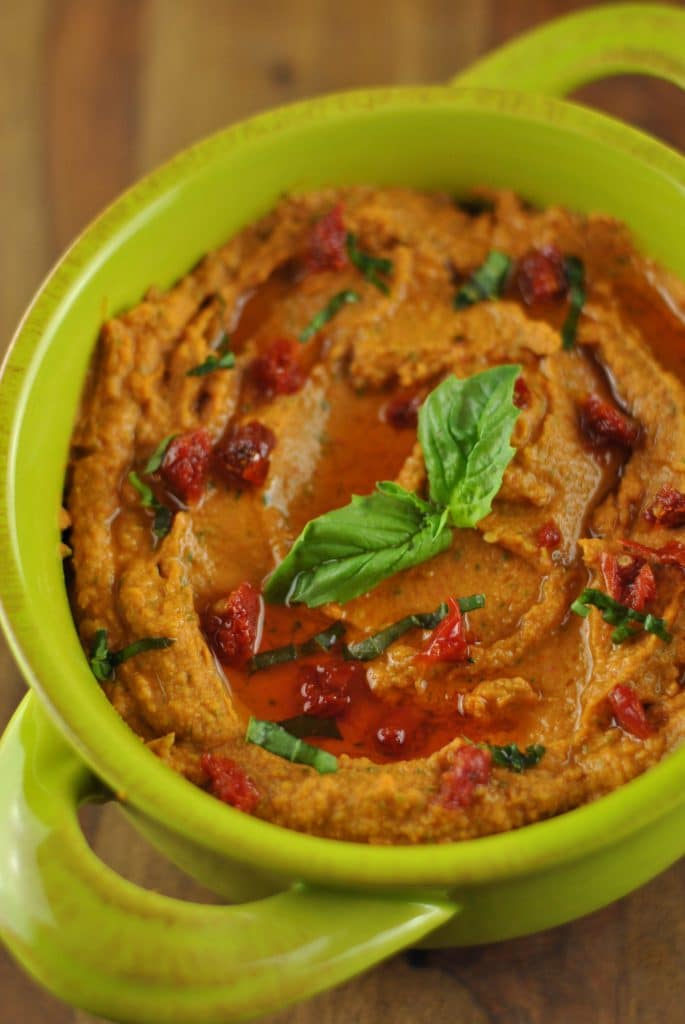 I hope you like this recipe as much as I do. Please leave a comment below to let me know what you think and subscribe to my social media platforms if you would like to see more easy and delicious recipes.
Love this recipe?
Rate the recipe by clicking on the stars in the recipe card below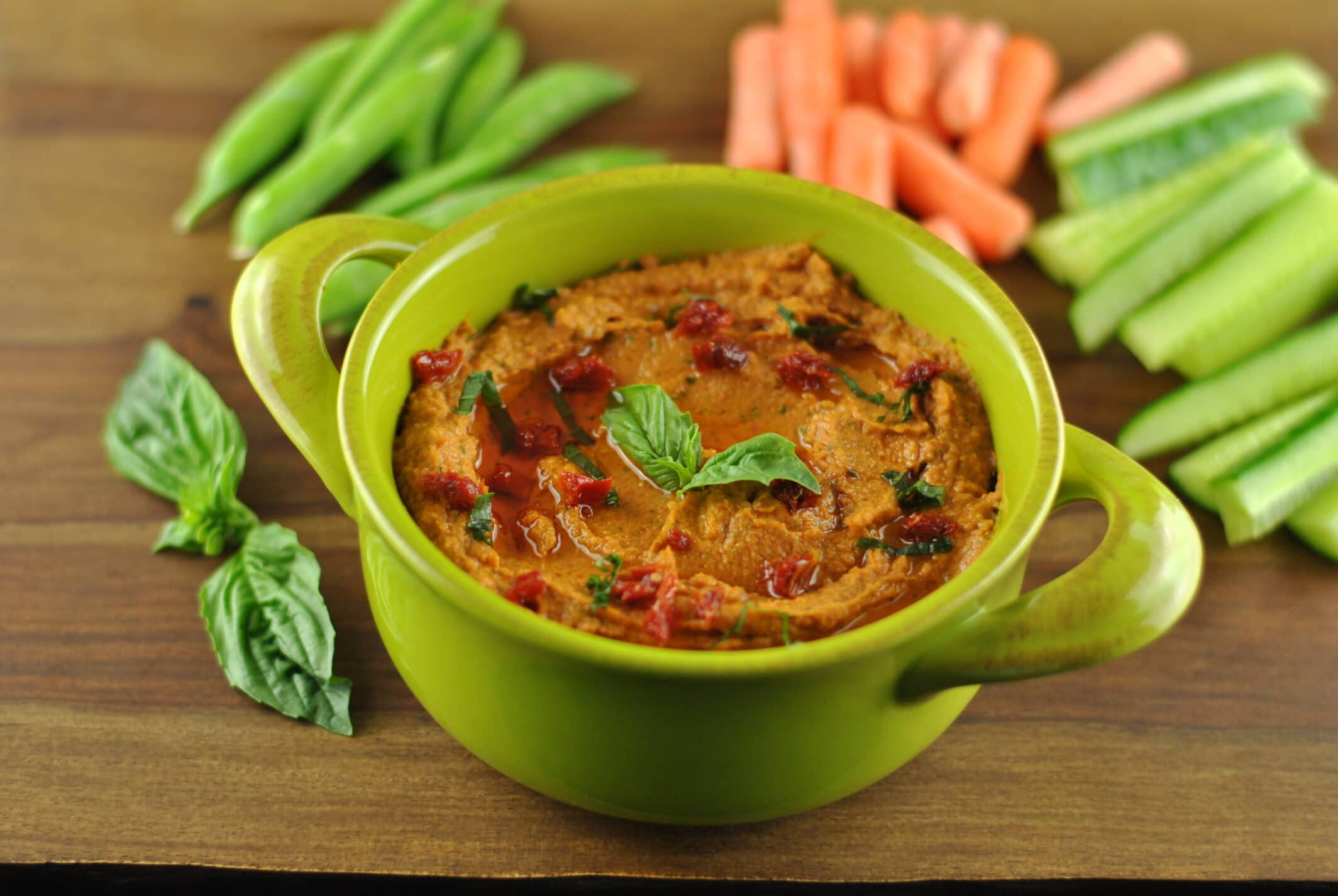 Sun-dried tomato & Basil Hummus
Tangy and delicious hummus recipe that can be used as a spread or dip
Ingredients
1

can

chickpeas

15oz/425gm can drained and rinsed. Reserve the chickpea water from the can.

1/3

cup

sun-dried tomatoes

I use the ones packed in oil. Drain the oil before measuring.

4

tablespoons

oil

that the sun-dried tomatoes came in.

2

tablespoons

tahini

1/2

cup

basil leaves

1

clove

garlic

1/2

teaspoon

red pepper flakes

optional

1/4

teaspoon

paprika

3-4

tablespoons

lemon juice

from 1 lemon

salt to taste
Instructions
In a food processor, add in the chickpeas, sun-dried tomatoes, garlic, tahini, basil leaves and lemon juice. Start pulsing initially and then let the food processor run until the mixture starts coming together.

Add in 3 tablespoons of the oil, red pepper flakes, paprika and salt and blend again. Now add in 1-2 tbs chickpea cooking water (to adjust consistency ) and blend until you get a smooth paste. (I like my hummus with a little texture. Feel free to adjust according to your liking.)

Serve in a wide dish topped with a the remaining oil, chopped sun-dried tomatoes and basil leaves. Use as a spread for wraps (such as my

Turkey, Hummus and Veggie Wraps

), sandwiches or as a dip for a crackers, chips or a crudite platter.
Subscribe to my YouTube channel
Subscribe to get notified about my latest recipe videos!
A Little Note & Thanks
If you purchase something using the links on this site, Lime Thyme receives a very small commission. Don't worry, you won't pay a penny more. I only recommend products I believe in and personally use, so I hope you enjoy them too. Thanks for stopping by!