Say hello to your new favorite ice cream flavor! This strawberry oreo cheesecake ice cream is the perfect flavor combination of tart and sweet, and tastes absolutely divine ❤ If you love cheesecake, you will love this flavor!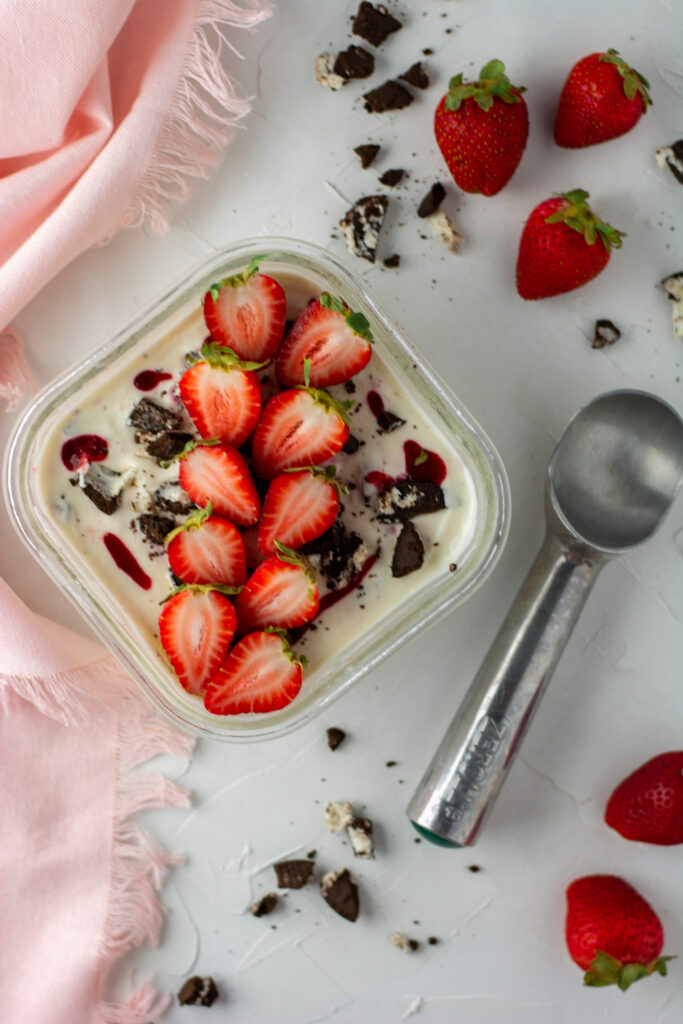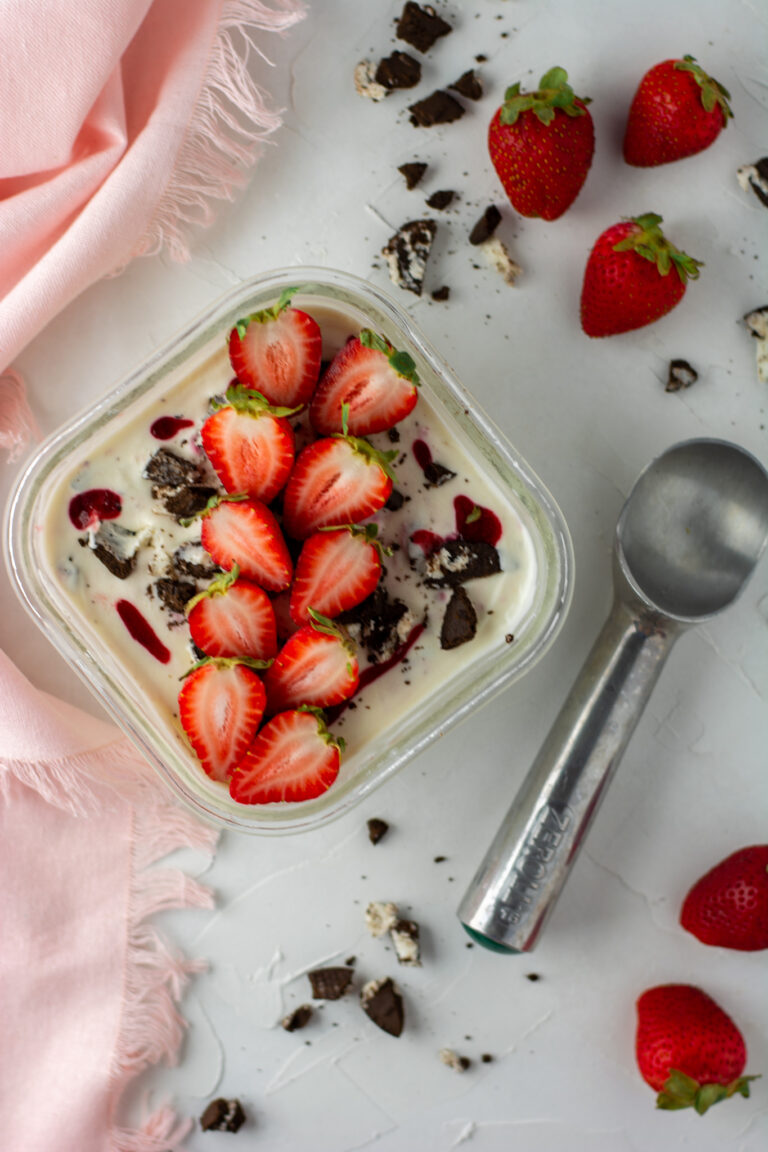 The ice cream base
The base for this cheesecake ice cream is so light and airy, almost like a mousse! I use full fat cream cheese in this recipe and whisk it for a few minutes to give it a light and airy texture. The air whisked into the cheese and cream helps prevent ice crystals from forming when you freeze this ice cream. I have also used mascarpone cream in the past and it makes for a very delicious and light ice cream.
If you can't find either, you can try making this cake with Greek yogurt as a replacement. Make sure your yogurt is completely drained of all its moisture before you begin and only whisk it until it turns smooth, about 20 seconds.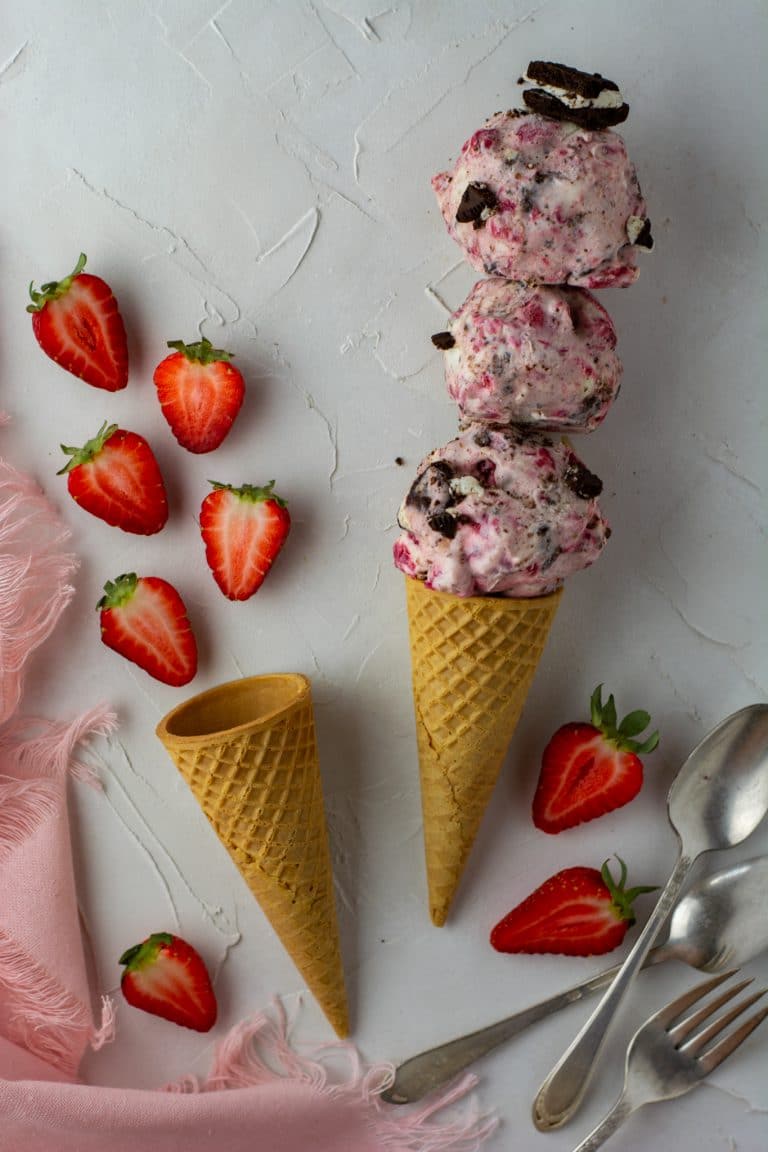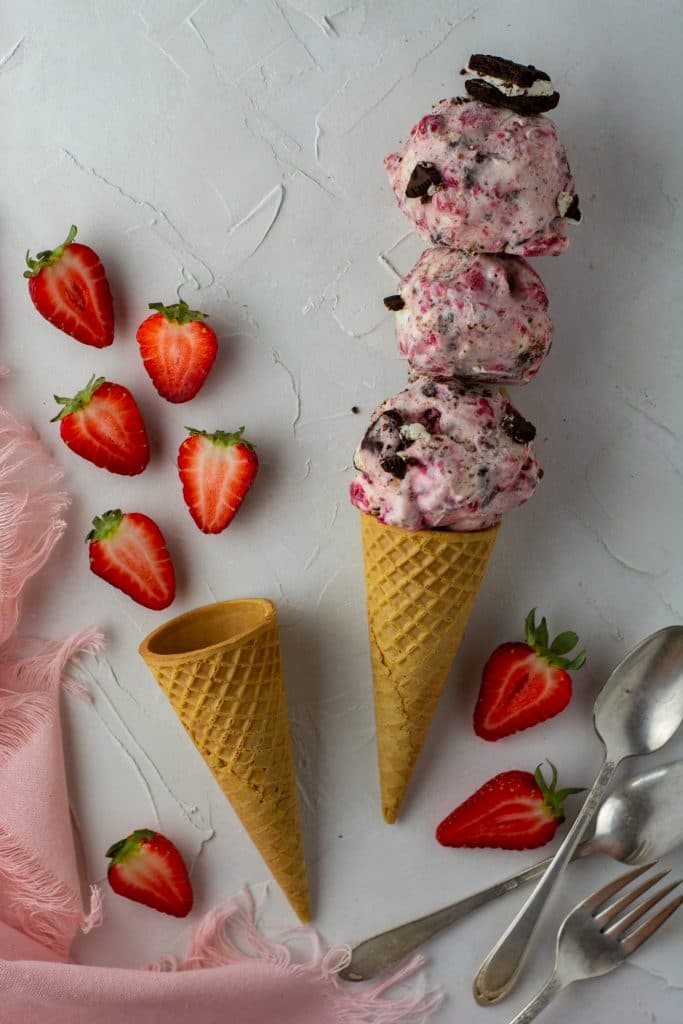 Additions to this strawberry oreo cheesecake ice cream
Strawberries are in season and this is the perfect time to take advantage of these gorgeous berries and make this swirled ice cream. I used fresh organic strawberries that I cooked down with some sugar until they were nice and syrupy. Cooking the strawberries helps reduce some of its moisture and prevent ice crystals.
I also used crushed up Oreo cookies in this ice cream. The crushed up cookies add an interesting texture to this recipe and the chocolate and cream flavors compliment the tart strawberries really well. Feel free to use your favorite crushed up cookies or even skip them entirely.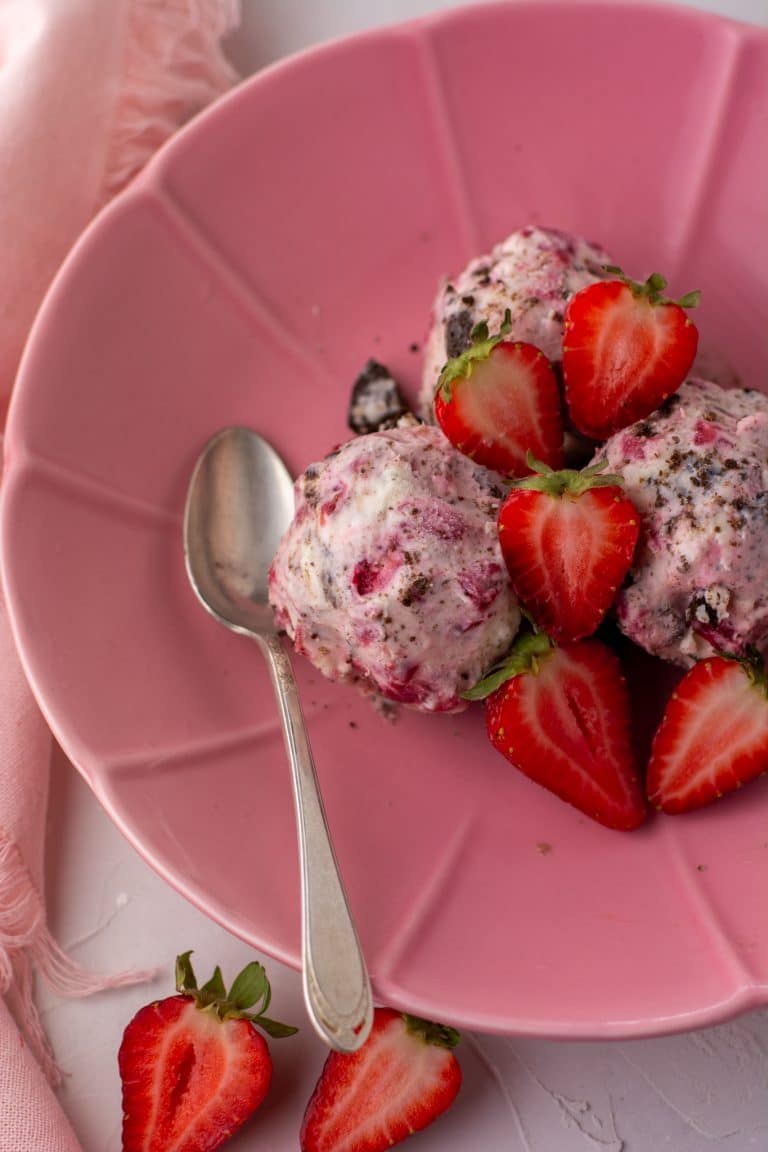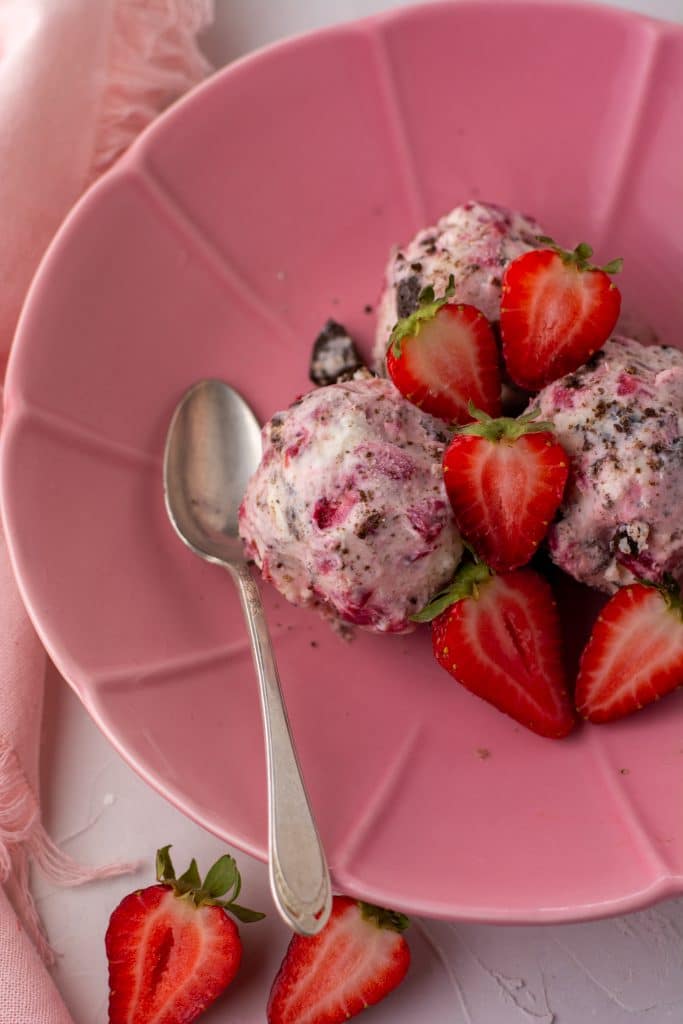 Tools for making this strawberry oreo cheesecake ice cream
I used my stand mixer to make this ice cream but you absolutely don't need it for this recipe You could also use a handheld mixer or just a silicone spatula and whisk and make the ice cream base by hand! Make sure that your cream is chilled well before you start whisking as that will help it whisk quicker.
I used these freezer safe glass containers to freeze my ice cream in. I have also used these containers meant just for ice cream in the past and they both work great.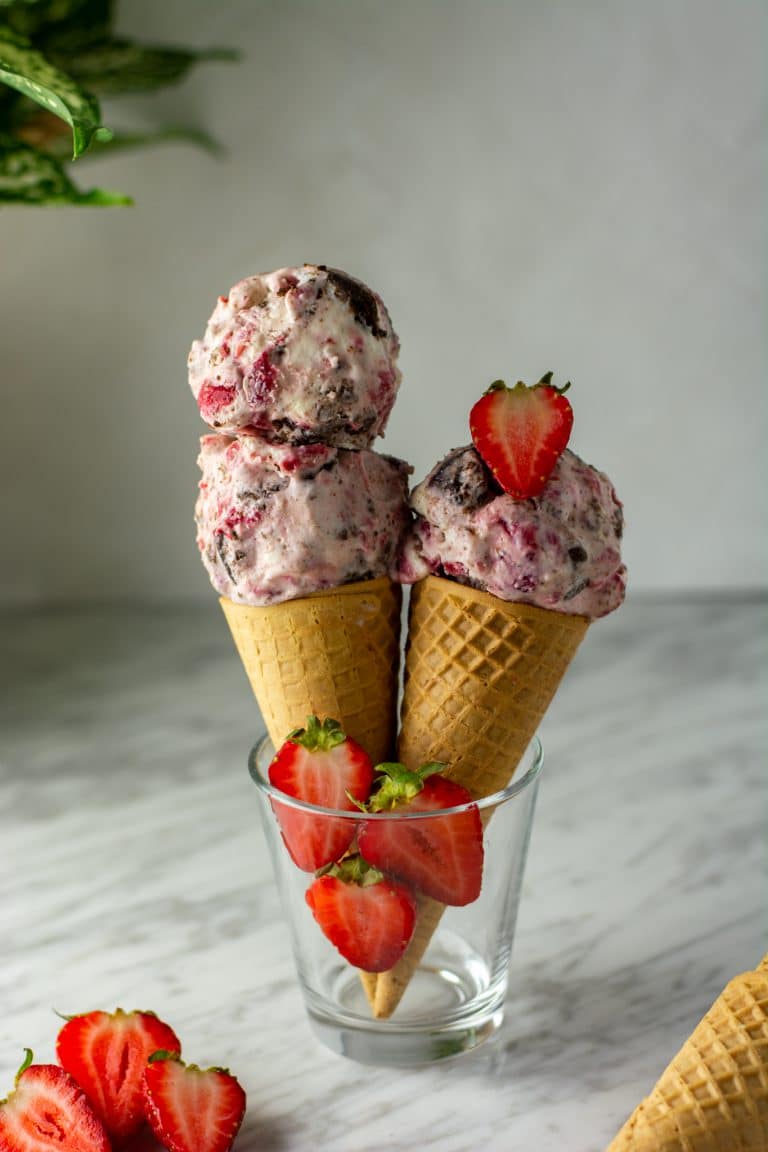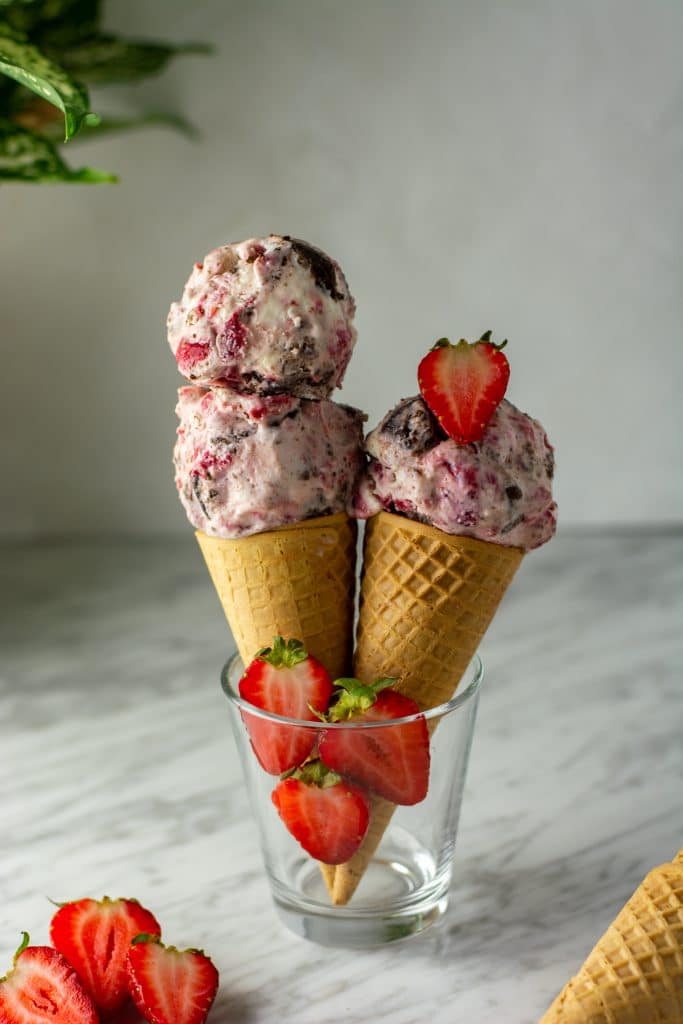 More recipes to try out:
You might also be interested in checking out Honey roasted fig & almond, Alphonso mango and Double chocolate cherry cheesecake ice cream flavors that I came up with. They all turned out super yummy and creamy and I'm sure you will love them.
If you're looking for other dessert recipes then check out my ultimate mango cheesecake, raspberry lemon ricotta cake, limoncello & apple cake and my ultimate one-bowl banana bread recipes. These recipes are all super simple to make and don't require any fancy equipment.
If you like healthy desserts, you might also want to check out my 3 ingredient healthy ice creams and my refined sugar-free chocolate chip cookies. These recipe are vegan friendly and don't use any refined sugar!
Please leave a comment below to let me know what you think and subscribe to my social media if you would like to see more easy and delicious recipes.
Recipe
Love this recipe?
Rate the recipe by clicking on the stars in the recipe card below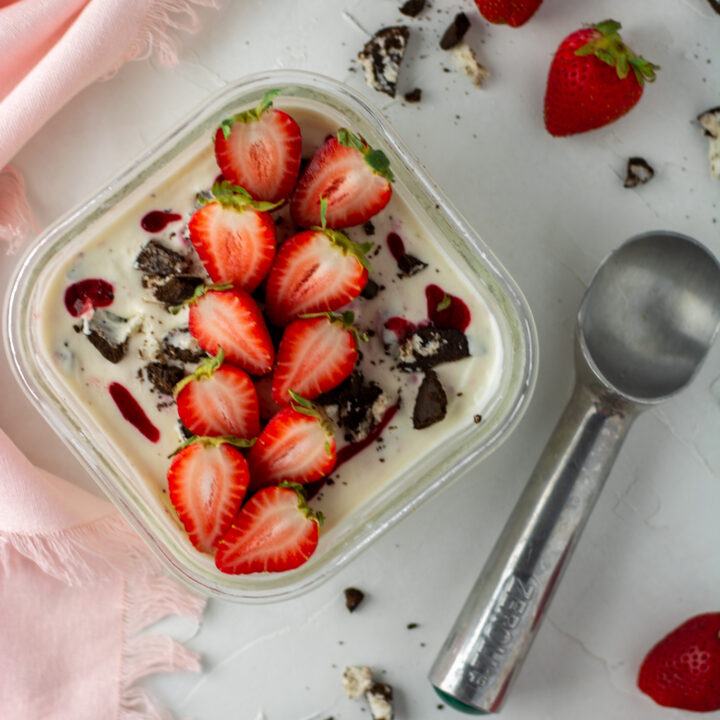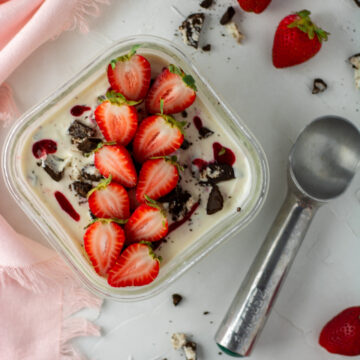 Cookies & cream strawberry cheesecake ice cream
This strawberry oreo cheesecake ice cream is the perfect flavor combination of tart and sweet, and tastes absolutely divine ❤ If you love cheesecake, you will love this flavor!
Instructions
Wash, hull and chop the strawberries into ¼" cubes.

Into a saucepan, add in the strawberries and sugar and cook this mixture on medium heat for about 5-7 minutes or until it turns thick and syrupy. Take it off the heat at this stage and set it aside to cool completely.

Make sure your heavy whipping cream is very cold before you begin. Whisk the cream using a stand/hand mixer until it starts getting thick and fluffy. We don't want it to get to stiff peaks, so turn off the mixer when it is thick and airy. Save the whipped cream for later.

Using electric beaters, mix together the cream cheese, vanilla extract & condensed milk until they are well combined.

Add in the whipped cream to this mixture and fold it in slowly until everything is well combined. Transfer this mixture into a freezer safe container.

Spoon over the cooled strawberry mixture and crushed Oreo cookies and only briefly mix it together so you have swirls running through the ice cream.

Cover the container with a tight fitting lid and freeze for a minimum of 4-6 hours before scooping and serving.
Notes
If you can't find fresh strawberries, you could also swirl in some strawberry jam/preserves into the ice cream base and still achieve a similar flavor and texture.
After the ice cream has frozen for several hours, place the ice cream container out at room temperature for 5-10 minutes for easy scooping.
Subscribe to my YouTube channel
Subscribe to get notified about my latest recipe videos!