This south Indian inspired sweet potato chickpea coconut curry is creamy, mildly spicy & flavorful and has amazing textures. This curry is similar to chana masala, but with south Indian flavors and the creaminess of coconut milk, it is one of the best vegan curries I have ever made! You absolutely must give this recipe a go!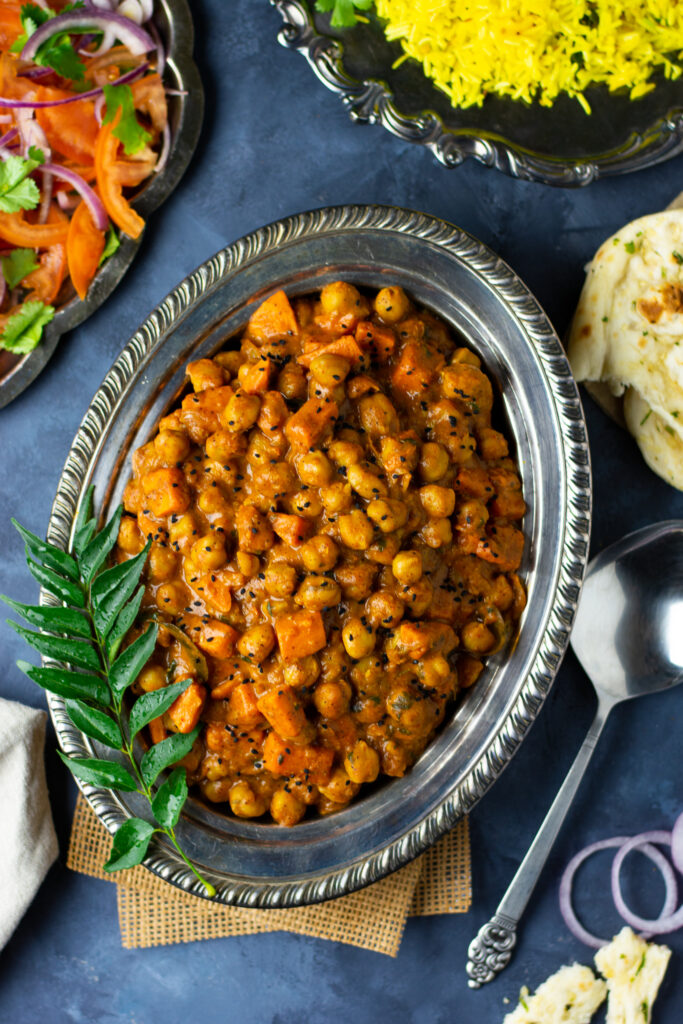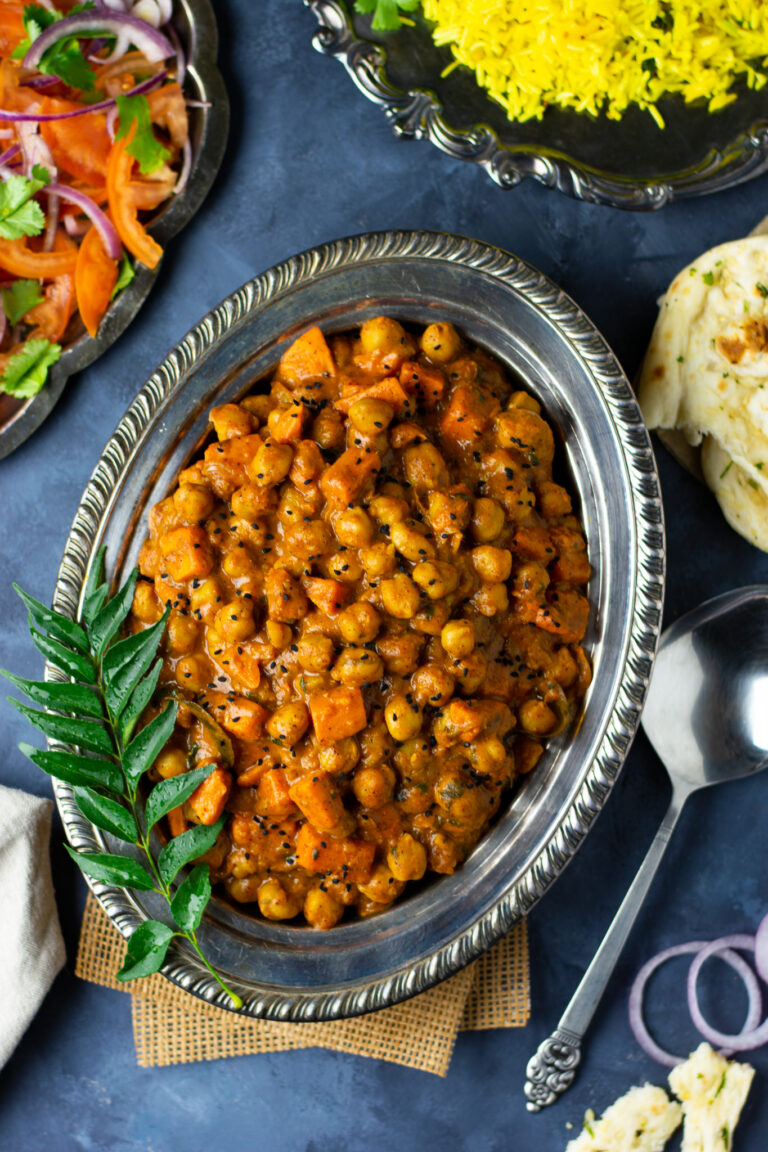 Flavors in this chickpea coconut curry
This creamy chickpea coconut curry is loaded with the most amazing south Indian flavors. It is beautifully & mildly spiced with Kashmiri chili, cumin, coriander and turmeric along with aromatics like ginger, garlic, onions and curry leaves. It is so creamy and luscious from the full-fat coconut milk and every bite is a perfect combination of mildly sweet & savory
What makes this curry so special is the freshy ground spice mix that I add at the end. This spice mix is made of dry roasted mustard seeds, fenugreek seeds, fennel seeds and adds the most amazing flavor and aroma to this curry. If you have them, I highly recommend not skipping this step.
Substitutions/replacements in this recipe
Here are a few ways that you can customize this curry recipe if you'd like:
Make it spicier: If you would like to make the curry more spicy, either add in some minced Thai chilies along with the ginger garlic paste or add more chili powder.
Make it lighter: You can substitute the full fat coconut milk with a low fat version, but note that the curry will be significantly less creamy and more watery.
Use other vegetables: Feel free to substitute in other vegetable (like zucchini, pumpkin/squash, bell peppers, potatoes, eggplants etc.) or greens (like spinach, kale, chard etc.). You can use any combination of veggies or even just leave them out.
Add a protein: Feel free to also add meat or seafood to add some protein to this dish if you would like, either in addition to or in place of the chickpeas.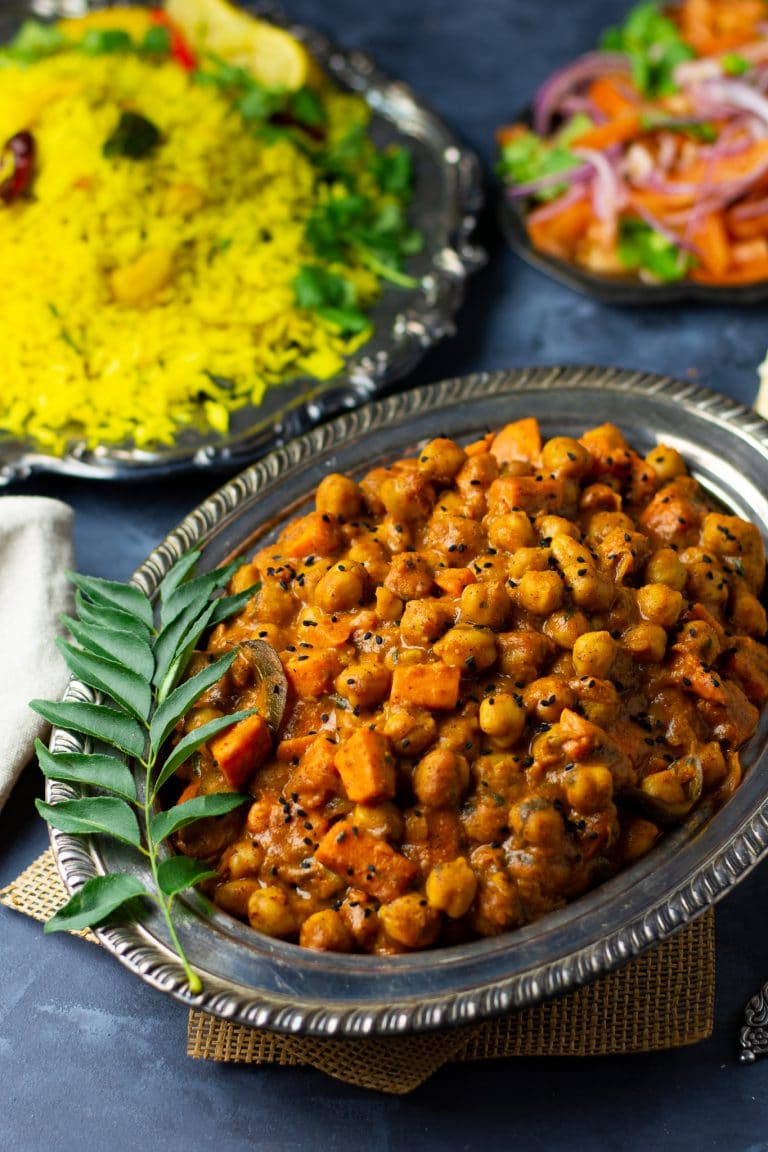 Storage and reheating instructions
This chickpea coconut curry can be refrigerated for up to 5 days, which makes it perfect for meal prep. Portion it into glass storage containers and store it in the refrigerator to make it easy to reheat in the microwave.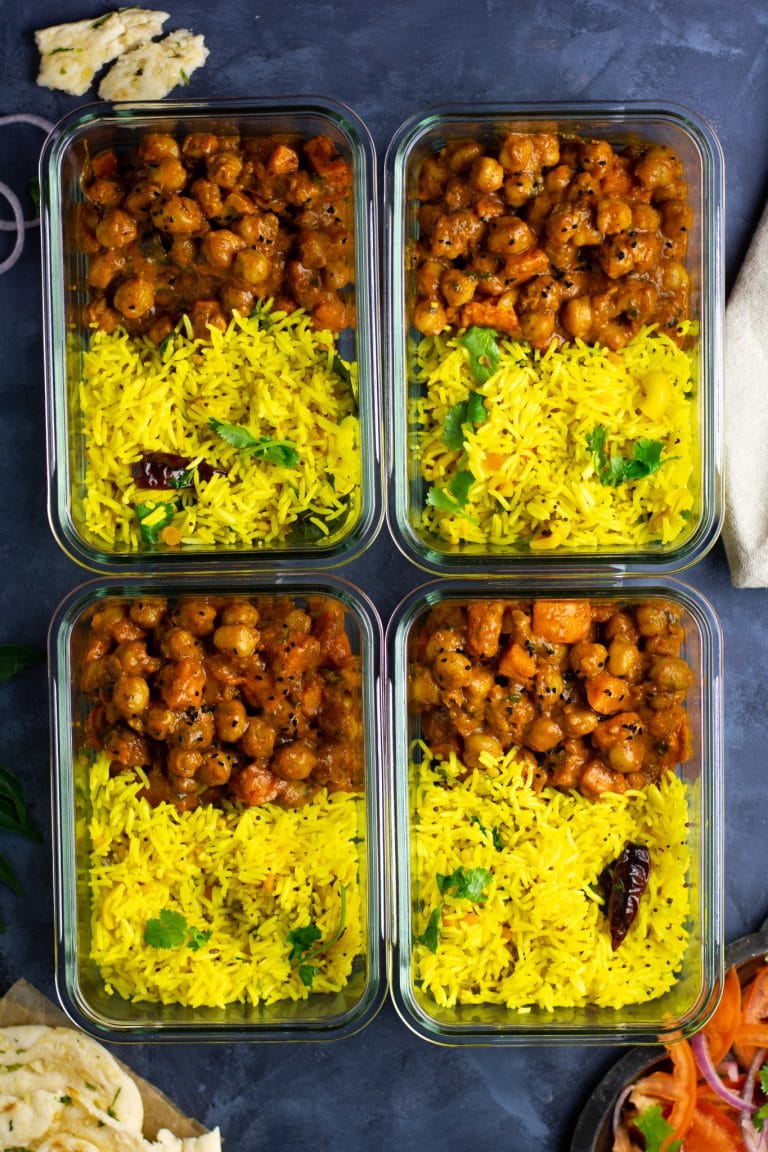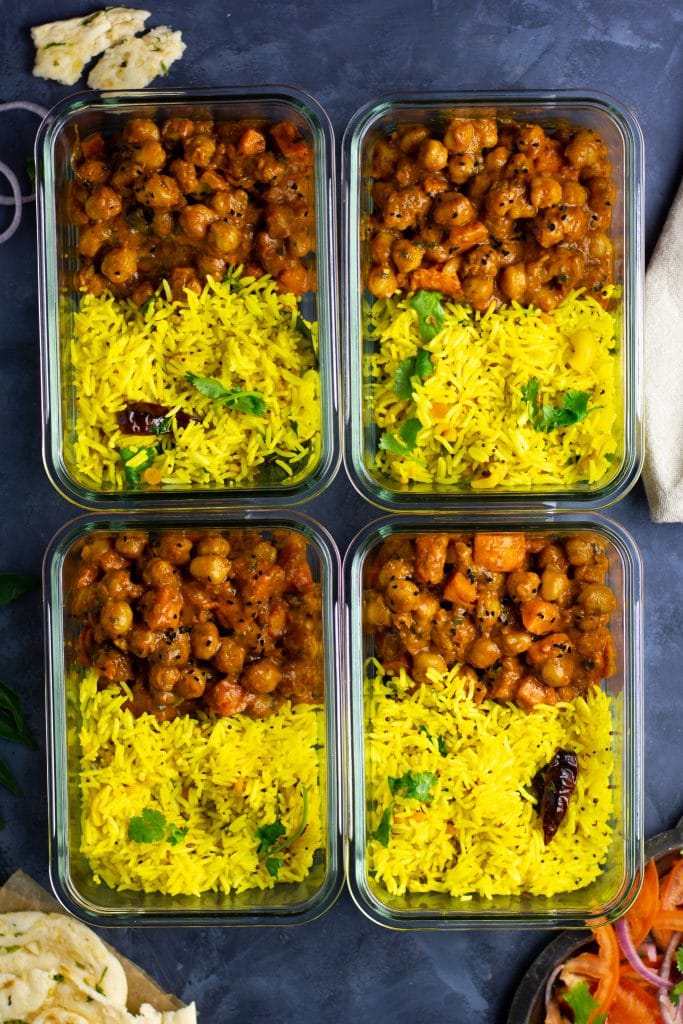 What to serve alongside this sweet potato & chickpea curry?
This curry is so versatile and can be served with rice, flatbreads (like naan or roti) or can even be eaten by itself.
I absolutely love serving this curry with my easy lemon rice made in the microwave!
I also like including a tangy side salad since it pairs so well with this creamy curry. A simple salad of tomatoes, onions, cucumber & cilantro dressed with a fresh lime juice, salt & pepper will compliment this chickpea coconut curry really well.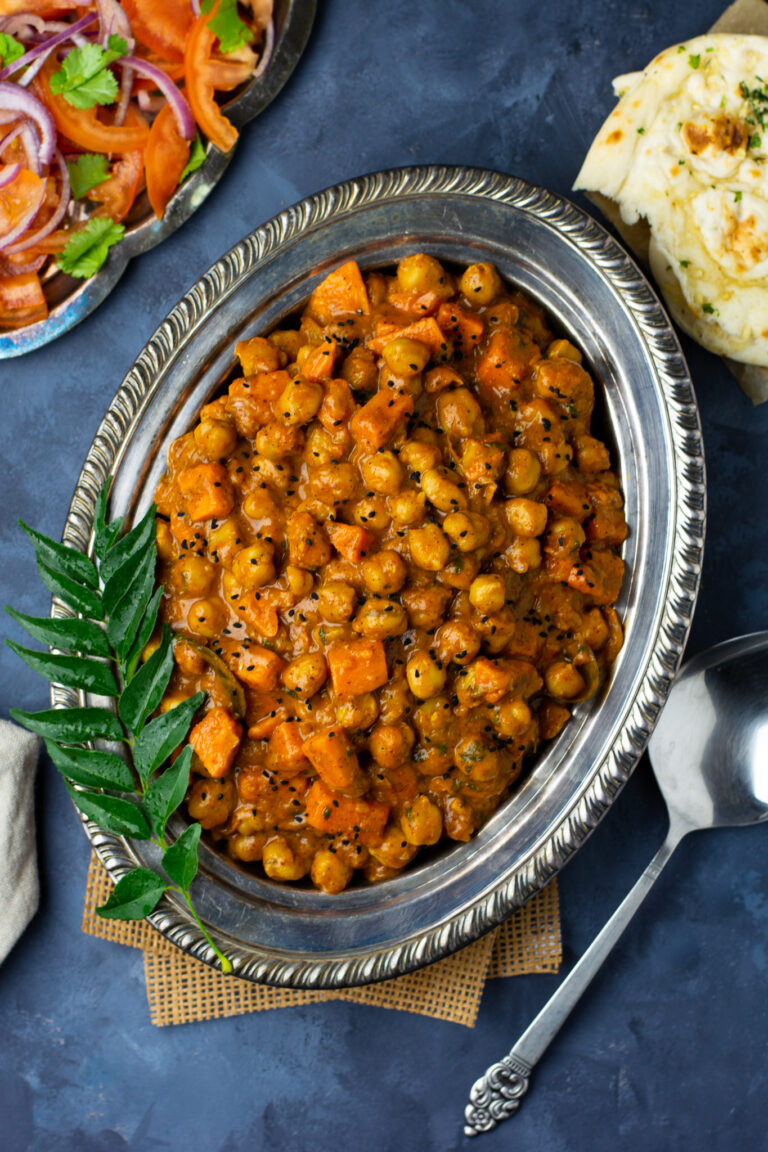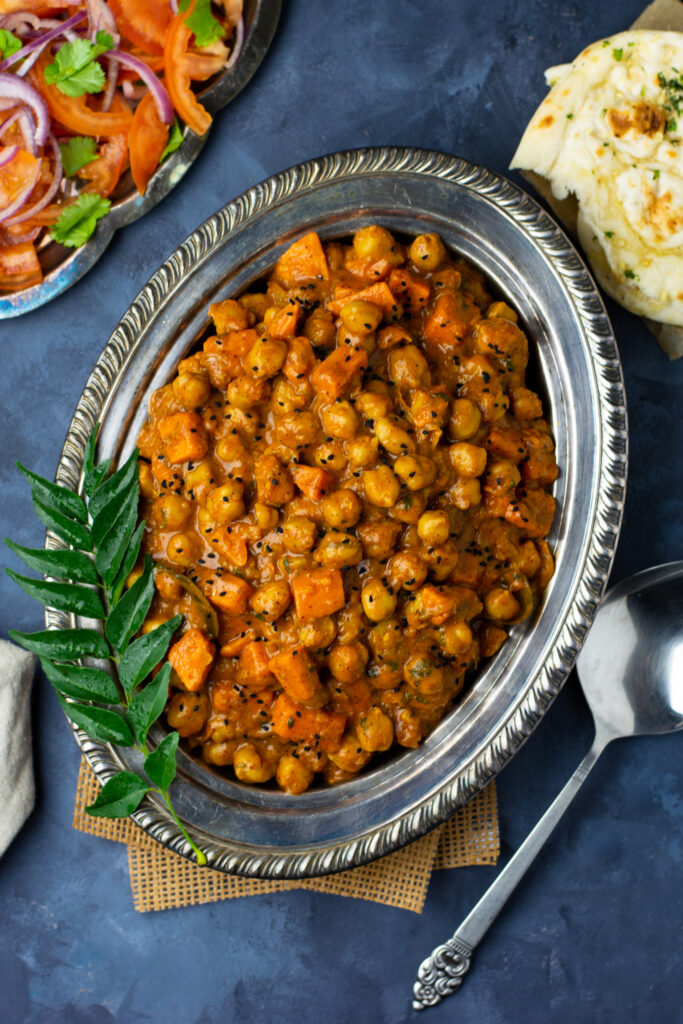 Frequently asked questions
More delicious recipes to try!
Recipe
I hope you like this recipe as much as I do. Please leave a comment below to let me know what you think and subscribe to my social media if you would like to see more easy and delicious recipes.