My mango kulfi recipe is super creamy and refreshing, packed full of mango flavor and doesn't need any churning! Kulfi is the Indian version of ice cream, usually denser and creamier and requires cooking milk for a long time. My instant version tastes just as good (if not better) and comes together in 10 minutes! You will love this easy recipe.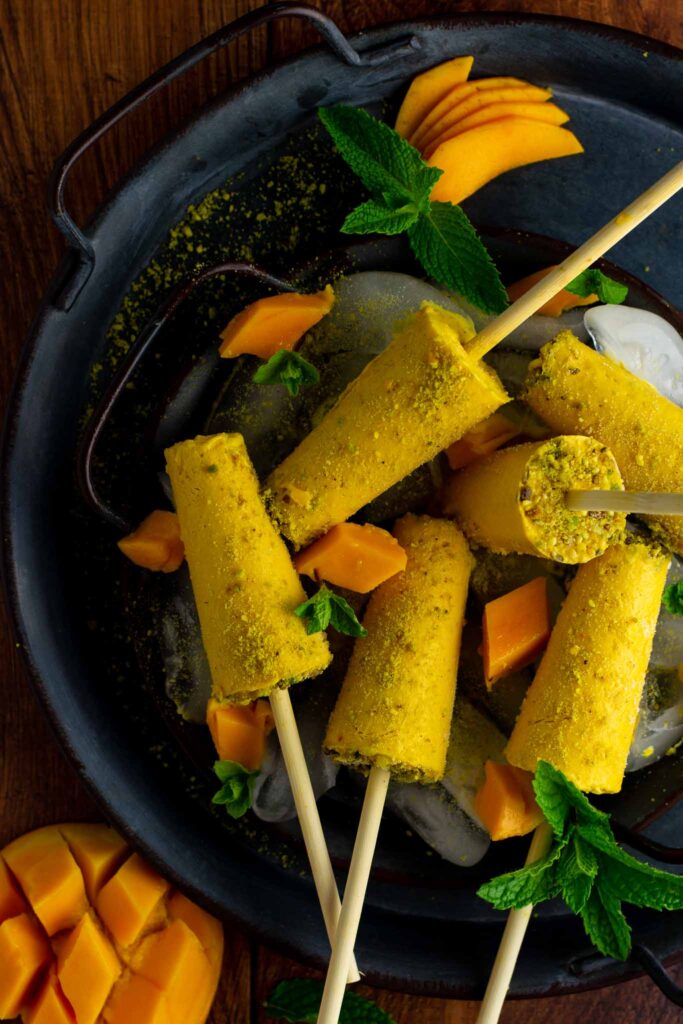 Kulfi
If you've never tried it before, kulfi is a frozen dairy dessert originating in the Indian subcontinent. It is often described as traditional Indian ice cream and is similar to ice cream in appearance and taste but denser and creamier. It is usually made in a variety of different flavors like cream (malai), rose, mango, cardamom (elaichi), saffron (kesar), almond (badam) and pistachio.. The main difference between kulfi and ice cream is that unlike traditional ice cream, kulfi is not whipped or churned. This results in a dense frozen dessert similar to traditional custard-based ice creams. It is truly so satisfying to bite into a delicious frozen kulfi on a hot summer day!
Mango kulfi
You guys already know that mangoes are my favorite fruit and isn't a surprise that mango kulfi is my absolute favorite flavor of kulfi. Combining the ripe freshness of mangoes with creamy and dense kulfi makes for a magical combination. The result is floral and sweet, dense yet so creamy and super satisfying. This will definitely become your new favorite! I made this recipe 4 times and every single time it was so good that I couldn't even manage to take a single picture 😅 I had to make a double batch just so we could enjoy one batch which I took pictures of the other.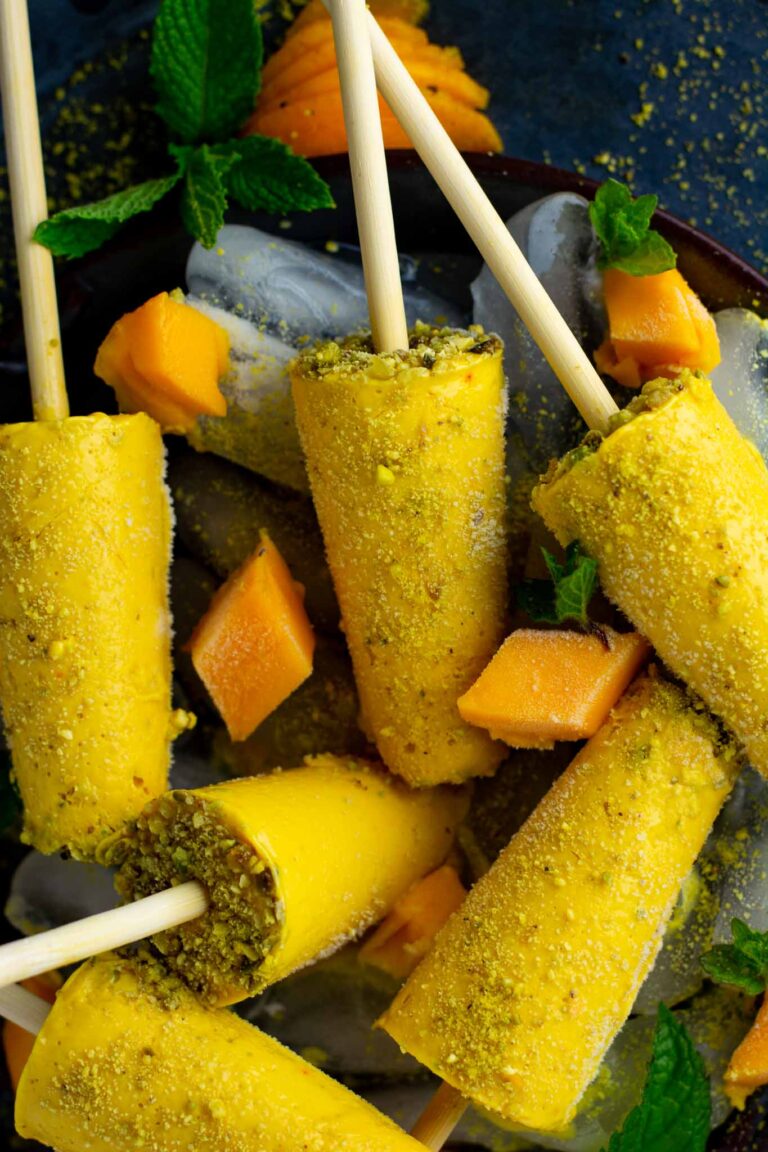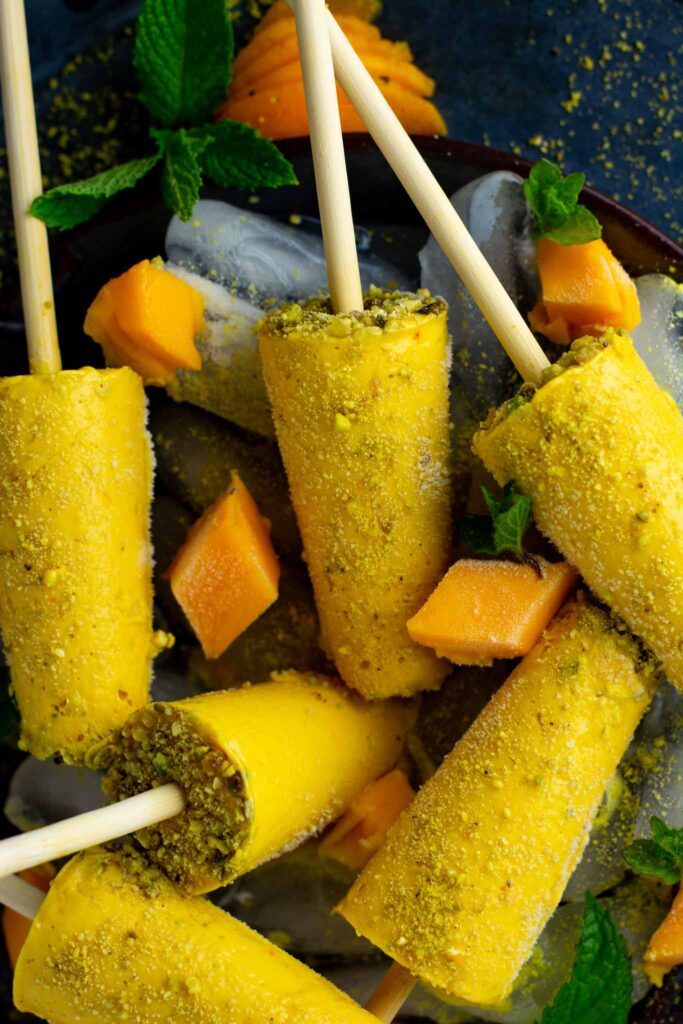 The best mangoes to make mango kulfi
There are so many varieties of mangoes available throughout the world. India itself grows more than a thousands of varieties of mangoes. My absolute favorite variety of mangoes is the Alphonso mango. When perfectly ripe it is saffron fleshed, sweet, juicy and non-fibrous. The flavor is so intense and the aroma is amazing.
Alphonso mangoes are the variety I use the most in my mango based recipes and is what makes this mango kulfi so amazing. However, it is extremely difficult to source these mangoes in a lot of parts of the world. Thankfully, it is pretty easy to buy Alphonso mango pulp. I highly recommend going through the extra trouble if you have to, and looking for Alphonso mango pulp. It makes a huge difference!
If you can't find Alphonso mangoes/pulp, feel free to use any ripe and juicy, non fibrous mangoes in this recipe. Mexican grown champagne/Ataulfo mangoes work well, if you can find them.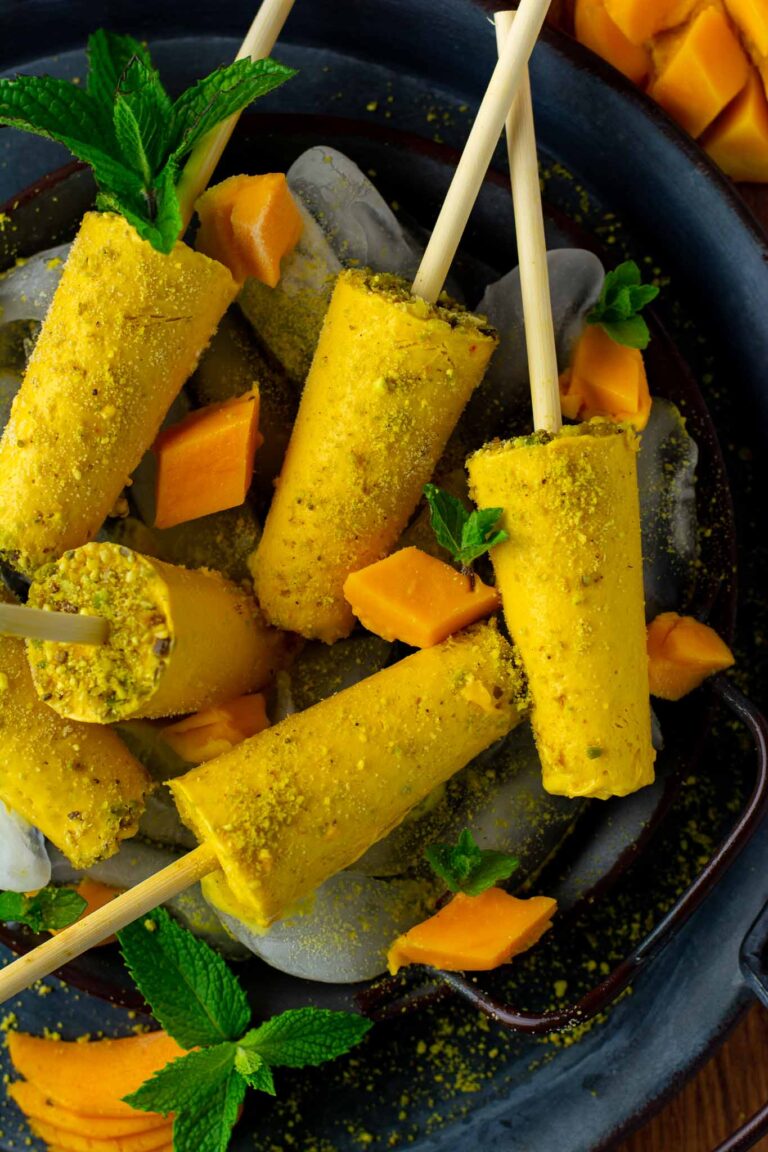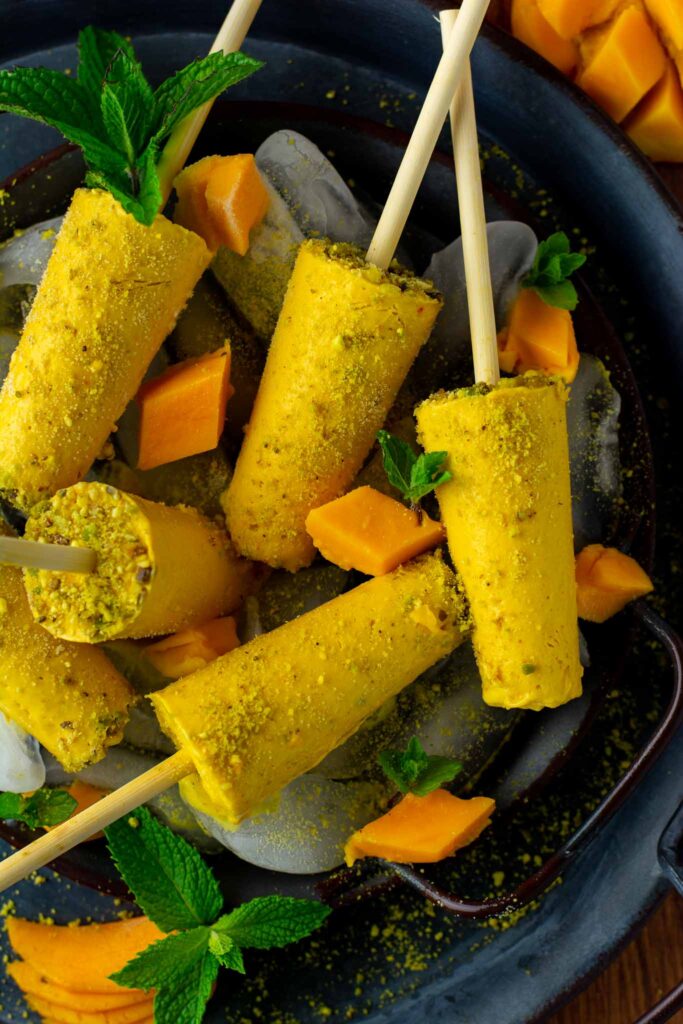 Flavors in this mango kulfi
Apart from ripe and juicy Alphonso mango, I like to flavor my kulfi with Kashmiri saffron and ground green cardamom. The saffron adds a beautiful earthy flavor while the cardamom adds a lovely floral aroma and pairs beautifully with the saffron and mango. The saffron and cardamom are optional so feel free to leave them out if you don't like them.
Substitutions to make this mango kulfi
For plant based kulfis, replace the heavy cream with coconut cream, sweetened condensed milk with coconut sweetened condensed milk and milk with any plant based milk. Coconut and mango are such a good combination and will make for a delicious and creamy vegan treat.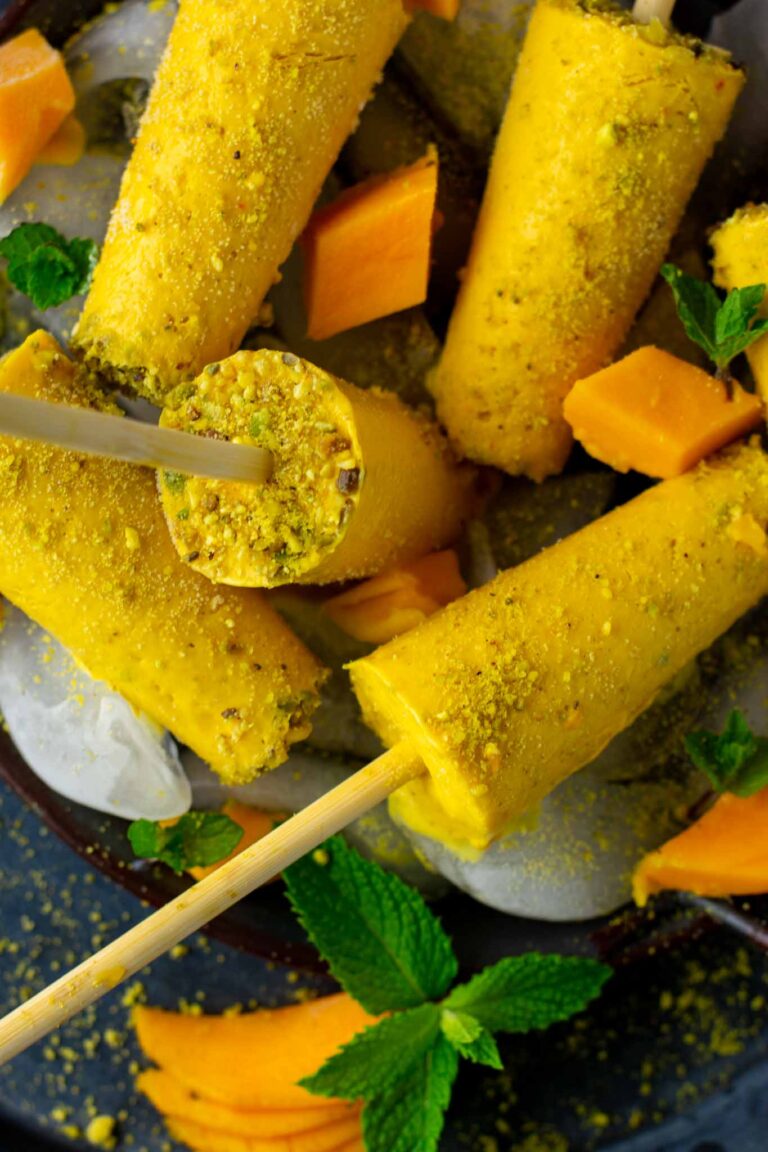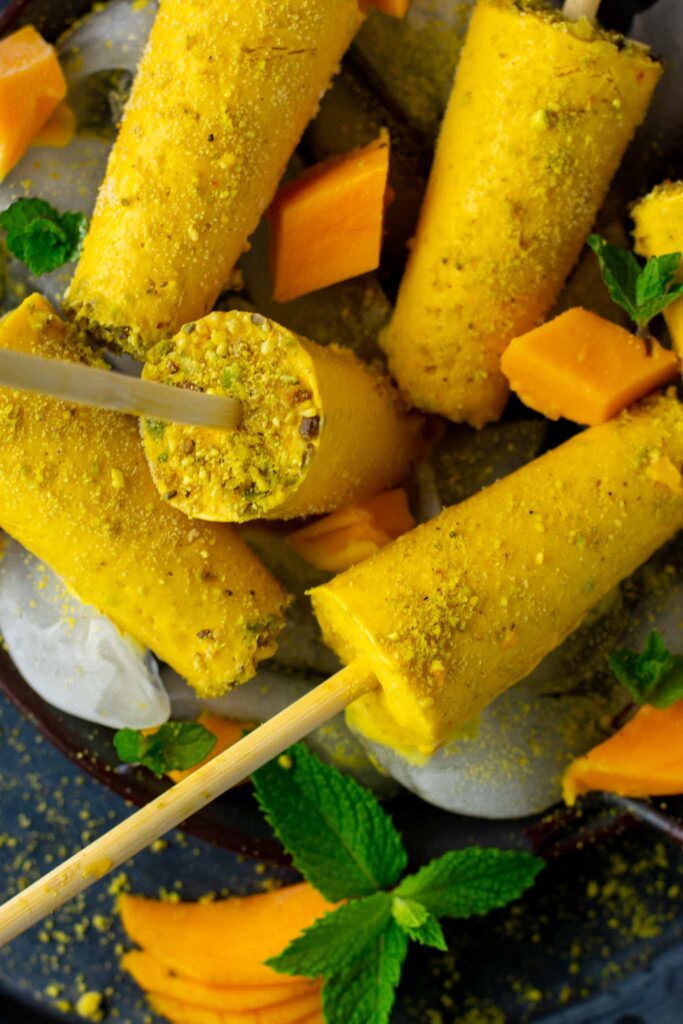 Some ways to customize this kulfi
Replace the chopped mangoes with complimentary flavored fruit, like pineapple, coconut chunks or even passion fruit
Replace the crushed pistachios with your favorite nuts or even leave it out
Replace ground cardamom with a pinch of ground nutmeg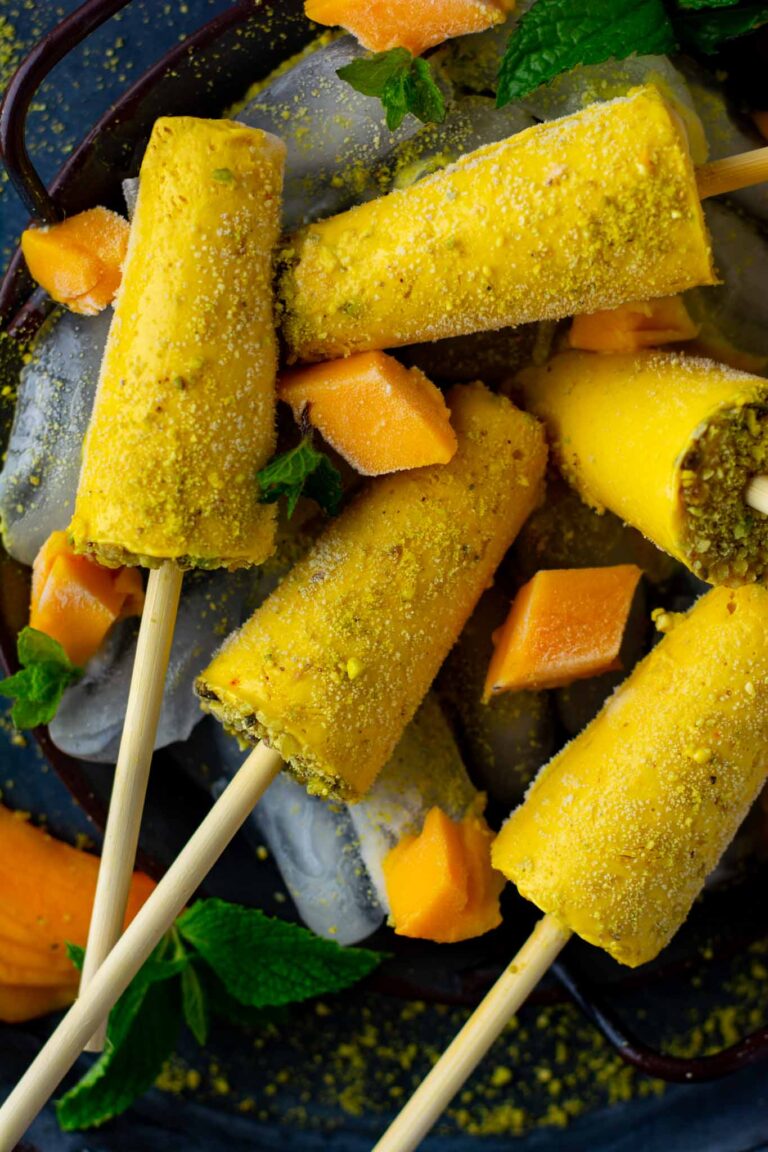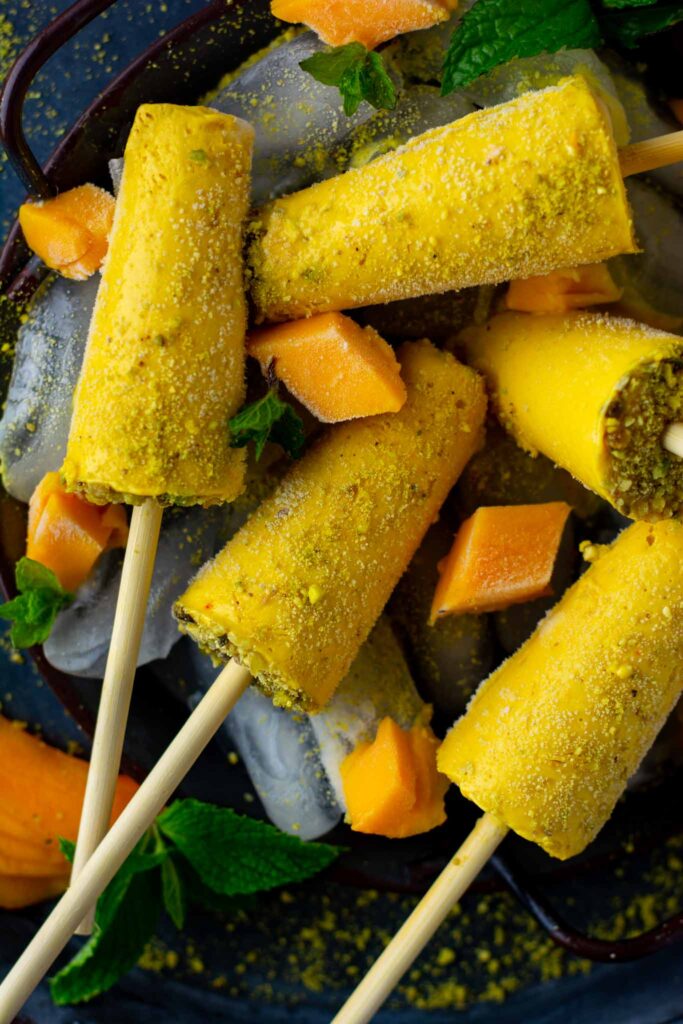 Frequently asked questions
What does kulfi taste like?
Kulfi is the Indian version of ice cream, usually denser and creamier. It can be made in various flavors. The traditional flavors ones are cream (malai), rose, mango, cardamom (elaichi), saffron (kesar), almond (badam) and pistachio.
What type of mango works well for mango kulfi?
Any ripe, non-fibrous and flavorful mango will work well in this recipe. My favorite variety of mango to use in desserts is the Indian Alphonso mango, because of its bright orange non-fibrous flesh and amazing taste and aroma. Mexican grown champagne/Ataulfo mangoes work well too, if you can find them.
Can I use jarred/canned mango pulp?
Yes! I love using store bought mango pulp in desserts since I can't easily find my favorite Alphonso mangoes. My current favorite pulp to use is this organic Alphonso mango pulp with no added sugar. You could also use Kesar mango pulp if that's easier to find.
How do I store kulfi?
Store kulfi in the same molds/paper cups you froze them in. Take out as many as you need and store the remaining in the freezer.
How long does kulfi last in the freezer?
Kulfi can be frozen for up to 3 months, if you are able to resist it for that long!
More mango desserts you will love!
Recipe
Love this recipe?
Rate the recipe by clicking on the stars in the recipe card below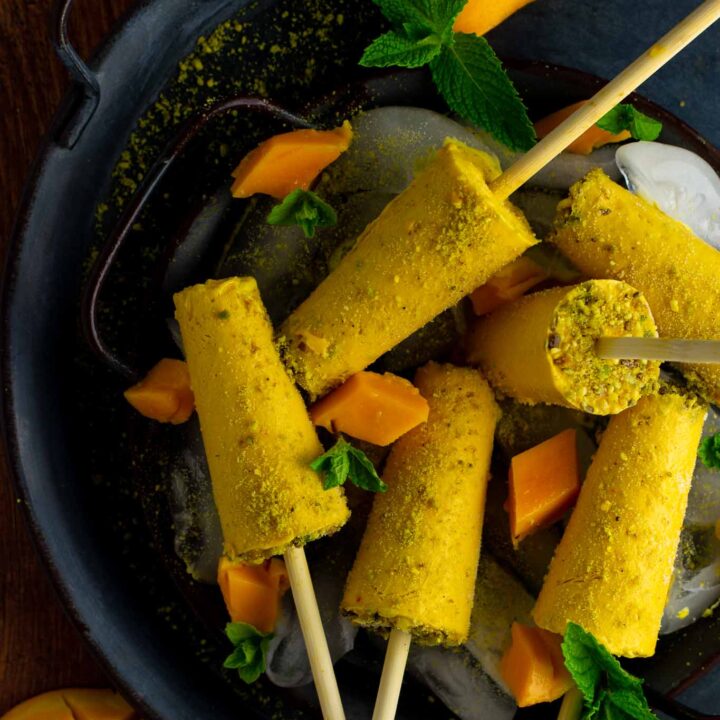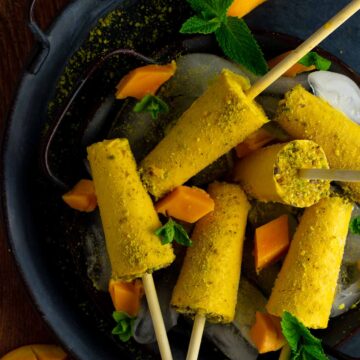 Mango kulfi
This mango kulfi recipe is super creamy and refreshing, packed full of mango, doesn't need any churning and comes together in 10 minutes!
Equipment
Instructions
Heat the milk until it is lukewarm and sprinkle the saffron strands on top. Let the milk rest for 5 minutes and then transfer it to a blender.

Now add all the ingredients (except the pistachios and chopped mango) into the blender and blend on high for 15-20 seconds only. Be careful not to over blend as it can cause the cream to separate into butter.

Into the blended kulfi mix, add in the optional chopped mango and crushed pistachios and mix it well to combine.

Pour this kulfi mix into popsicle/kulfi molds or even small paper cups and cover it with a sheet of alumimium foil. Insert popsicle sticks into each cavity.

Freeze the kulfi for 6 hours or overnight.

Dip the molds in warm water for few seconds and then pull gently to unmold. Serve the kulfis garnished with more crushed pistachios and saffron.
Notes
If your mango pulp/puree is already sweetened,  reduce the amount of sweetened condensed milk to ⅓ cup.
To use fresh mangoes, start with ripe, pulpy and non-fibrous variety of mangoes. Scoop out the flesh and discard the seed and skin. Measure 1.5 cups of mango flesh and puree it in a blender. Finally, pass it through a sieve and then measure ¾ cup for this recipe.
Use small paper cups to freeze your kulfi in if you don't have popsicle molds.
Estimated Nutrition
Nutrition Facts
Mango kulfi
% Daily Value*
*Percent Daily Values are based on a 2000 calorie diet.
*Please note that the nutrition label provided is an estimate based on an online nutrition calculator. It will vary based on the specific ingredients you use.
Subscribe to my YouTube channel
Subscribe to get notified about my latest recipe videos!