This mushroom oat risotto is such a great way to use oats in a savory preparation. Oats are a great replacement for arborio rice in this "risotto" recipe and it takes under 20 minutes to make. This recipe makes an easy & delicious lunch/dinner in no time. Watch the full video below.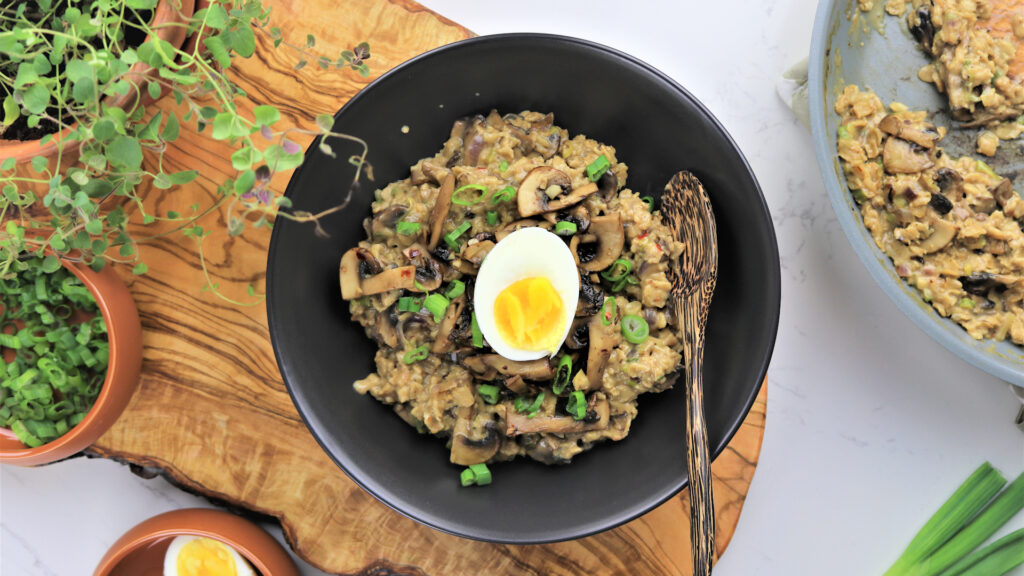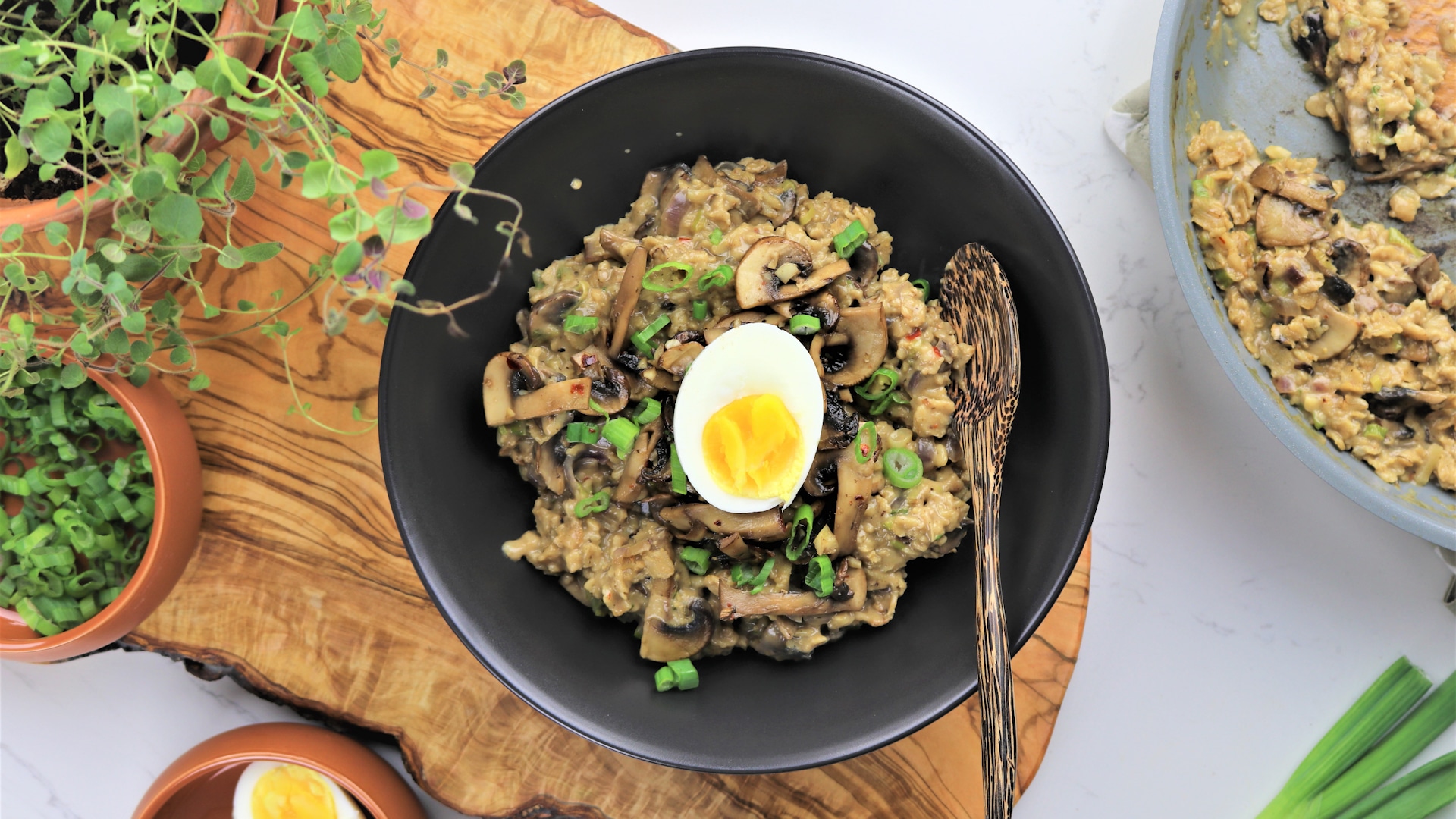 I absolutely love risotto like a lot of you probably do as well and mushroom risotto is my all time favorite. However, as good as it tastes, risotto is a labor of love and patience. It take a good 30-40 minutes of slowly adding a ladle full of stock at a time and stirring to achieve the perfect creamy consistency.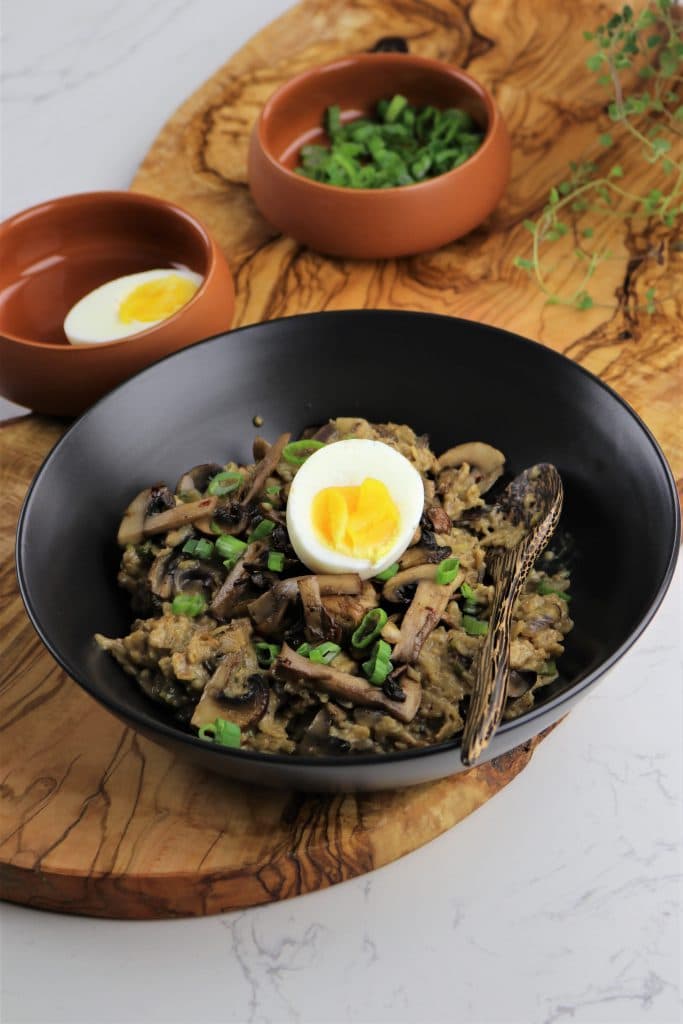 What makes this mushroom oat risotto so good?
This recipe is the perfect combination of taste and convenience wrapped up in one delicious mouthful. This oat risotto doesn't require the stock to be added slowly & no constant stirring required either. Just dump in the stock at once and let the oats cook and soak up the delicious flavor of the stock you are using. Try to use the best quality stock you can find because it is the main flavoring here. If you consume meat, then my chicken bone broth recipe works absolutely great in this recipe.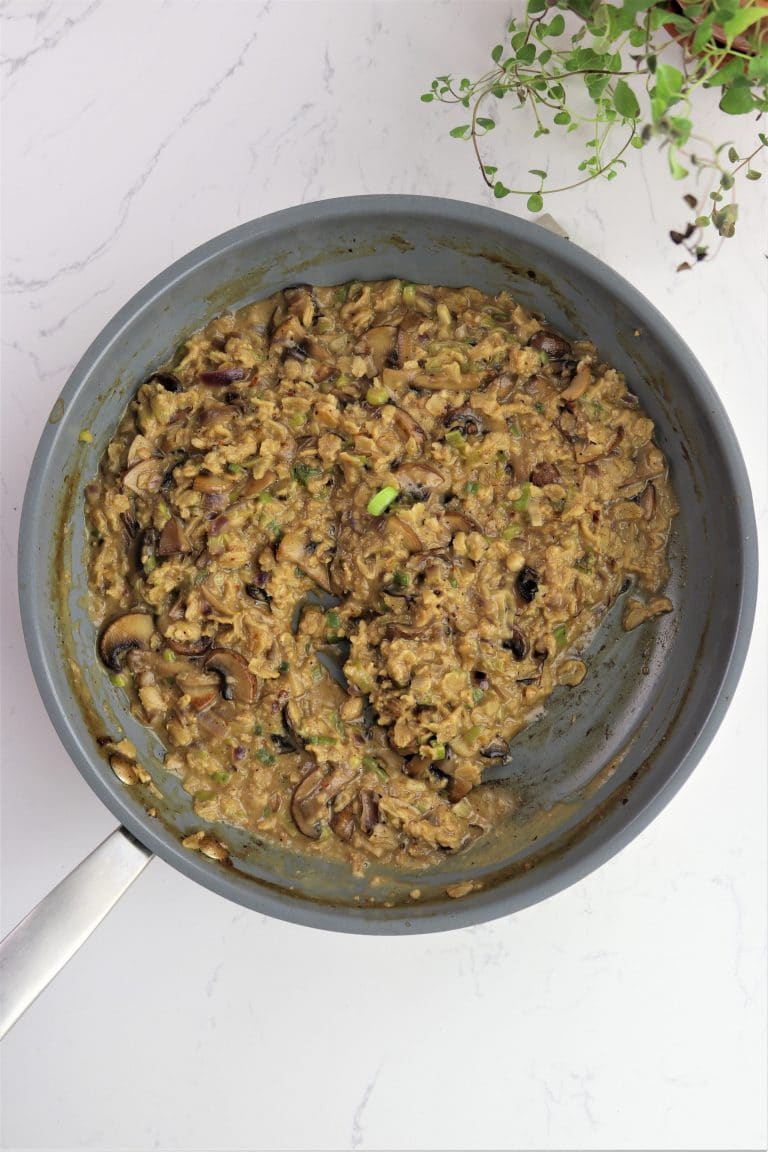 What kind of oats would work well in this mushroom oat risotto recipe?
I use regular old-fashioned oats (also known as rolled oats) in my oat risotto recipe. I find that it has the same creamy texture that arborio rice provides in regular risotto recipes and it cooks in under 10 minutes. It also soaks up the flavor of the stock really well making a really delicious bowl of risotto.
I think steel cut oats would also work well in this recipe, if that's all you have on hand. However, keep in mind that steel cut oats take much longer to cook when compared to rolled oats, so you will have to adjust the cook time accordingly.
But what ever you do, I highly recommend you buy organic oats and oat products whenever possible. If you live in the US, conventional non-organic oats and oat products have been known to be tainted with the weedkiller glyphosate. Glyphosate is the active ingredient in the widely used herbicide Roundup, which has been linked to cancer. I recommend that you do your own research on this topic before choosing the type of oats you buy.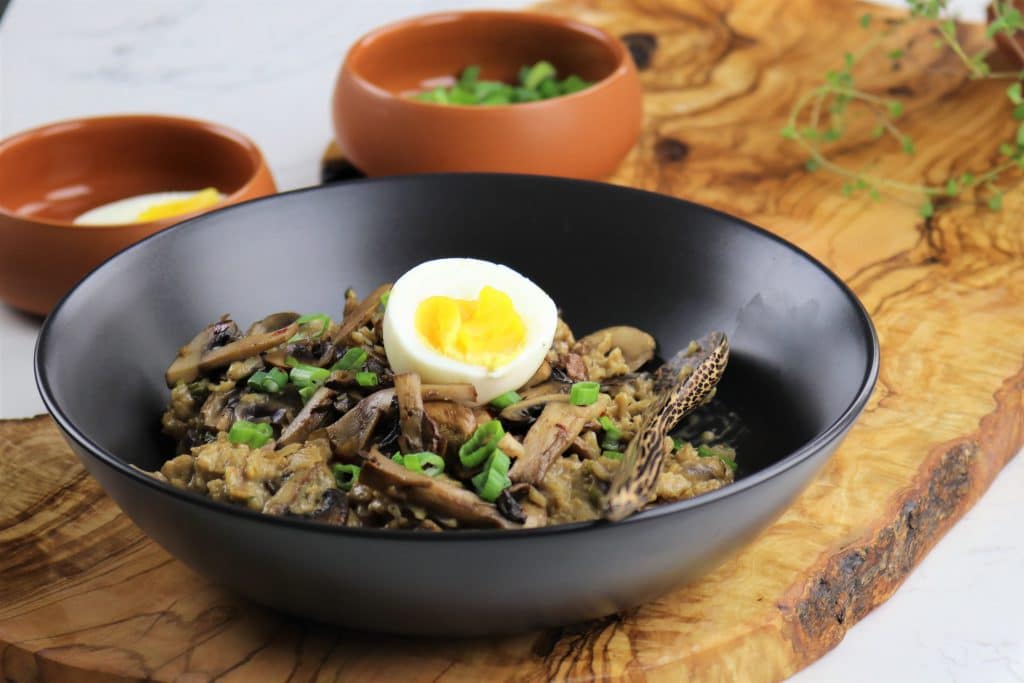 Substitutions to make this recipe vegan
If you are following a plant based diet, this recipe can be easily made vegan with a few changes.
Use avocado oil/any flavorless cooking oil instead of butter.
Use a good quality vegetable or mushroom stock.
Use vegan cream cheese or home-made cashew cream instead of the cream/cheese in this recipe.
Leave out the egg altogether.
Home-made cashew cream recipe
To make cashew cream, soak 2 tablespoons of cashews in water for a few hours or ideally overnight. After they have soaked, drain and blend the cashews with 2 tablespoons more water. You can use this cashew cream as a replacement in my oat risotto recipe.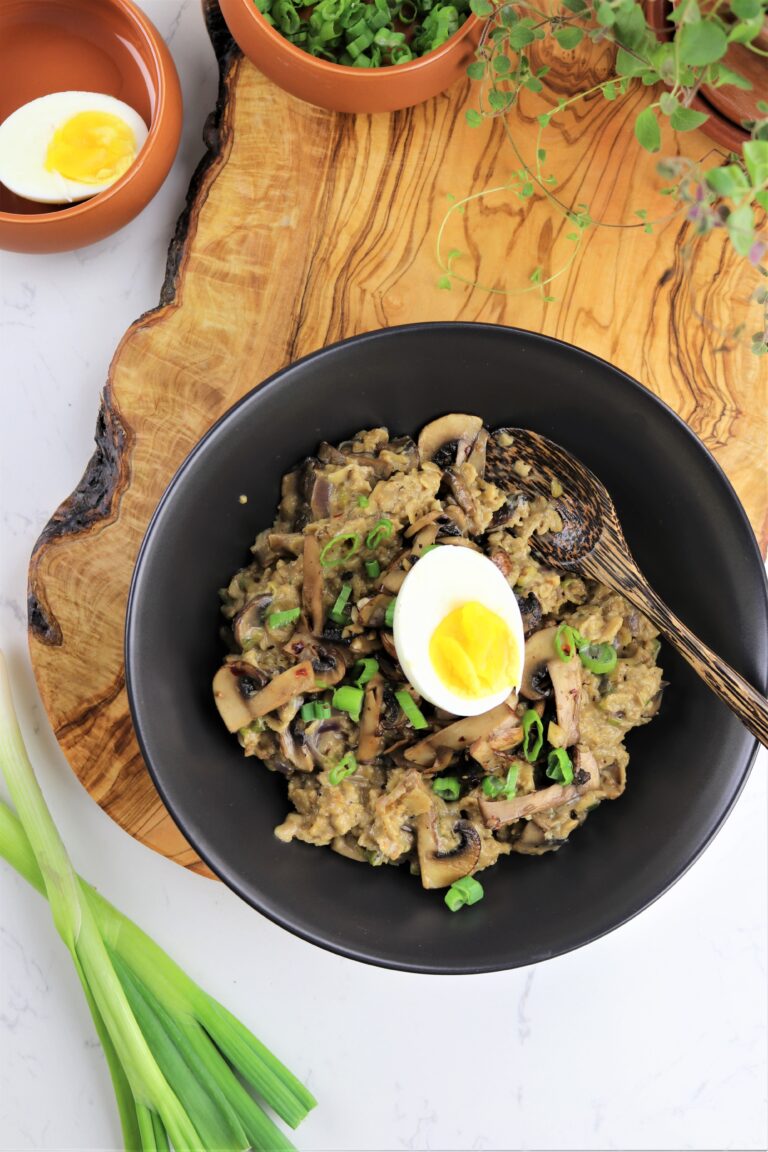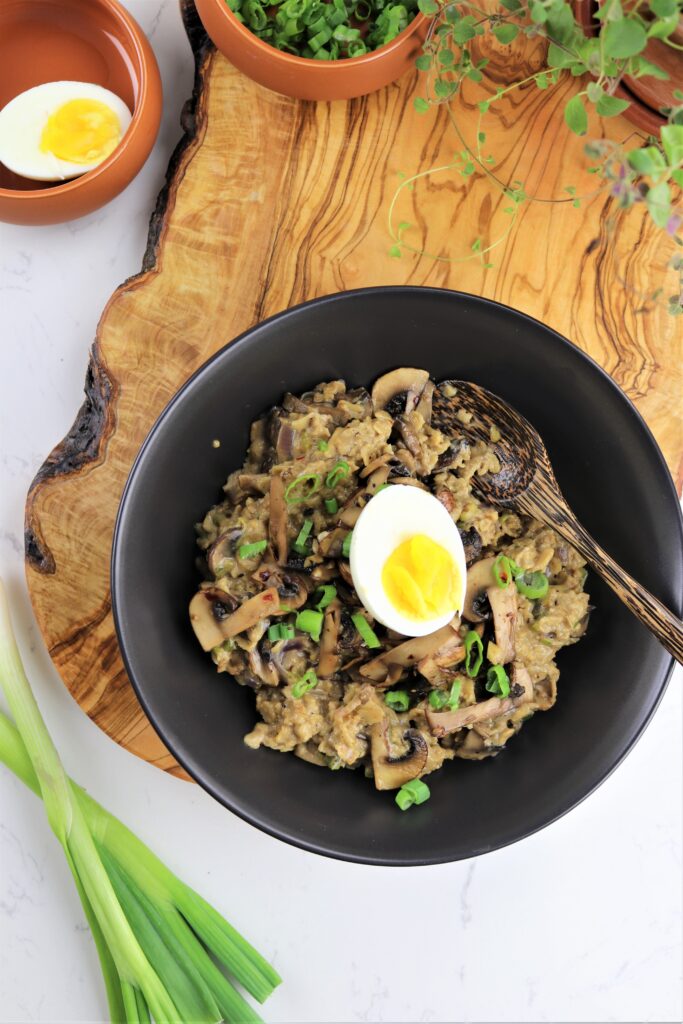 I hope you like this recipe as much as I do. Please leave a comment below to let me know what you think and subscribe to my social media if you would like to see more easy and delicious recipes.
Recipe
Love this recipe?
Rate the recipe by clicking on the stars in the recipe card below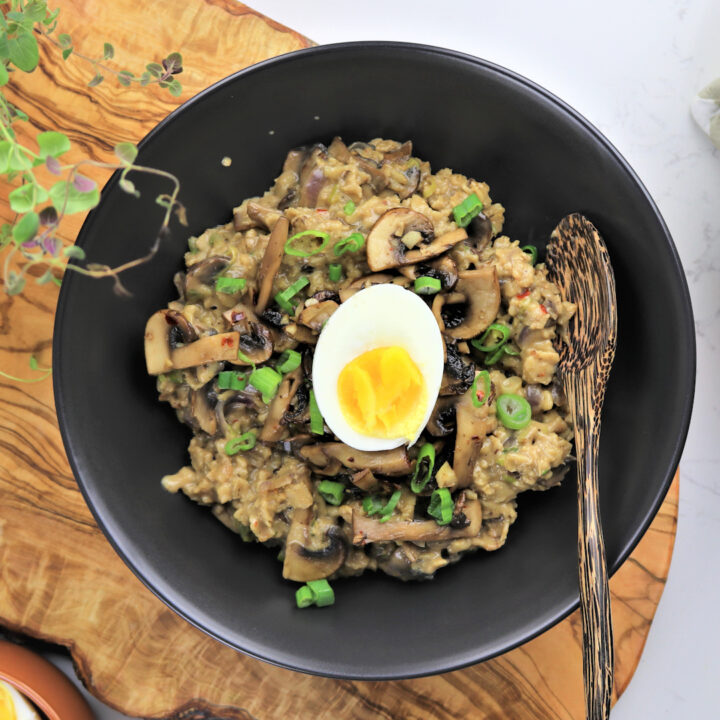 Savory mushroom oat risotto
This mushroom oat risotto is such a great way to use oats in a savory preparation. Oats are a great replacement for arborio rice in this "risotto" recipe and it takes under 20 minute to make. This recipe makes an easy & delicious lunch/dinner in no time.
Equipment
Ingredients
1

tablespoon

avocado oil/butter

3

cups

mushrooms

sliced, use any mushrooms that you can find. I used cremini mushrooms in this recipe.

3

garlic cloves

finely chopped

½

teaspoon

red pepper flakes

½

medium

red onion

finely chopped

4

stalks

green onion

finely chopped

⅔

cup

oats

I used the old-fashioned variety

2

cups

vegetable/mushroom/chicken stock

(I use my homemade chicken bone broth )

2

tablespoons

heavy cream

or cream cheese (see notes)

1

egg

kosher salt

to taste

½

teaspoon

freshly cracked black pepper
Instructions
Heat oil/butter in a frying pan on medium heat and add in the sliced mushrooms. Now increase the heat to high and cook the mushrooms for about 5-7 minutes or until they are starting to brown nicely. (See notes on how to clean and perfectly cook mushrooms)

When the mushrooms are starting to brown, add in the finely minced garlic and red pepper flakes. Cook this mixture for about 2 minutes or until the mushrooms have turned a nice brown color and the garlic is translucent. Season this mixture with salt and toss well to combine. Reserve half of this mushroom mix for later, to top the risotto.

Now add in red onion and green onion (white part only) into the mushroom mix and cook for 3-4 minutes or until the the onions have turned translucent.

Next, add in the rolled oats and mix everything well together. Let the oats toast well in the pan for about 2 minutes before adding in the vegetable/mushroom/chicken stock/broth. Stir well to combine and let this mixture bubble for about 5-7 minutes or until the oats absorb most of the stock.

Check the risotto for seasoning before adding in salt to taste (be mindful that ready-made stocks can be quite salty).

When the risotto has absorbed most of the moisture, add in the heavy cream/cream cheese and mix well to combine. Let it bubble for about 2 minutes before freshly cracking some black pepper over the top and turning off the heat.

While the risotto is cooking, make a perfectly boiled egg on the side. Heat water in a saucepan until it is boiling and slowly drop in an egg. Set a timer for 7 minutes and adjust the heat so that the water is at a slow boil. After 7 minutes, drain the egg and place it in an ice bath. When the egg has cooled completely, peel it and reserve it for later.

Serve the risotto in bowls while its still hot. Top the risotto with the reserved mushroom mixture from earlier and top each bowl with half an egg.
Notes
Clean your mushrooms well with a damp paper towel. DON'T ever wash mushrooms. Mushrooms are sponges that soak up liquid. If you wash them, you will end up with watery flavorless mushrooms. 
It is important to cook the mushrooms on high heat as you want them to release their moisture quickly resulting in perfectly cooked and browned mushrooms. NEVER season the mushrooms until they are full cooked as salt will release too much moisture from the mushrooms resulting in soggy mushrooms.
You can replace the heavy cream/ cream cheese with 2 tablespoons freshly grated Parmigiano-Reggiano cheese for an authentic risotto flavor. I didn't have any on hand when I made this recipe but the heavy cream tasted good as well. If you are using Parmigiano-Reggiano, be mindful of the amount of salt you add since it can be very salty.
If you are vegan, you can omit the egg & cheese/cream entirely or use vegan cream cheese/cashew cream. 
Subscribe to my YouTube channel
Subscribe to get notified about my latest recipe videos!