Learn how to transform strongly pungent garlic into sweetly fragrant, soft and mellow garlic confit that works well in so many different dishes. This is a 2 for 1 recipe where you also end up with homemade garlic oil with has the most gorgeous flavor & aroma and has countless applications in the kitchen. If you love garlic, you are going to love this one!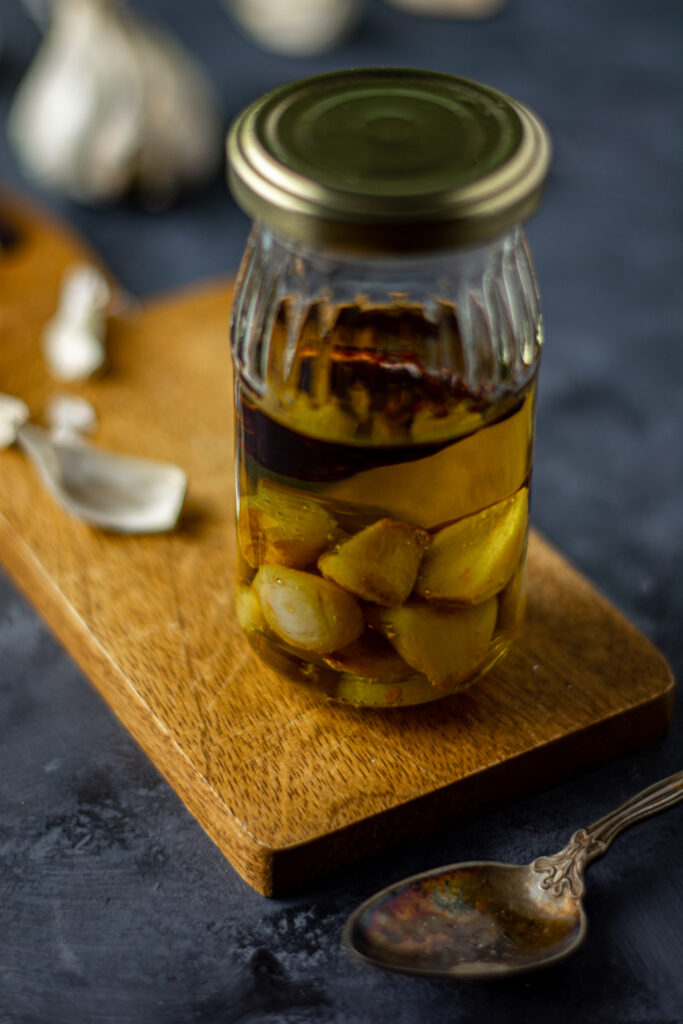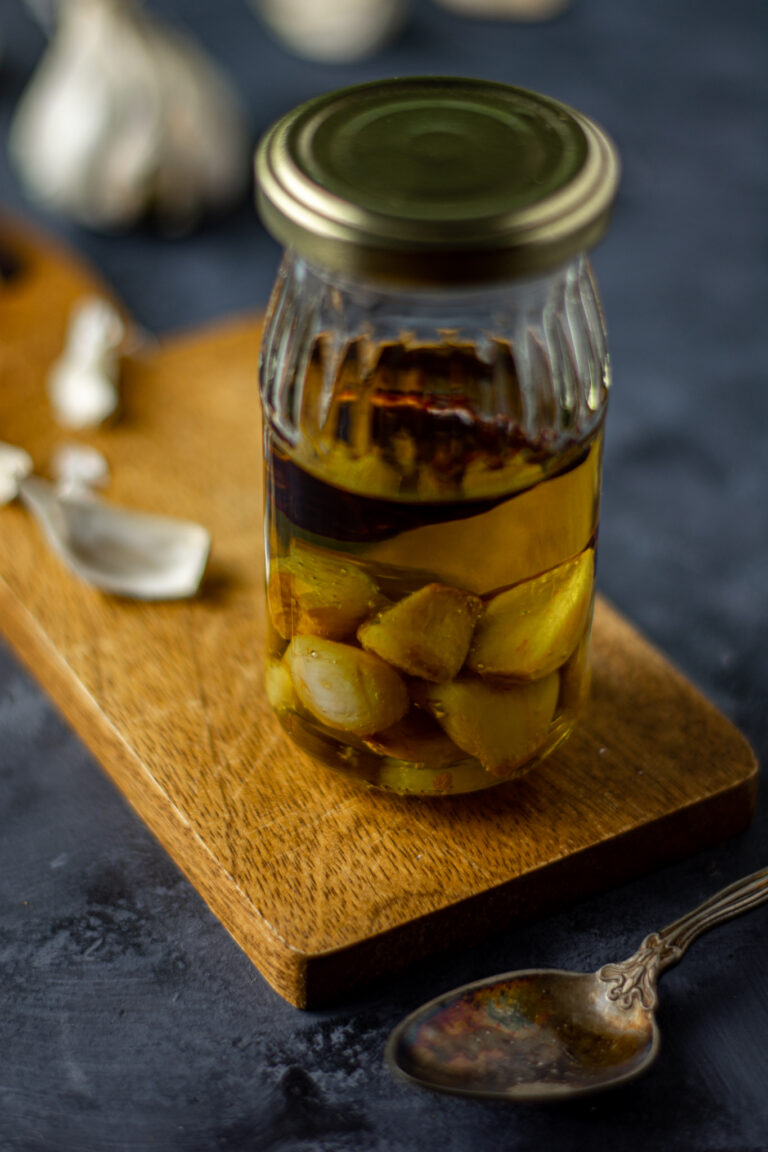 What is garlic confit?
If you are unfamiliar with the technique of confit, it is a French technique of cooking where food is cooked slowly in fat for a long period of time.
At first glance, this technique sounds very similar to frying.. However, the main difference is that the food is cooked on a low heat for a very long time resulting in a very tender dish that can be preserved for a long period of time.
A lot of foods can be cooked using this technique and garlic works particularly well when cooked long and slow in a good flavored oil or fat. This recipe (or rather technique) is incredibly easy to do and very hands off because of the low and slow cooking and results succulent and fragrant garlic cloves and homemade garlic oil that have a ton of uses!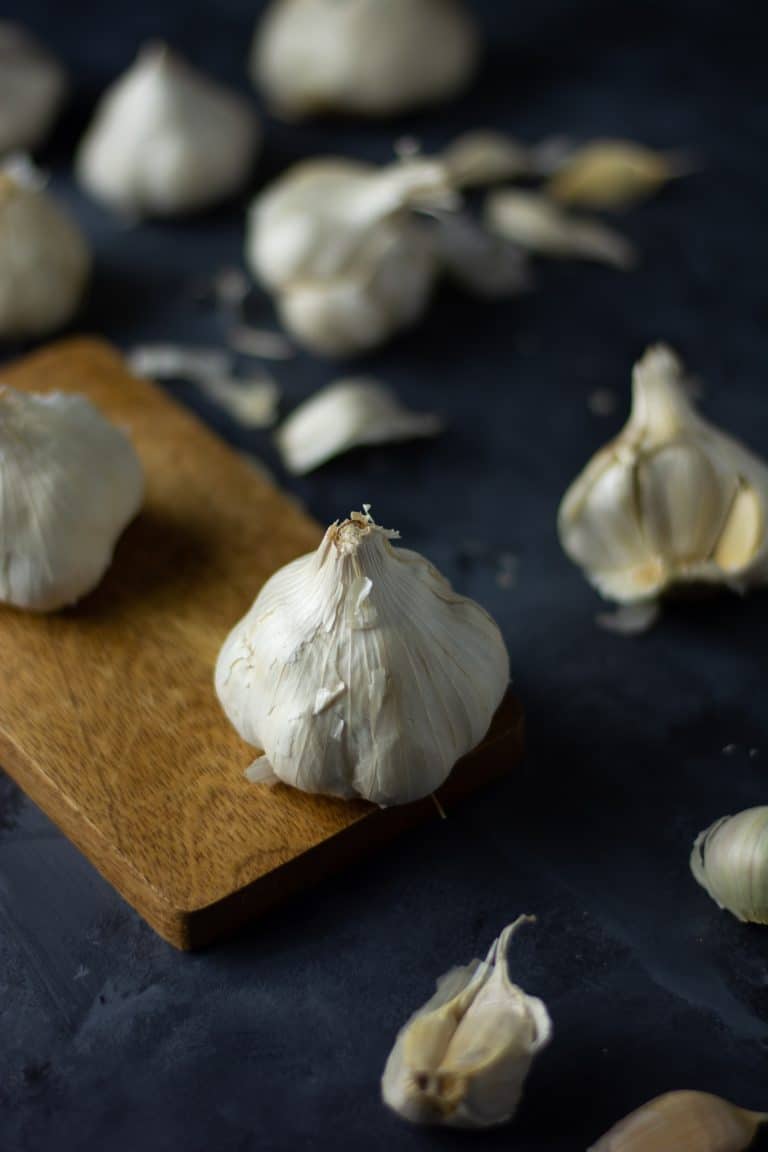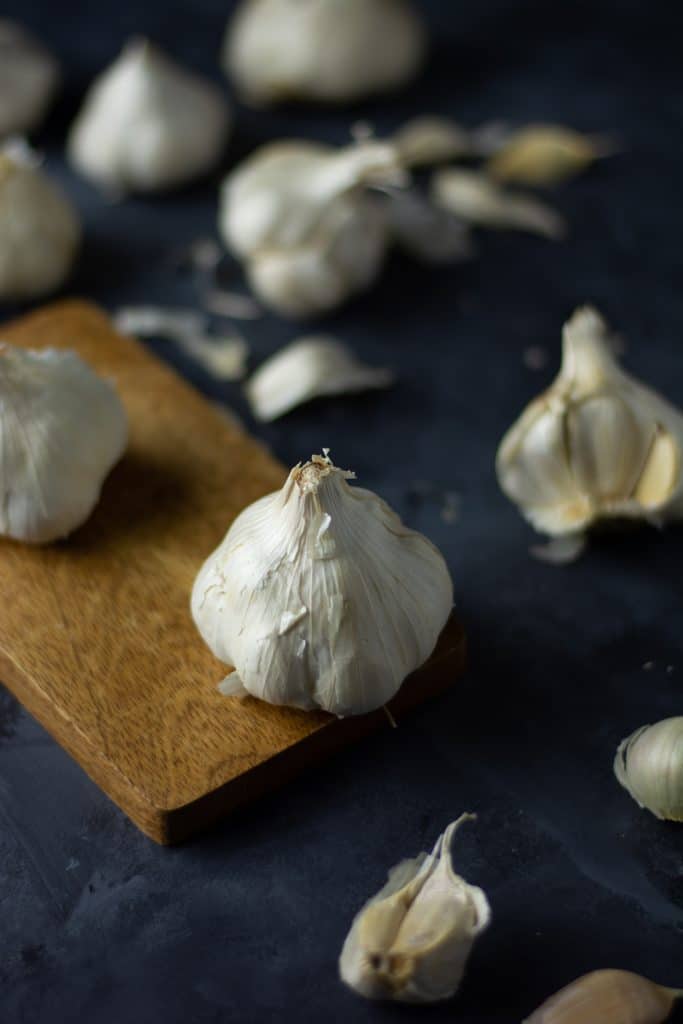 Steps involved in making garlic confit & homemade garlic oil
This recipe is so easy and incredibly hands-off. There are only 2 steps to this recipe.
Step 1: Peeling the garlic. This is definitely the more annoying of the 2 steps. Depending on how much garlic confit you want to make, you will need to peel a few garlic cloves and be careful to keep them intact and whole while peeling. An easy way to peel garlic is to place your cloves between 2 large metal bowls and then shake vigorously until you see that all the peels have slid off. You could also just buy already peeled garlic 🙂
Step 2: Cooking the garlic slowly in oil. You want to then gently cook the garlic in your choice of oil for a long period of time on very low heat in a heavy bottomed pot. My stove heat can be set to very low, so I could just set a timer and come back to it when it was done. If your stove doesn't go to a very low heat setting, you might need to keep an eye on your garlic.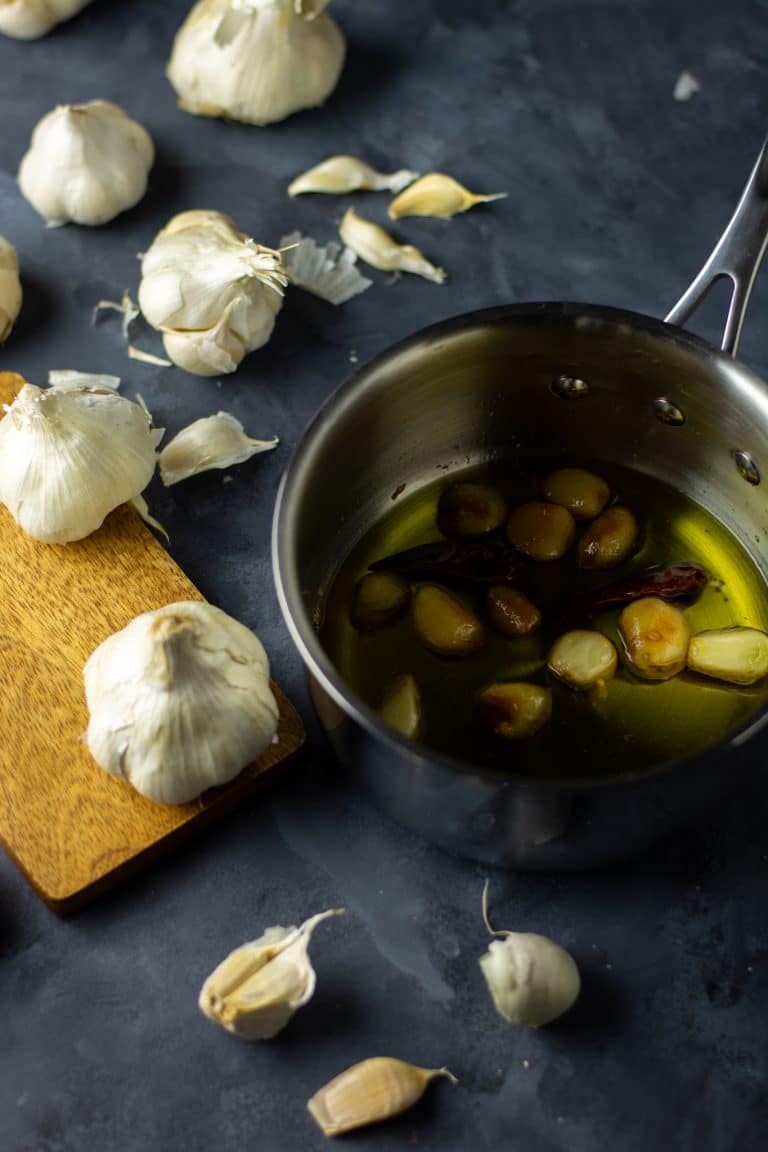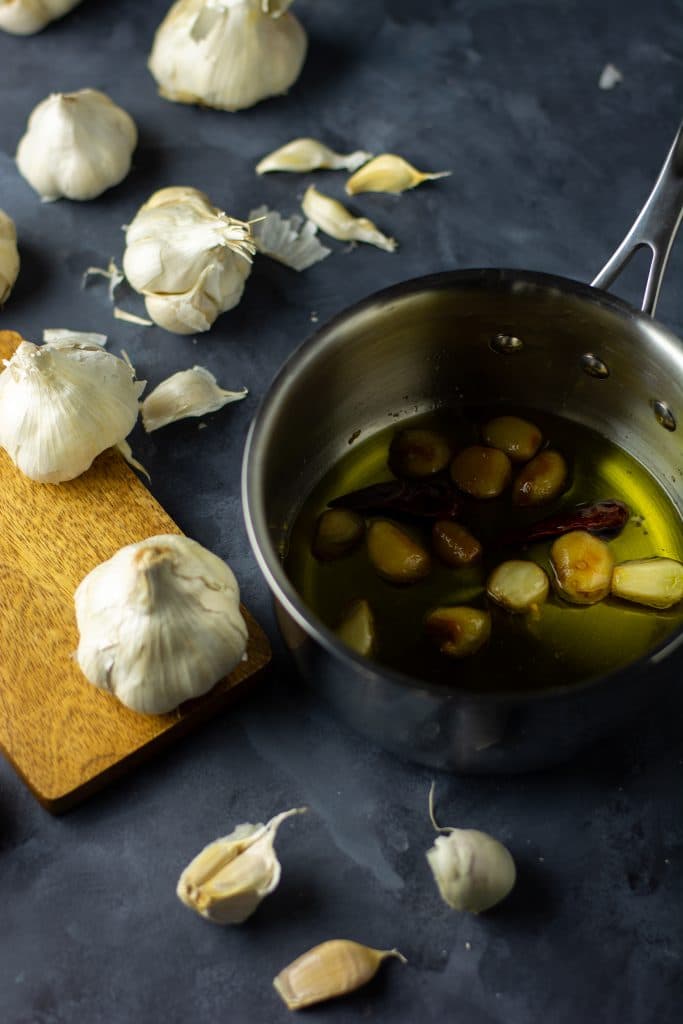 12 Ways to use garlic confit and homemade garlic oil!
Smear some of the garlic cloves onto toasted bread to make crostini with a variety of toppings (like bruschetta).
Smash a clove of garlic, add in some of the oil along with lemon juice (or your favorite vinegar), salt & pepper for an incredibly delicious dressing for your salads.
Use the garlic oil while frying eggs for subtly garlic flavored eggs. You can also use it to drizzle on top of boiled, poached or scrambled eggs.
Incorporate some of the mashed cloves of garlic and some oil into mashed potatoes or mashed veggies for a delicious side dish.
Smear some of the garlic cloves and oil onto bread before baking it for easy peasy garlic bread.
Use some of the garlic cloves as an incredible topping for pizzas and drizzle some of the garlic oil when its done baking to take it to the next level.
Smash some of the cloves and mix it with the garlic oil, some freshly chopped herbs, salt & pepper and toss it with steam veggies like broccoli, asparagus, green beans, potatoes etc.
Smash some cloves of garlic and mix it into yogurt along with other herbs and spices for a cooling garlic dip.
Use the garlic oil while roasting all sorts of vegetables for that subtle garlic perfume.
Use both the cloves and the garlic oil in stir fry's and pasta dishes.
Make the most incredible garlic butter by smashing some garlic cloves and mixing it with softened butter along with optional salt and red pepper flakes. Use this butter to spread on toast or top it on cooked meats & veggies.
Add the garlic cloves into soups and veggie purees and top them with a drizzle of garlic oil.
As you can see, this list is definitely not exhaustive and there are countless ways to use this delicious condiment. I will be featuring this delicious condiment quite often in my future recipes, so stay tuned for that!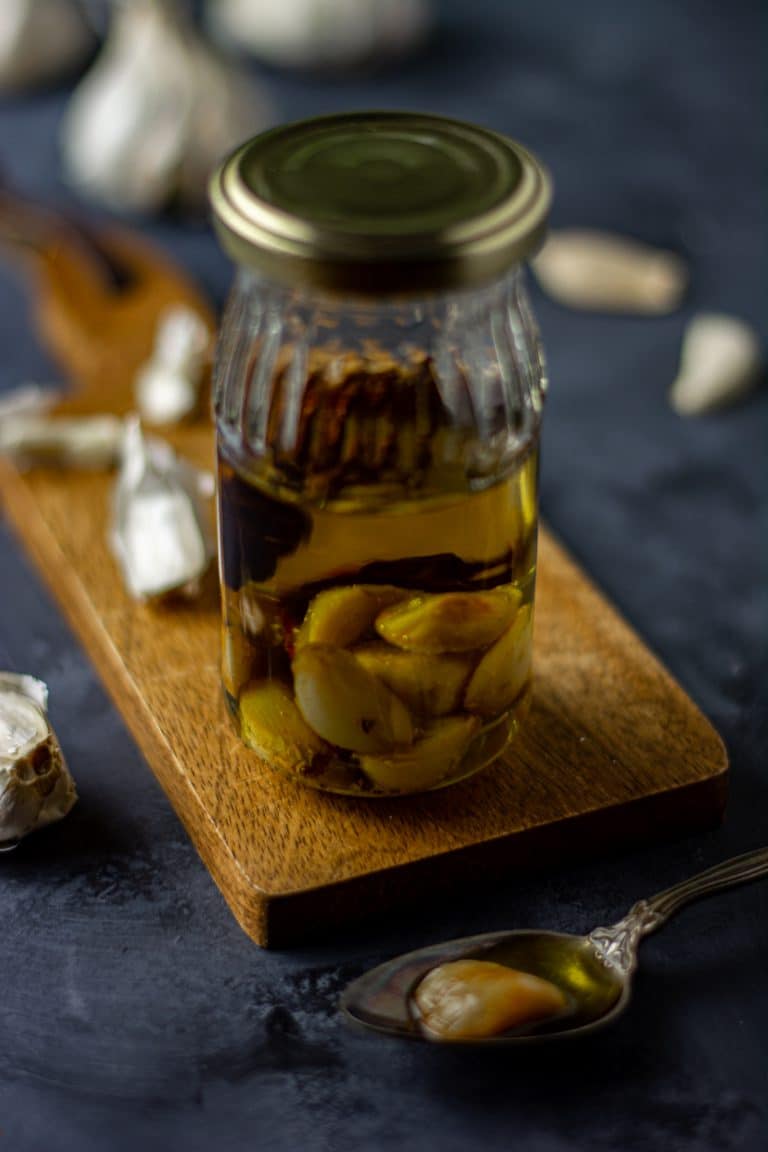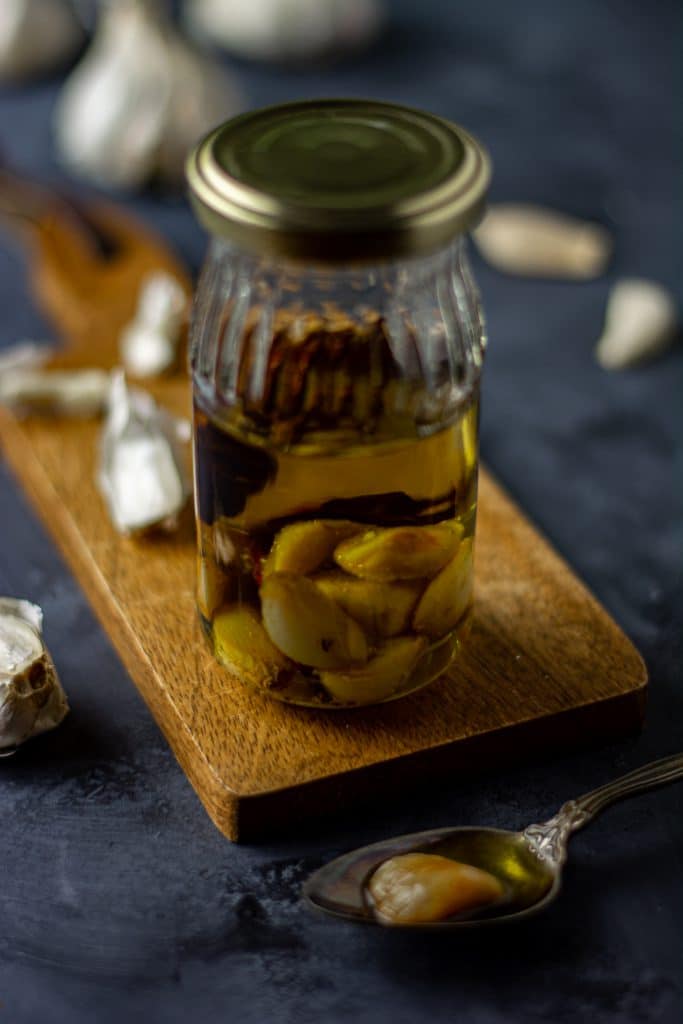 More recipes to try out
If you like this recipe, you might want to check out other cooking basics like my easy ginger-garlic paste recipe that is so versatile and is used in almost every Indian recipe.
Please leave a comment below to let me know what you think and subscribe to my social media if you would like to see more easy and delicious recipes.
Love this recipe?
Rate the recipe by clicking on the stars in the recipe card below
Garlic confit & chili garlic oil
Ingredients
½

cup

extra virgin olive oil

1

head

garlic

(mine yielded 12 large cloves of garlic)

2

spicy dried chilies

(optional)
Instructions
Separate the cloves of garlic and peel them very carefully, making sure not to cut or smash them while peeling. We want the garlic cloves to be whole and undamaged.

Gently remove the stem portion of the chili and gently tap the open end on your counter top to remove all the seeds from inside the chili. Be careful to keep the chili whole otherwise the oil can get too spicy.

Place the garlic cloves and chilies in a small saucepan over medium heat and pour in ½ cup of extra virgin olive oil. When the oil is at the hint of a simmer and you see tiny bubbles along the side of the pan, reduce the heat to as low as it can go. This is important as we want to gently poach the garlic in the olive oil and perfume the oil with beautiful garlic flavor. Cook the garlic for about 25-30 minutes or until the garlic is soft and tender, but not falling apart.

Cool the mixture for a bit before transferring the garlic with the oil in to a clean glass jar. Once the mixture is completely cool, cover the jar tightly and keep it refrigerated.
Notes
The garlic confit and flavored oil should keep well for 1-2 months in the refrigerator if you are careful to k

eep the cloves covered in oil and  always use a dry spoon to dip into the jar.

Instead of/along with chilies, you could use your favorite herbs like thyme or sage to flavor the oil.
Subscribe to my YouTube channel
Subscribe to get notified about my latest recipe videos!