This is an easy recipe to make cardamom and rose flavored Gulab jamun (Indian syrupy doughnuts) from scratch. These gulab jamuns taste amazing when served warm.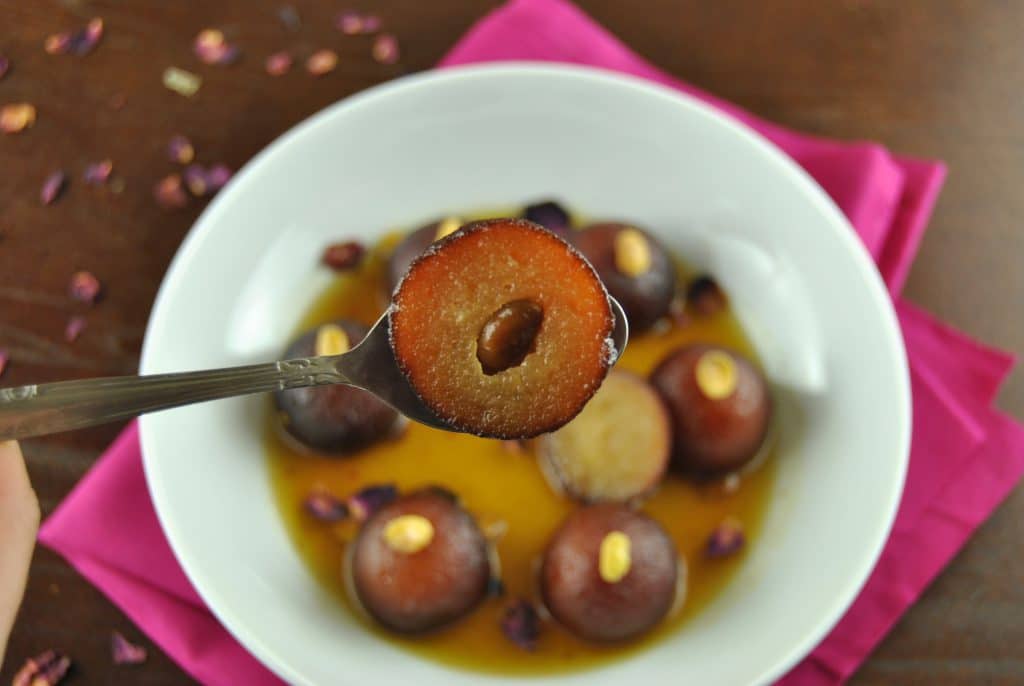 What are Gulab Jamuns?
If you've never had Gulab Jamuns before, this is a very popular Indian dessert. They are light and sweet doughnuts soaked in a sugar syrup often flavored with a mixture of different ingredients.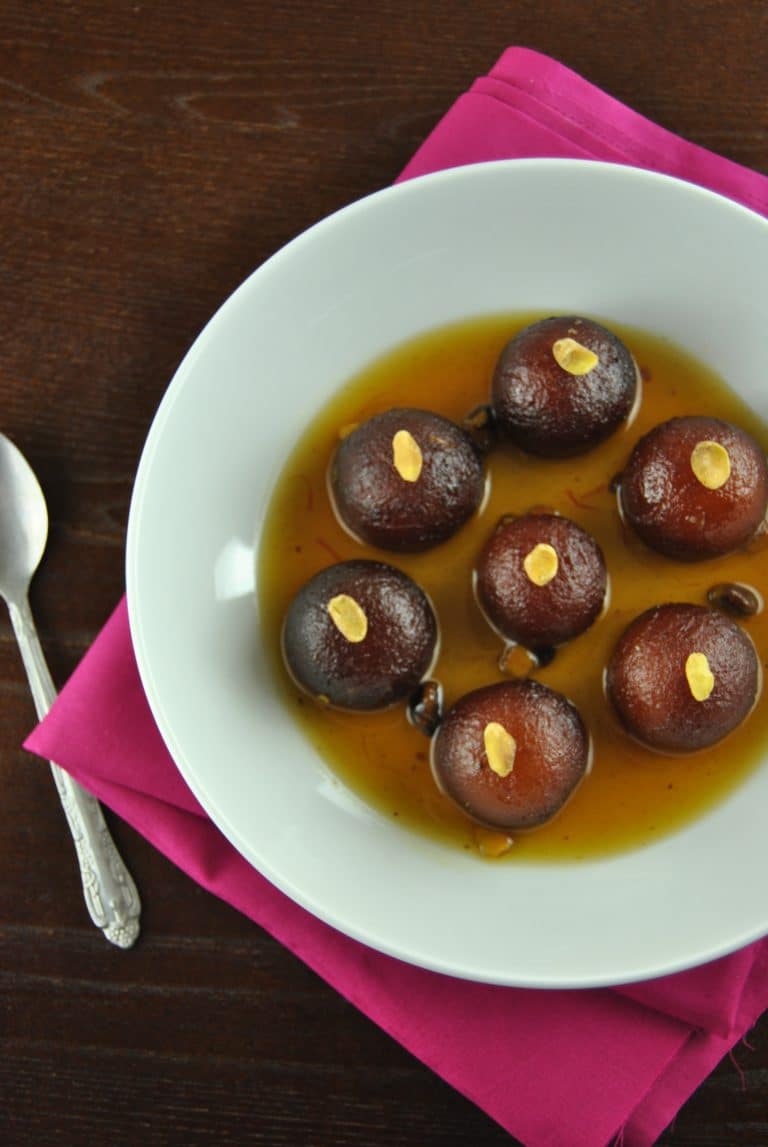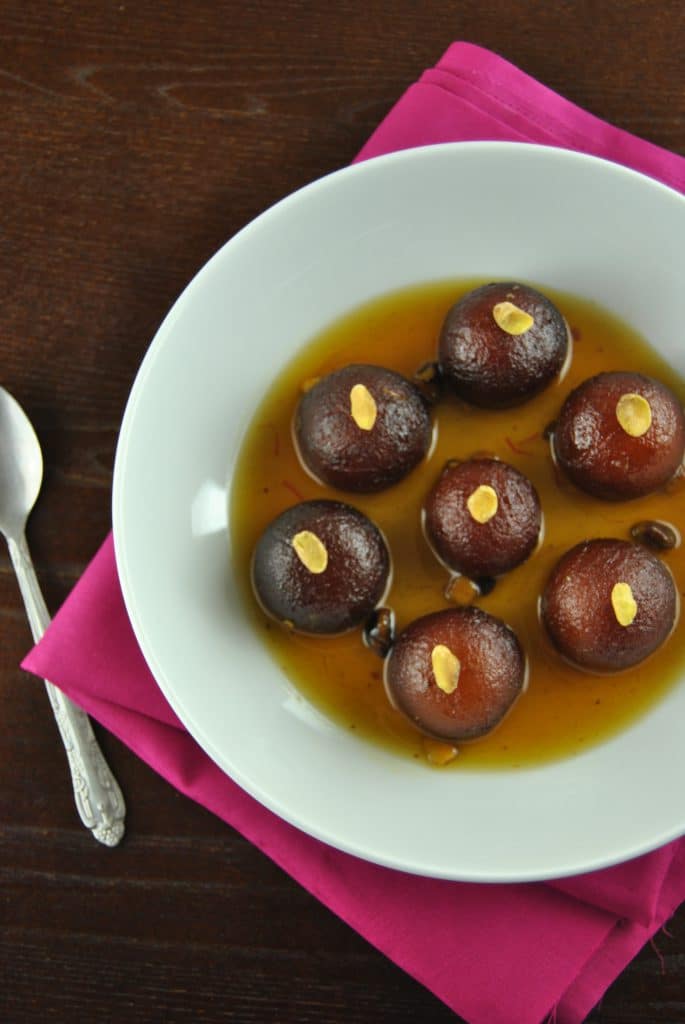 Often times in India, when making Gulab Jamuns at home people tend to use a ready mix. However, as with most convenience foods, a lot of mixes have questionable ingredients of inferior quality.
My recipe for Gulab Jamuns is extremely simple and uses a few basic ingredients - the main one being powdered dehydrated milk like this one on amazon. What I love about this recipe is that the powdered milk has a long shelf life and I can make this recipe just using pantry ingredients. Its easy to whip up with very little planning.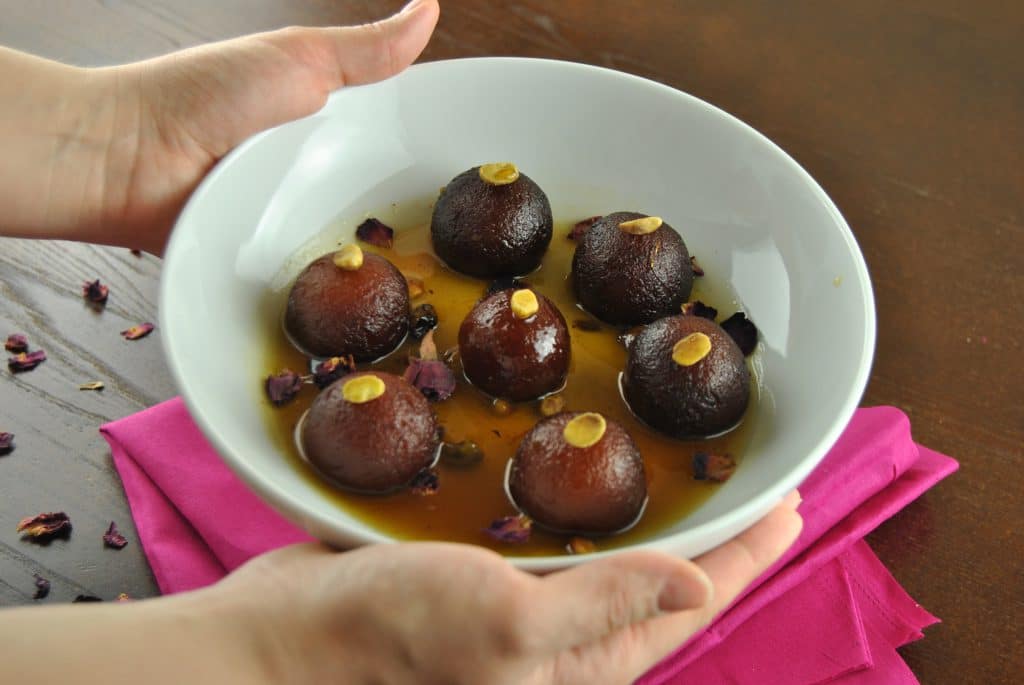 Traditionally, Gulab Jamuns have been made using Mawa or Khoya (milk thickened for a long period of time until only milk solids are left behind). However, I find that Mawa/Khoya isn't easily available outside of India and making it at home can be extremely tedious and cumbersome. Using dehydrated milk acts as a good replacement since it lets us control the amount of moisture we put back into this mixture, thus mimicking the behavior of mawa/khoya.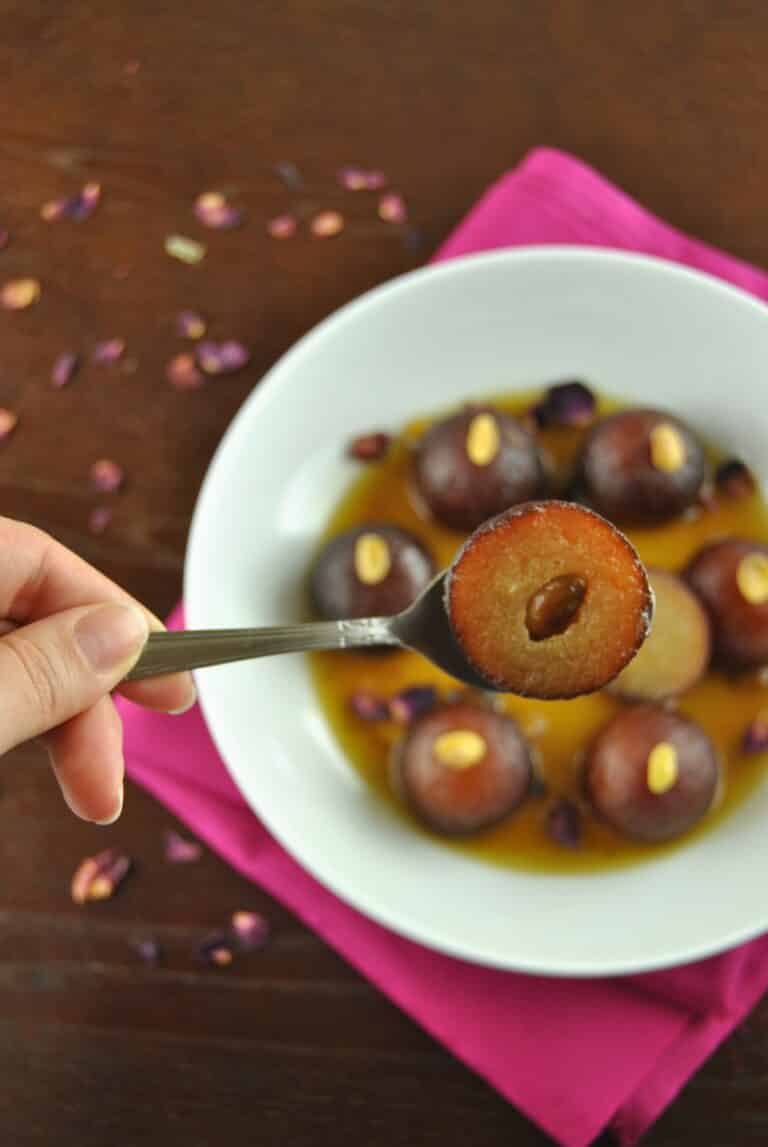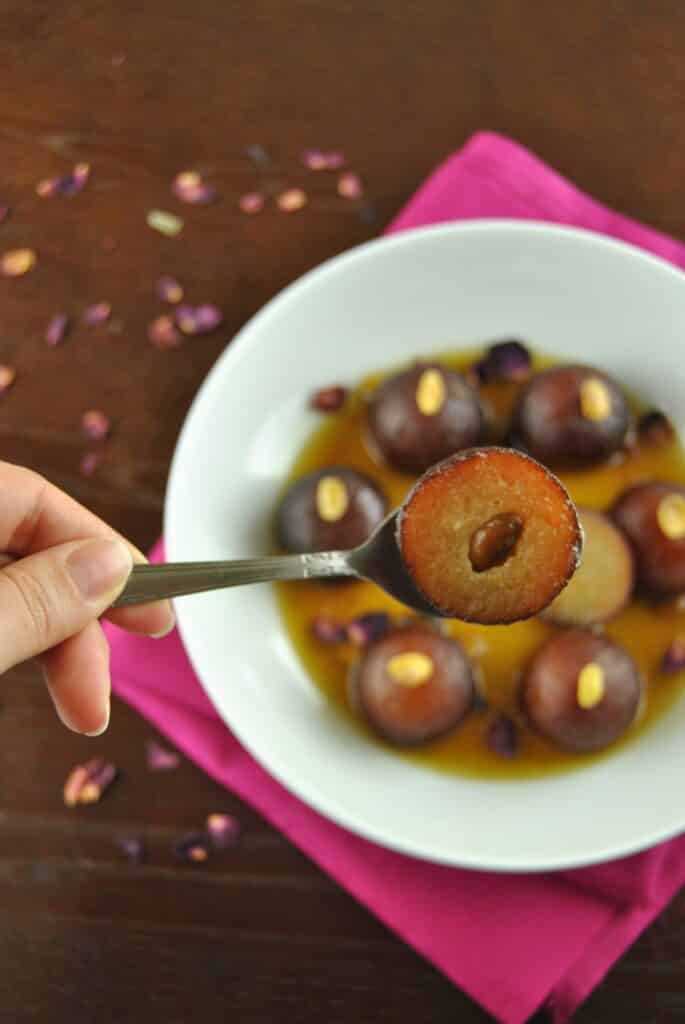 In Hindi, the word Gulab means rose and Jamun means a round plum like fruit. This dish got its name because it looks like little Jamuns soaked in a rose scented syrup. It has become increasingly rare to find a rose scented syrup in store-bought versions. I do like to add dried rose petals to my syrup to give it an authentic and floral aroma.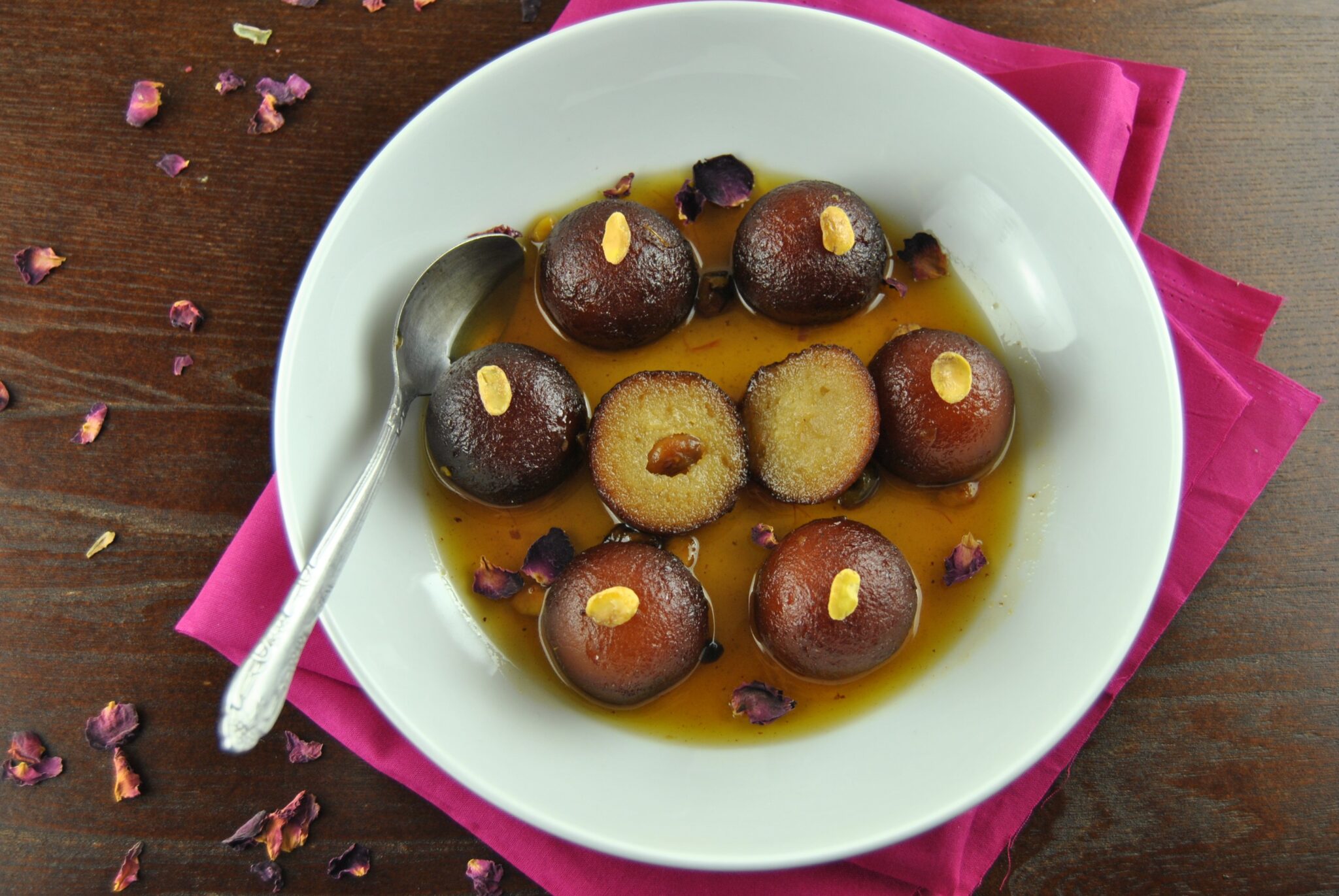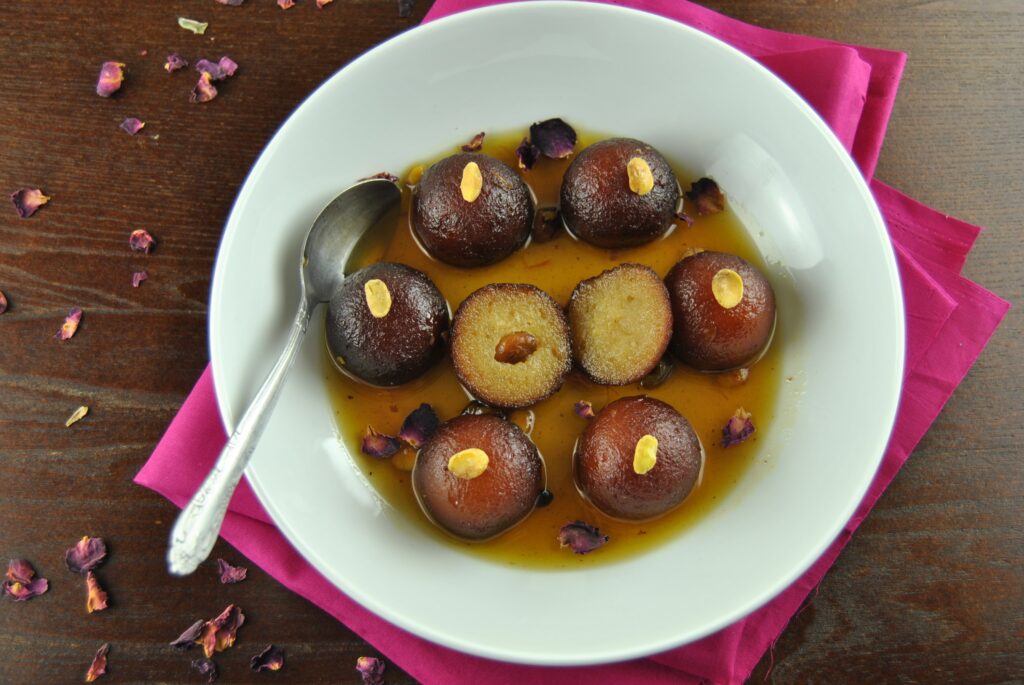 I hope you like this recipe as much as I do. Please leave a comment below to let me know what you think and subscribe to my social media channels if you would like to see more easy and delicious recipes.
Recipe
Love this recipe?
Rate the recipe by clicking on the stars in the recipe card below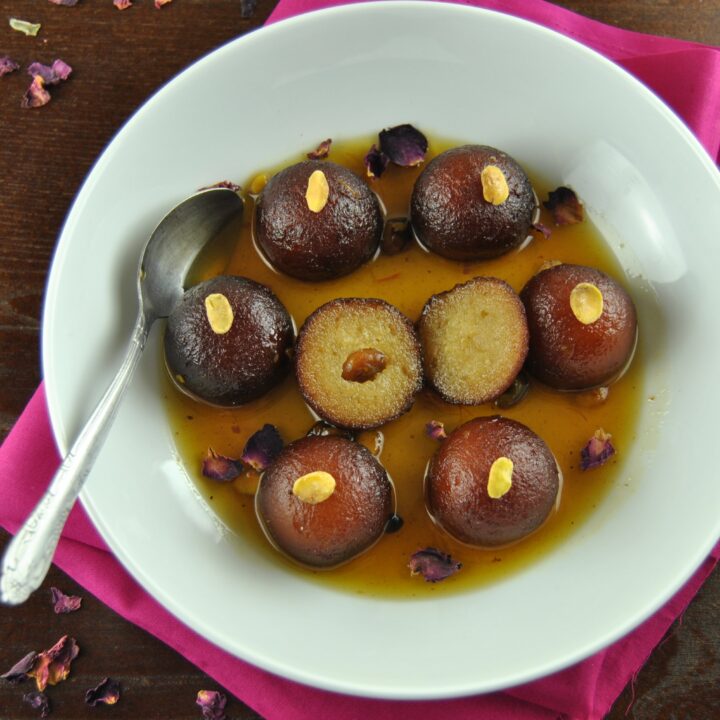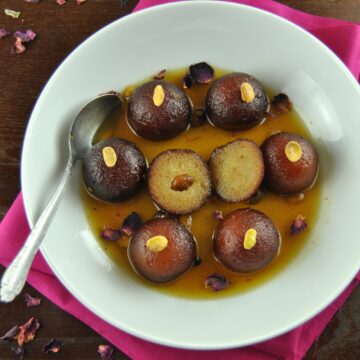 Gulab Jamun (Indian syrupy doughnuts)
This is an easy recipe to make cardamom and rose flavored Gulab jamun (Indian syrupy doughnuts) from scratch. These gulab jamuns taste amazing when served warm.
Equipment
Ingredients
For the gulab jamuns:
2

cups

powdered milk

½

cup

all-purpose flour

⅛

teaspoon

salt

⅛

teaspoon

baking soda

4

teaspoons

melted butter/ghee

(divided)

½

cup

buttermilk

(see notes if buttermilk isn't available)

2

tablespoons

pistachios

or raisins - for stuffing (optional)

1

tablespoon

chopped pistachios

for garnish

avocado oil

for deep frying
Instructions
To make soaking syrup
Add sugar, water, rose petals, saffron, salt and lemon juice into a saucepan and heat until sugar dissolves and forms a syrupy consistency (around 10 minutes). Finally add in the cardamom powder and keep it warm on low heat.
To make the dough
Whisk together all the dry ingredients in a bowl. Rub in 1 teaspoon melted butter/ghee with the dry ingredients to form a crumbly sand-like mixture.

Gradually add in the buttermilk a few tablespoons at a time until you have formed a smooth, slightly sticky dough. When you pinch a portion of the dough and roll it into a ball, it shouldn't crack. If it does, you might need to add in a tablespoon more of buttermilk and knead until smooth.
To make gulab jamuns
Heat oil for deep frying in a deep heavy bottomed wok or skillet over medium heat. The oil should be about an inch deep in the pan. I use a tiny 8" diameter wok and about 3 cups of oil. When the oil is warm, add in a tablespoon of ghee for flavor.

Divide the dough into 25 equal portions. These portions will seem too tiny now but don't worry, the jamuns will grow quite a bit when fried and soaked. If you are stuffing the jamuns, flatten each dough portion and stuff a whole pistachio or raisin inside. Now roll each portion into a smooth, crack-free ball. (I have found that rolling them on a smooth plate using your palm makes very smooth jamuns).

When the oil has reached around 325F, drop in the rolled jamuns into the hot oil. Fry in batches so you don't over crowd the pan. If you don't have a thermometer, see notes.

Fry the jamuns until they are nicely browned on all sides and keep turning them often to brown them evenly. The jamuns will double in size when fried.

Transfer fried jamuns directly into the warm sugar syrup mixture. When you have finished transferring all the jamuns into the sugar syrup, you can cover the pan and turn off the heat. Let them soak in the syrup for around 2 hours before serving. After 2 hours, the jamuns would have soaked most of the syrup and doubled in size again. Garnish with chopped pistachios and serve warm.

These gulab jamuns will keep well for up to one week in an airtight container in the refrigerator, if you haven't gobbled them all up by then! Just warm them up in the microwave or over the stove-top before serving.
Notes
If you don't have buttermilk, you can make an instant version for this recipe by mixing a scant ½ cup of milk with 1 teaspoon of lemon juice and letting it sit for 10 minutes before using. 
If you don't have a thermometer, you can test the temperature of the oil by rolling a tiny ball of dough and dropping it into the hot oil. The dough ball should take around 10 seconds to float up to the surface without browning. If it floats up too quickly, the oil is too hot. If it takes longer to float, the oil is not hot enough.
Subscribe to my YouTube channel
Subscribe to get notified about my latest recipe videos!